'I never imagined that there would come a day when the NBA game would be seen and heard by Indian fans in their own language.'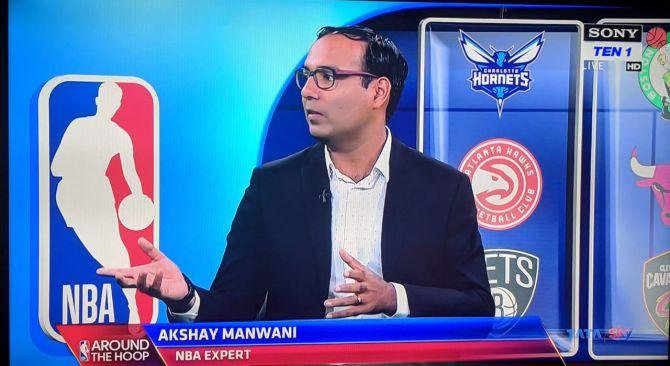 Growing up in the 1990s, Akshay Manwani watched a lot of NBA games on cable telly, but little did he know that someday he'd be an NBA pundit while leading the Hindi commentary team for the NBA in India.
Manwani, 38, with his team of commentators, has brought a much-needed desi punch to NBA fans in the country.
Sample these: During the NBA India Games -- at the first of two pre-season games played between the Sacramento Kings and the Indiana Pacers at the NSCI dome in Mumbai last month -- appreciating Malcolm Bogden's 3 pointer, one commentator quipped: 'Navi Mumbai se Dome mein kiya score!'
'Yeh pehla dunk! Baayein haath ka khel, Sabonis ka' went another piece of Hindi commentary pointing out the Pacers's Domantas Sabonis's conversion off a lay-up.
"I never imagined that there would come a day when the NBA game would be seen and heard by Indian fans in their own language. Today, people tell us they heard us calling an NBA game on television in Hindi. It is a matter of immense pride for us. It also shows how committed the NBA is to grow the game in India," Manwani tells Norma Godinho/Rediff.com.
When the world's biggest basketball league set up shop in India in 2011, it knew it had a big market at its disposal. Within a span of eight years, the NBA has planted a number of training sessions across India. Its ongoing partnership with the Reliance Foundation since 2013 for the junior NBA programme has more than 6 million youth under its wings.
To further cement its hold on the Indian market and increase its fan base, the NBA tied up with Sony Pictures in 2017 to air matches with Hindi commentary.
Marketing the sport as 'swag ka khel', the move has turned out a winner with the NBA's Indian viewership taking off.
Last season, more than 350 NBA games were aired live in India on the Sony sports channels, including 78 games with Hindi commentary.
"Games with Hindi commentary account for 15 million unique viewers," informs Manwani who also makes regular appearances on pre- and post-game analysis shows like Around The Hoop, Saturday Morning Live as the resident NBA expert.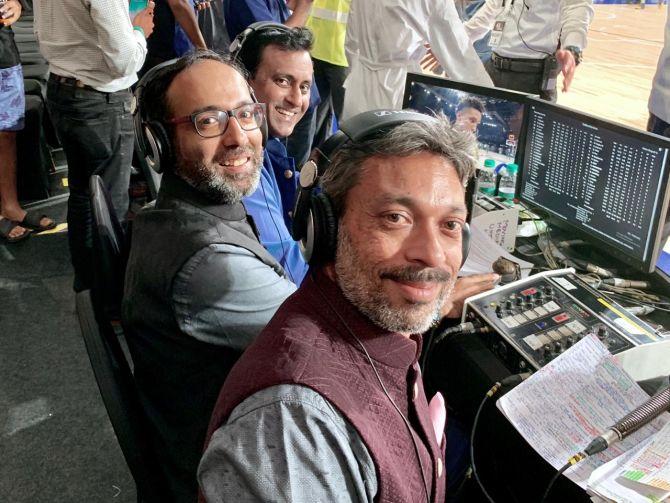 Manwani has an impressive resume, having authored Sahir Ludhianvi: The People's Poet and Music, Masti, Modernity: The Cinema of Nasir Husain that won the Verve Storytellers Award for Best Book of 2016. He also won the RedInk Award in 2014 for a detailed feature on B R Chopra's Mahabharat television series.
But the NBA is his first love.
"Basketball was very popular at my school in Delhi. I used to live very close to the school, so every evening I would go to the school to play basketball. My father travelled a lot to the US in the 1990s. He used to bring me and my brother fashionable basketball sneakers," Manwani recalls.
"When I was in college, my mother gifted me an awesome coffee table book on Michael Jordan, For The Love Of The Game. I worship that book. I still have it. All these episodes influenced my love for the NBA," he adds.
Manwani's obsession runs so deep that he even planned his wife's C-section for the birth of their first child so that it would not clash with the 2010 NBA finals!
He was not good enough to play high level basketball, "I barely managed to make it to my school team and only played the game for leisure in college," he says, but that did not dampen his love for the sport.
"I always watched NBA basketball when it was shown on cable television in the mid-90s. That is how my love affair with the NBA began," Manwani says.
Doing commentary in Hindi for Indian audiences was going to be a test of skill for Manwani and his team, but they were ready for the challenge.
"We were very enthused when we started doing Hindi commentary for the 2017 playoffs and 2017 finals. We realised that this was the first time the game was being distributed for Indian fans in an Indian language. We felt responsible for getting it right from the word go," he explains.
"The emphasis was on speaking on the game while imparting a desi flavour, so that it registered with our own cultural sensibilities. We didn't want the commentary to be a dry, statistical recitation of the action. The focus was on keeping the commentary sharp, crisp, engaging and giving it our own unique Indian style," he says.
Manwani and his team undergo regular training programs. In 2017, Indiana Pacers commentator Chris Denari held a commentary workshop for them.
"We have training programmes for the NBA commentary talent regularly. Just last year, we had three separate training programs for the talent -- one at the start of the season, one during the season and the last one was held before the start of the 2019 playoffs," says Manwani.
"Since I am an NBA expert and fan, the NBA has engaged me to train the commentary talent," he points out. "I keep the commentary personnel up-to-date with roster changes, rule changes, updating their technical grammar with regards to the language of an NBA game."
"Besides this, we have also engaged with a language coaching firm called Strictly Speaking who monitor the crew's Hindi grammar and correct them if they are using clichés or if there are any other issues regarding diction and pronunciation," says Manwani, adding, "They are present during the games at the studio to pass on feedback immediately."
"The brief from the NBA from the very beginning was that the basketball terms and technicalities are to be stated in English while the rest of it is in Hindi. So, we roughly look at a 90-10 split, wherein a 'layup' is referred to as a 'layup' only on air, but the rest of the language is in Hindi," says Manwani.
"In any case, when we are in doubt, we go with what comes to each one of us naturally. Later, we review and give feedback if we think a particular commentator was using too much English while doing commentary," he adds.
After two seasons of doing the NBA off television, the high point for the Hindi commentary team came when they did an NBA game courtside when the Sacramento Kings and the Indiana Pacers played two pre-season games in Mumbai last month.
"To sit courtside and call an NBA game LIVE was special for each one of us," says Manwani. And it wasn't just about watching the game action. We were able to see legends of the game like Larry Bird, Dikembe Mutombo and Detlef Schrempf walk and sit near us. It was a really special experience."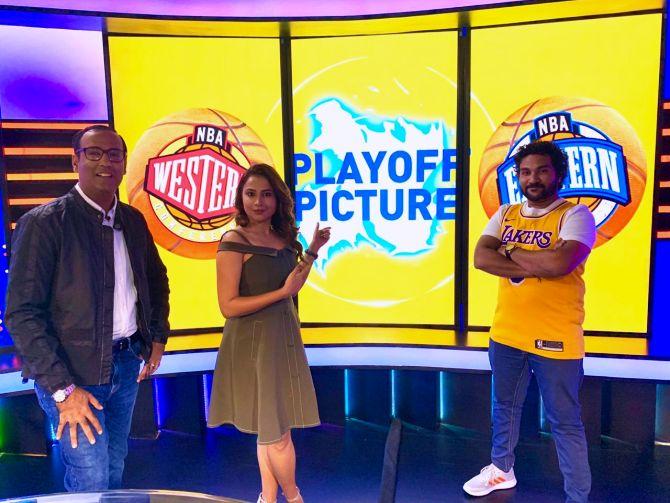 "The NBA is not just about basketball," says Manwani, "it is about players participating in community initiatives, having their own lifestyle products and signature sneaker lines. As commentators, we need to keep track of all these things."
If LeBron James launches a new sneaker or Steph Curry acts in a movie, "we need to have that information so that we can tell our viewers something new rather than just their individual stats."