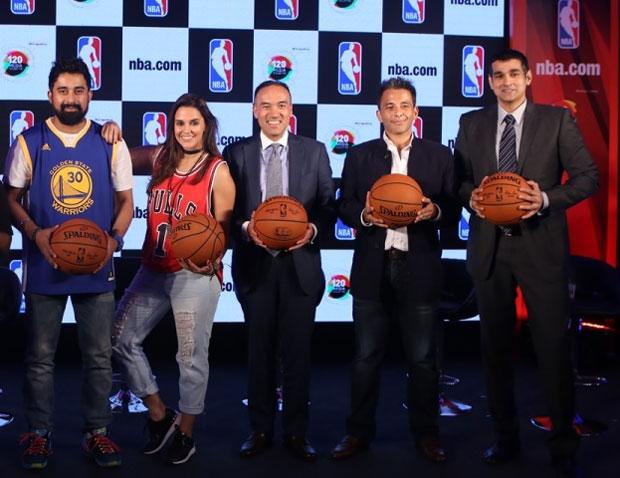 IMAGE: VJ Ranvijay Singh, actor Neha Dhupia, NBA Deputy Commissioner Mark Tatum, The 120 Media Collective Founder & CEO Roopak Saluja and NBA India Managing Director Yannick Colaco at the NBA.com launch in Mumbai on Wednesday.

With its booming economy and billion-plus population, India is a viable market from a global business standpoint.
And that is not just limited to market-centric, financial businesses.
Over the last decade, India has attracted investments from sports-backed businesses. Premier League clubs, like Manchester United and Liverpool FC, have opened schools and academies to run their grassroot programs and unearth untapped potential.
Taking a leaf out of football's book is America's National Basketball Association.
After analyzing and understanding India's growth potential, the NBA, the most popular basketball league in the world, opened its offices in the country four years ago.
Now, with an aim to make basketball the second-most followed sport in India, it launched its customized NBA.com in Mumbai on Wednesday.
Terming it the NBA's official digital destination, NBA Deputy Commissioner Mark Tatum said the geo-targeted NBA.com will offer Indian fans access to all things NBA, such as video highlights, game recaps, scores, stats and more.
Providing extensive localized content, including podcasts hosted by local basketball personalities and a special section dedicated to Sim Bhullar – the first player of Indian descent to play in the NBA – and Satnam Singh – the first Indian player to be drafted into the NBA -- could be considered a click-bait.
"India is a big priority for the NBA, and the NBA.com site will now speak directly to the Indian consumer. Today, the digital market in India is massive. Our target is to attract millennials and youth toward the sport through our new digital platform.
"We already get traffic of over a million followers of the NBA on social media and we are looking to grow those numbers," Tatum said.
Since setting up office in the country, the NBA has tied up with Reliance for a junior NBA program and Mahindra for the NBA Jam.
Citing these efforts, NBA India's Managing Director Yannick Colaco said the NBA is "focused on building the game in India".
"The idea is to find the right mix and make NBA locally relevant," he added.
Speaking of NBA's collaboration with the Basketball Federation of India, Tatum spoke of the focus on clinics among other initiatives.
"We are working very closely with BFI in doing grassroots program; we have done around 1000 grassroot events across various states and things like court refurbishment etc. We have also held the 'Basketball Without Borders' program in India. So we have definitely set our plans on the course and are working towards nurturing local talent through the Reliance foundation Junior NBA and the state associations," he said.
With NBA champions like Pau Gasol, Tony Parker and Yao Ming, Tatum said there are more than a hundred players born outside the United States playing the League and fans have embraced foreign players. "It will be no different with any talent coming out of India."
He also stressed about the impact players like Satnam Singh (who was Dallas Mavericks' Draft pick last June) and Sim Bhullar of Sacramento Kings make in India with their presence in the NBA.
One of the biggest and most recent news in the NBA was the retirement of LA Lakers' Kobe Bryant.
Acknowledging the five-time NBA champion's contribution, he said: "Kobe was one of the greatest competitors in the league. He had a global appeal. He will be missed, but we have a generation of players like Stephen Curry, Jamie Durant, etc to carry the mantle. There will never be another Kobe but they will pave their own path."
For now, cricket-obsessed India is the market the NBA wants to crack, although they have set no timeline to reach the desired peak.