On his first visit to India, former three-time NBA champion Brian Shaw talks of the potential Indian youngsters possess to make the cut in the NBA and the sensational Stephen Curry. Norma Godinho/Rediff.com listens in.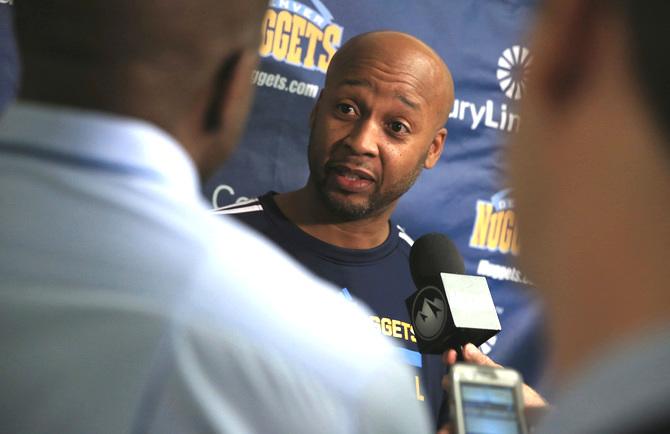 IMAGE: Three-time NBA champion Brian Shaw. Photograph: Doug Pensinger/Getty Images
In basketball, the point guard has a crucial role to play in a team's success. With the massive responsibility of driving the team's attack, the guard probably has a lot riding on his/her shoulders. It's a position that demands sharp skills and attracts respect in return.
Brian Shaw is one such personality of the game who, in his nearly 20-year NBA career as a guard, won the respect of his peers and fans alike.
A three-time NBA champion, he moved from city to city to showcase his acumen in the Western and Eastern Conferences and is still travelling from country to country to fulfill his new responsibility.
The 49-year-old Oakland native takes time out from his job as a television pundit (he works with NBA TV) to promote the game and scout talent across continents.
One such assignment brought him to India.
As part of the NBA-AGC Jump, a scouting and skill development program, Shaw was handed the responsibility of selecting one player from India to go for the NBA D-League National Tryout in the US.
He travelled to Jaipur for the AGC-NBA national camp last week and 21-year old Palpreet Singh from Ludhiana was his pick.
"From among the participants, Palpreet had the best feel for the game. He uses his height to his advantage and understands the nuances of the sport. What caught my attention was that he had the maturity and calmness needed for basketball. Immediately when I saw him, he looked like he fits right in. He has the best chance to succeed," Shaw said, explaining what got Palpreet the spot over others.
An African-American, Shaw believes that youngsters like Palpreet as well Satnam Singh (who was Dallas Mavericks' Draft pick last June) and Sim Bhullar of Sacramento Kings – both currently plying their wares in the NBA D-League – can do for Indian youngsters what black athletes of the previous generation did for him.
"I have not watched them (Satnam and Bhullar) closely, but what I see them doing is what my idol, Jackie Robinson, did for us (Robinson was the first black player to play in Major League Baseball). For me, he gave us (blacks) someone to relate to. He fought many odds to get into baseball. He had to go there and fight for his place. His entry into baseball gave many black kids the freedom to dream of becoming baseball players.
"Even Muhammad Ali, the ordeals he had to face to get to where he did and at the time he did it, it is simply inspiring!
"That is similar to what Satnam and Bhullar are doing. Them playing in the NBA has allowed Indian youngsters to believe that they can play abroad and in the NBA someday. They just need an opportunity to bud. This NBA program is giving them just that."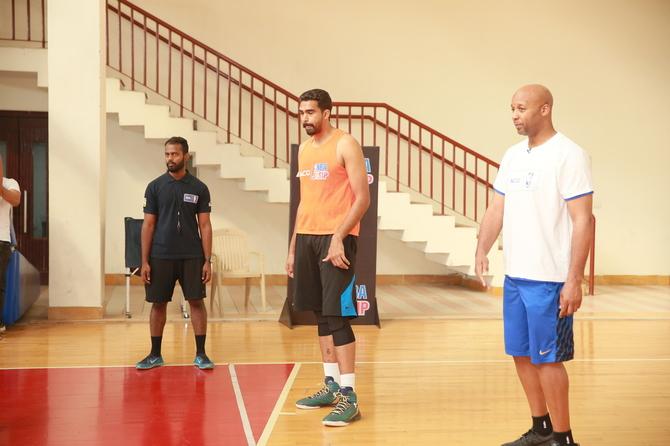 IMAGE: Brian Shaw with AGC-NBA winner Palpreet Singh at ACG NBA Jump national camp in Noida on February 25. Photograph: NBA-AGC
Besides Palpreet, what Shaw witnessed at the grass-roots program left him impressed.
"The kids have been eager. There is an innocence and genuine enthusiasm among these youngsters who participated across the five states.
"I see potential and it is no different from the US, Europe or any other part of the world that have had players who have gone on to be pioneers. It is a matter of opportunity. They need to have exposure to basketball. Once the game is introduced, it is a matter of teaching it right. The talent just needs to be honed well," he asserted.
Marketing the NBA outside the US could prove a huge game-changer for the league and Shaw backed the NBA's move, when for the first time, the NBA All Star game was played in Canada on February 22.
"NBA All Star going to Toronto is good for the game. They should play in a place a little warmer. It was freezing there last week," said Shaw, in jest.
"But, for a first time, the reception that the All Stars received was great.
"When I was playing, Canadian team Toronto Raptors had made their foray into the NBA. This move of taking the game outside of America will help the game's popularity overall and will open the doors for teams from other nations to be represented in the NBA," he opined, his eyes gleaming with hope.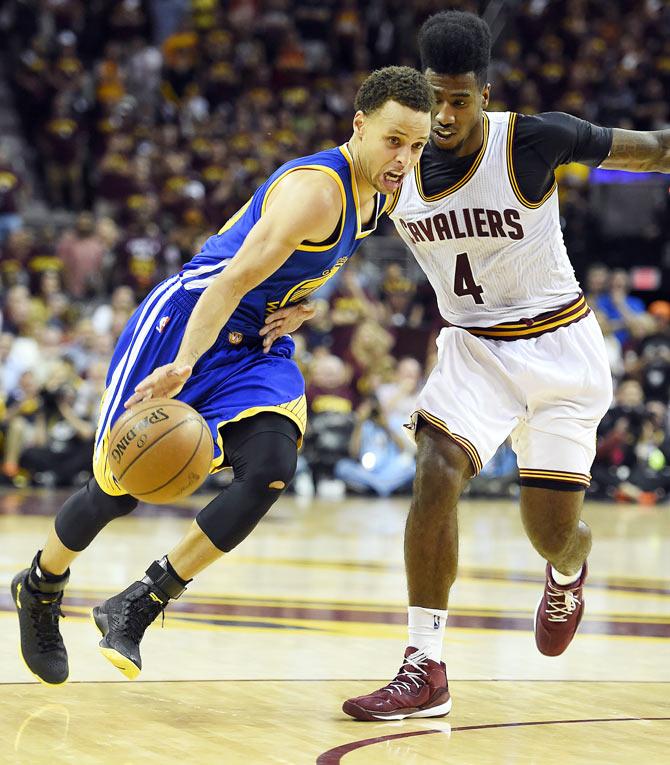 IMAGE: Golden State Warriors guard Stephen Curry, left, drives to the basket against Cleveland Cavaliers guard Iman Shumpert. Photograph: Bob Donnan-USA TODAY Sports/Reuters
And while the NBA sets its sights on world-wide expansion, it's the players on court whose performances continue to hold fans' attention.
One cager in particular has turned on the heat in the NBA over the last two seasons: Golden State Warriors point guard Stephen Curry.
Curry won the Most Valuable Player in the 2014-15 season and led the Warriors to the NBA title that season -- their first since 1975.
There are two months yet to go for the close of the season and Curry has already scripted an NBA record -- scoring 3 pointers in 130 consecutive games,

Shaw expects a lot more from the brilliance of Curry.
"I have watched most of his games because his team plays in the state I live (California). He is doing very well. He will beat the all-time record of the Bulls (Chicago Bulls).
"LeBron James is the best player overall, but this season also Curry looks good to win the MVP. He is just so consistent. He is young and he looks set to break all the records there are to break. The apple does not fall far from the tree. Stephen has already broken his father's (Dell) records.
"The best thing is people identify with him because his frame is not that of a regular basketball player. He is not a big guy, he is average height, moderately built, so that encourages kids to think that even they can play basketball. You don't need to be of a certain physique to be a top-class basketball player," said Shaw, waxing eloquent about Curry.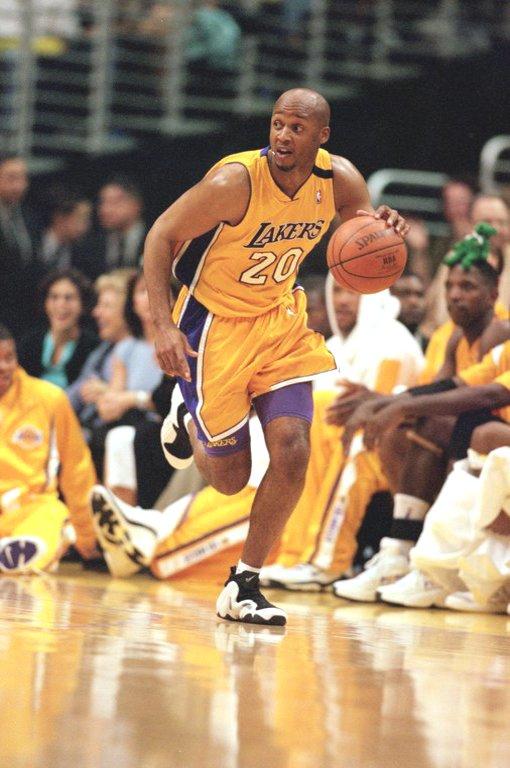 IMAGE: Brian Shaw #20 of the Los Angeles Lakers dribbles down the court during the NBA Western Conference Playoffs Round One Game against the Sacramento Kings at the Staples Center in Los Angeles, California. Photograph: Tom Hauck/Getty Images
Talk of Curry's achievements meant the chat automatically veered to Shaw's own success.
Shaw was popular in his days and had his successes, but his claim to fame was the partnership he shared with another NBA champion Shaquille O'Neal.
O'Neal and Shaw played together early in their careers for Orlando Magic and then joined forces again for La Lakers in 1999. Their partnership was legendary of sorts, their alley-oop play giving them the moniker -- The 'Shaw-Shaq Redemption'.
"Shaquille O'Neal and I played together in two terms. He is just such a disciplined player. Off the court he is such a kid, but once the game is on he is so focussed.
"Our partnership was built on eye-contact. There was no nudging and anything like that, just eye contact.
"The first time we ever executed the move, we looked at each other across the court. I sensed what he was going to do next. He took the ball, I followed him, he threw the ball to me, he spun around, I passed it back and he smashed it in the basket.
"From that day, that move became popular and it was called the Shaw-Shaq Redemption," said Shaw, explaining their partnership.
"Shaq was the biggest reason we had success. He dominated matches with his size and mobility. For a big man like him his agility and pace on court was a big surprise. I followed him to Lakers and now we are both doing TV. I am with NBA TV and he is also a TV analyst (Inside the NBA). So we bump into each other often. It's like I follow him wherever he goes."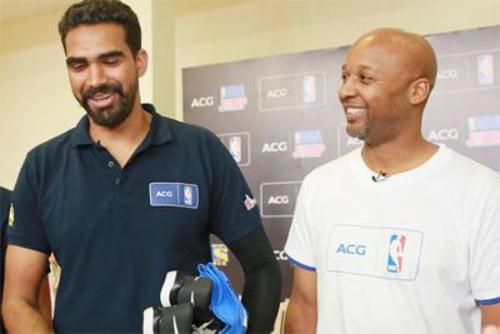 IMAGE: AGC-NBA pick Palpreet Singh Brar, left, with Brian Shaw. Photograph: NBA-AGC
Once again, going back in time, Shaw revealed the reason for his own success and humility despite it all.
Discipline, ingrained in him by his late parents, helped him to the heights of the game .
"When I was in school I was very mischievous and talkative. In fifth grade my teacher called my parents to school and told them 'He is smart but he is very distracted in class and disturbs me and the other kids in class'. That one complaint kept me away from basketball. For the whole of fifth grade my parents did not let me play basketball.
"That episode taught me that I have to be disciplined if I don't want to lose what I love the most in life -- basketball," he reminisced.
Does he see himself drilling in the same discipline and imparting his knowledge to kids in India in a bigger capacity?
"India is a huge country and there is scope for potential. I have worked for 'NBA Without Borders' in Africa, South Africa, Italy and other parts of Asia. If I'm called to work in India, I'll be glad to help because there is potential here like we have seen," added the former coach of the Denver Nuggets.