Former Manchester United and Mumbai City forward Diego Forlan and La Liga's managing director for India Jose Antonio Cachaza discussed ways for India to become a footballing powerhouse. Norma Godinho/Rediff.com listened attentively as the duo spoke about the Spanish League's new tie-up with India.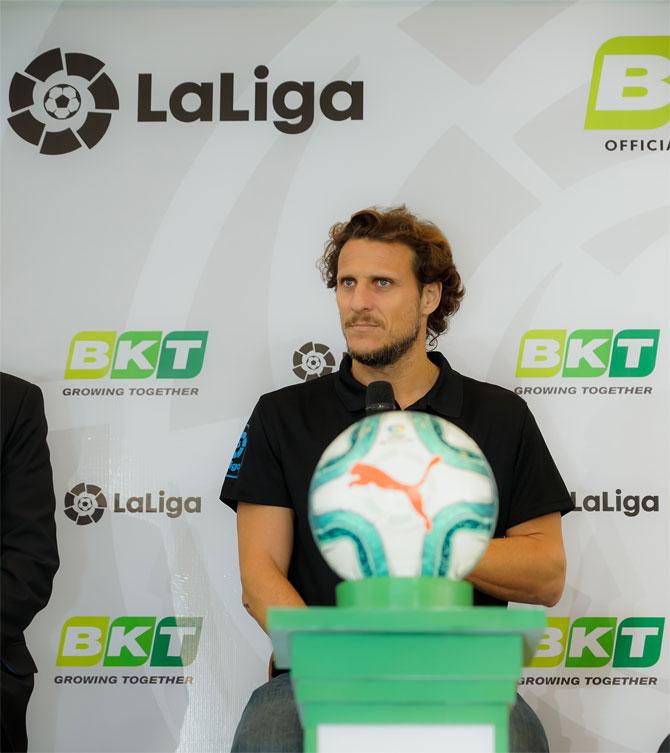 Cricket is a religion in India. For years it has managed to hold on to its blind followers like a magnet.
In such a scenario, where the lack of a sporting culture stands out like a sore thumb there is some good news, though.
With the onset of satellite television in the 90s, and social media now, the country's youth are beginning to show interest in sports other than cricket. Football, club football in particular, is gaining steady momentum over the last decade or so. There is general awareness and interest in the movement of clubs' positions in league tables and their fate on the European front.
According to Jose Antonio Cachaza, La Liga's managing director for India, all La Liga matches can be seen live for free on Facebook and they have 3.7 million followers on the social network site in India.
"This is the first country in the world where a country has more followers of La Liga outside of Spain," Cachaza revealed at a promotional event, in Mumbai, on Monday.
That is very encouraging for the La Liga. But does it guarantee India the tag of a footballing nation?
Not really, as India has a long way to go before getting that 'badge of honour'.
Former Mumbai City FC, Manchester United and Atletico Madrid's forward Diego Forlan says it's difficult to fathom 'how football is not the No 1 sport when it is the No 1 sport all around the world'.
"It is cultural and you have to understand every country has a culture. But when I came here I met great players and I was not surprised because I played in Japan and everywhere. It is something that Indian people who are interested in football should understand that that anybody can play well. It doesn't matter if you have a history or not in football," said the Uruguayan.
"When I came here I played with good players, strong players; they treated me well. If they (Indian players) have chance to go to Europe they can do well because they are physically strong, they are intelligent, they can adapt. You know sometimes it is bit difficult for me because one has to travel around the world and you have to adapt to the country, its culture and everything. It's not going to be easy. You are years behind other countries but you need to bring experienced cultures, experienced players, keep doing, be patient and in future you will get players playing in Europe, like you can see Chinese, Japanese and African, South American players. There is going to be a time where we will see players in Europe and they will bring that experience in the national team like we do in South America," the 41-year-old added.
The Uruguayan legend, who stresses on the importance of adaptability for success, said there are a range problems in India's system of functioning, but pointed out on one aspect that was holding India back.
"You need to create grassroots. The youngsters need to start playing, compete more, and then you need more players. You are a lot of people (big population). More kids playing football should be good and getting good coaches, but not at the professional level; it should be at the young level. It's not easy. You need facilities, you need money as well and then you need coaches. Because they are the future.
"Sports is important for society. It takes time to get good, professional players. You need national players as well, you need a national team to at least start playing and fighting against great national teams so the fans can say we are proud of India. You need to keep it going, get good professionals and coaches and back-up like government and money."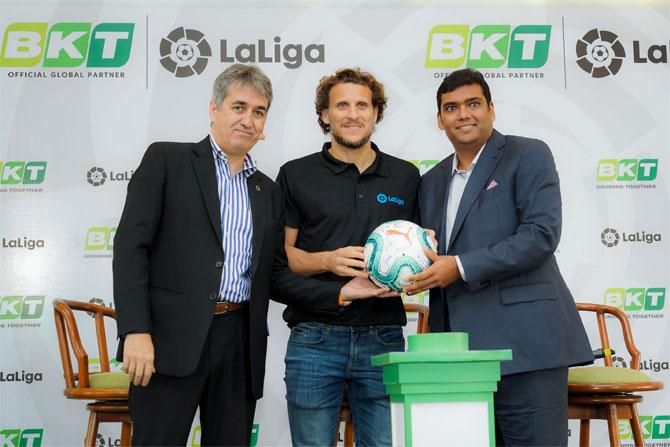 Mirroring Forlan's thoughts, Cachaza said: "What is important is India needs to develop a strong grassroots environment. What we do with the La Liga schools project, what we have right now is almost 30 centres in 14 cities. Let me tell you, we are not high performance. We are not finding players and taking them to Spain, but we are doing what is absolutely necessary. That is having thousands of kids playing football -- boys and girls -- and that is the base of a healthy sports environment and knowing that when you have thousands of Indian kids playing football there will be probably one per cent good enough for even thinking of playing high competition and just a portion of that one percent will be good enough for playing in India. India has to work towards it, we can't come from outside to do that job.
"Next level is you have to have high performance centres. You already have them. One here in Mumbai, the Jump Champs project, they are going for the third year to play with La Liga grassroot teams and they have a really good level. They are also competing in friendly matches against Real Madrid, Atletico. You also have JSW working well. Then you have Atletico who developing a partnership with Jamshedpur FC and the Tata Academy. So the next step is to find the next Sunil Chhetri and the next Sunil Chhetri that can play in Europe. You'll are working towards that and you'll be there; but, as I said, be patient," asserted Cachaza.
Is physical power over-rated in football?
"Take Messi. He is 170m tall. Take Spain, we were World champions in 2010, our mid-field was below 175m, small guys but skilled. Maybe that is how your football needs to evolve in India, thinking more in skills than physical power. You also have big players like in Punjab. You have all you need," said the La Liga head in India.
For India to be a truly sporting nation people need to embrace all sports, he opined.
"The first thing we need to understand is you can follow different sports. It is not cricket or football. India has to be always, cricket AND football. So we have to find our space alongside cricket. Any other strategy will be crazy. Cricket is your religion, your national pastime. What we have to learn is how to live cricket and get closer to it and bring in other things also. Indian football fans know what they want and they know the way fans live football is not the same as fans live cricket.
"What we'll have to do is to bring this excitement to fans. Indian football is growing, it's improving. But it takes time. When I came to India, the only recommendation I got is 'you need to be patient'. I find Indians to be truly impatient. In football you need to be patient. I'm pretty sure that in time we'll see an Indian player starting for a side in England or Spain."
Forlan, who revealed that he did not get an offer from Mumbai City FC after the 2016 ISL season, even though he wanted to continue, said he is preparing to become a coach and obtain a licence from UEFA next year.
The prolific goal–scorer reckons focusing on cities and states to give football more mileage in the country.
"You need to focus on places where football is more popular Goa, Kerala, Kolkata and North East. You need to focus on those places and start building up from there and go to other places.".