S Bhaskaran is the first bodybuilder to be presented the Arjuna Award in 20 years.
A Ganesh Nadar/Rediff.com met the man of steel.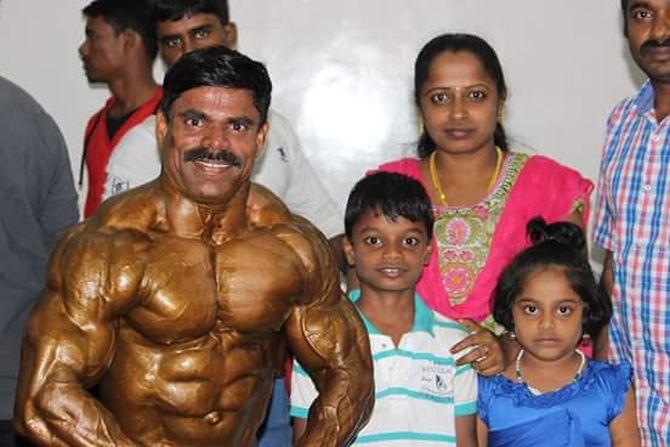 When S Bhaskaran of Chennai was conferred the Arjuna Award this year, it was after a 20-year gap that a bodybuilder had been chosen for the award, given in recognition of outstanding achievement in sports.
Having previously won the Mr Asia and Mr World titles, he says the Arjuna Award holds a special place for him as it is the sign of his country recognising what he has achieved.
"It's a 20-year journey," he says simply.
It is this humility that sets apart the soft-spoken Bhaskaran, who is extremely polite even with his students who respect him immensely for what he has achieved.
Born in Ettayapuram in Tamil Nadu's Thoothukudi district, also the birthplace of Veerapandia Kattabomman, the fiery king who fought the British 55 years before the First War of Independence, and poet Subramaniya Bharathi whose fiery verses inspired freedom fighters in the 20th century, Bhaskaran's parents moved to Chennai when he was two years old along with his 3 brothers and 2 sisters.
There, when he was studying in standard 9 at a government school, his father fell ill and Bhaskaran discontinued his studies to start working with a carpenter.
That was the end of his education, but he doesn't seem to mind it. Even then, he says, he used to exercise regularly and at the age of 19 he joined a local gym after seeing youngsters going there.
The trainer there, a railway employee, became his first guru. 'Railway' Rajendran, as Bhaskaran calls him, is a former Mr Junior India.
Rajendran encouraged him by telling him that his physical shape was perfect for bodybuilding.
And so, two years after joining the gym, Bhaskaran entered his first competition, the junior state championship, in which he came 5th. His father wasn't impressed and told him, 'If you like bodybuilding you must work to be the best, not fifth."
Which he did in the next event he entered, the Mr Chennai contest, and won. His father was not alive to see his son doing what he had told him -- to be the best.
Bhaskaran continued to work as a carpenter as that was his bread and butter while the gym remained his love. In 2000 he won the bronze medal in the South India championship.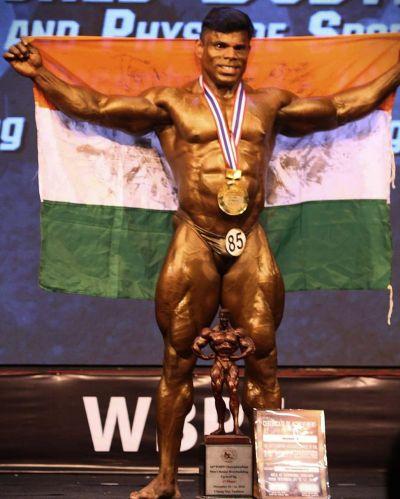 On the advice of his guru he applied for and got a job at the Integral Coach Factory under the sports quota. After that he started exercising at the ICF gym where his second trainer, Arasu, guided him. At ICF he worked the usual hours like all the others and went to the gym in his free time.
"I exercise for three hours in the morning and three hours in the evening. It is four hours of weight training and two hours of cardio. Once a week I go swimming," he says, revealing the secret of his incredible physique.
In the All India Railway Bodybuilding Championship which is held once a year, Bhaskaran has won 10 gold medals, 1 silver and 3 bronze medals.
In 2003 he won a bronze medal in the Mr India contest and followed it up with a gold medal in the South Asia Championship.
Bodybuilding almost cost him his wife. In 2005 "I had gone to my sister's house where she introduced a girl to me and asked if I would marry her. I was not prepared for it, but blurted out that I hope she was educated as I am not. I was happy when they told me that she is a science graduate."
But the girl, scared on seeing how well-built he was, did not agree. It took her father to explain to her that he had a permanent job in the railways and besides, bodybuilders had the best habits. They do not drink, smoke or do anything detrimental to their body. Above all, they are disciplined. She agreed and now they have a son and a daughter.
The boy is in standard 8 and the girl in standard 5. "Both swim regularly and my boy also plays cricket," Bhaskaran says with a clear note of pride in his voice.
After marriage he continued to participate in state-level and railway tournaments but did not go for the nationals for five years.
In 2015 he won the railways and national gold. The next year he won the railways gold and the national silver. In 2017 it was gold again in the railways and the nationals.
In 2018, at the age of 40, he shone the brightest. He won the railways and national golds, then won the Mr Asia title in Pune and the Mr World title in Thailand.
It was this slew of achievements that led to the Arjuna Award in 2019.
In 2009 his wife started a gym and he says with pride, "My guru Rajendran comes here to exercise and I tell him the latest techniques in exercise. At 55 he is still participating in state events."
Bhaskaran eats "a lot of proteins and less of carbohydrates. That means plenty of fruits and vegetables, chicken and fish. I don't eat mutton because it has too much cholesterol and in eggs I eat only the whites."
"Your body has to be all muscle and no fat," he offers by way of explanation.
Now 41, he continues to participate in all events, but makes sure he sleeps for seven hours daily.
"My aim now is to train others," he declares, which could in the years lead to a Dronacharya Award.
For his success Bhaskaran is thankful to four people in his life: His two gurus and "my mother and wife for giving me the proper food that I need."
In spite of his impressive physique he has never gotten into a physical fight in his entire life. "I am an Arjuna Awardee. I have won so many other titles. How will it look if I am standing in the street and fighting? I have to behave in a dignified way," he laughs.
And adds with a mischievous smile, "People see me and don't want to fight. That is the lesson I teach my students. To control their anger at all times. We bodybuilders never drive fast too. We don't do anything hasty that will damage our body."