'I have achieved my dream about playing football, but as a coach it all begins here'
'I never looked at men's/women's football differently when it comes to my work'
'I ran away from home at the age of 17 to pursue football as a career'
She is just 30 years old and she's already on the Asian Football Confederation's Grassroots Development panel.
Last year, Anju Turambekar became the youngest Indian woman to earn an AFC 'A' licence in coaching, and now she's in charge of the All India Football Federation's grassroots development programme.
Clearly, her dedication and commitment to the 'beautiful game' has paid off.
Turambekar's story is inspiring, to say the least.
"The kind of values I have learned through my football journey and in my early farm life were crucial in moulding me into the person I am today," says Turambekar in a conversation with Rediff.com's Laxmi Negi.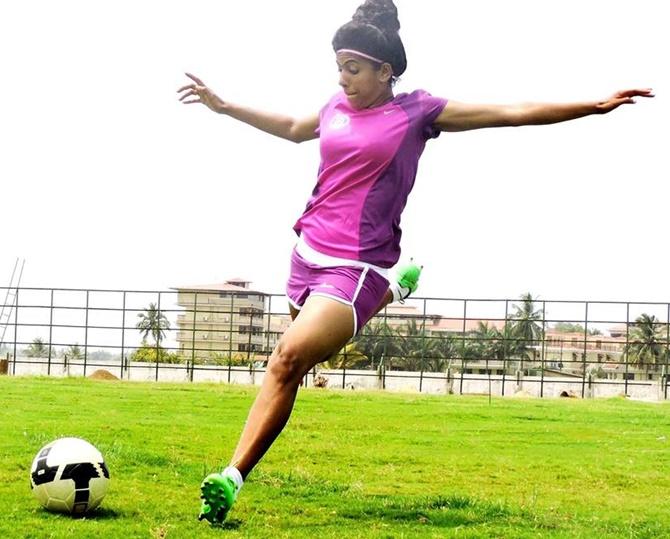 You are the youngest woman to become an AFC 'A' licence coach. How did you achieve this feat?
It took me years of preparation, dedication, hard work and commitment to achieve the A-Licence degree. I feel it's a huge responsibility and motivates me to take up new challenges.
I developed my interest in working for football in the coaching field while I was nearing the end of my playing career. My first foreign trip to the Netherlands in 2010, for the KNVB International Coaching course, helped a lot to believe in myself.
I had done my first 'D' licence course in 2012, in Mumbai. After that I kept focusing on grasping and making myself better. After every course I realised that I am becoming more professional.
How did a girl from the small village of Bekanal (in Gadhinglaj taluka of Kolhapur district, Maharashtra) get interested in football?
I was introduced to the farm even before I could walk. All of my life in the village was spent working in the farm, taking care of buffaloes, house work, study, athletics and football. There was was no Saturday-Sunday or any kind of holiday. I used to go to others' farm to work; sometimes I used to go to a nearby village or city to sell some stuff from the farm. I hardly used to play with friends because I would never get time.
Right from my school days I was interested in sport. We used to pay langdi, kho-kho, kabaddi.
I was always physically fit, all thanks to working in the field.
After primary section we were taken to a nearby stadium for an athletics meet. I proved to be good in all events. My tryst with sports continued, but it reached the pinnacle when I was in the 9th standard.
There was a notice inviting girls to play football. I coaxed some of my friends, and we landed up at the big college playground. Standing there in that playground itself was a big deal for us. Soon the coach started teaching us. Most of the girls lost interest, but on the contrary my interest increased. I wanted to know more about football. I wanted to learn all the skills.
I used to stay in a small village where there were no buses. After football practice I used to walk in the dark to reach my home, but that did not deter me.
There was also opposition from my parents. I was beaten up by my dad for playing football with boys, but I paid no heed to that. You won't believe that I used to play football in track pants. I was a village girl, so was conscious of what I was wearing. But I realised it was not practical, so I started to change in the college and then go home.
Soon there were Under-19 trials for Kolhapur district and I was sent to Mumbai.
There was no question that my parents would allow me, so I didn't bother asking them for their permission or money.
The association gave me a bus ticket and some allowance.There was no turning back there on. I went on to represent Maharashtra over the years.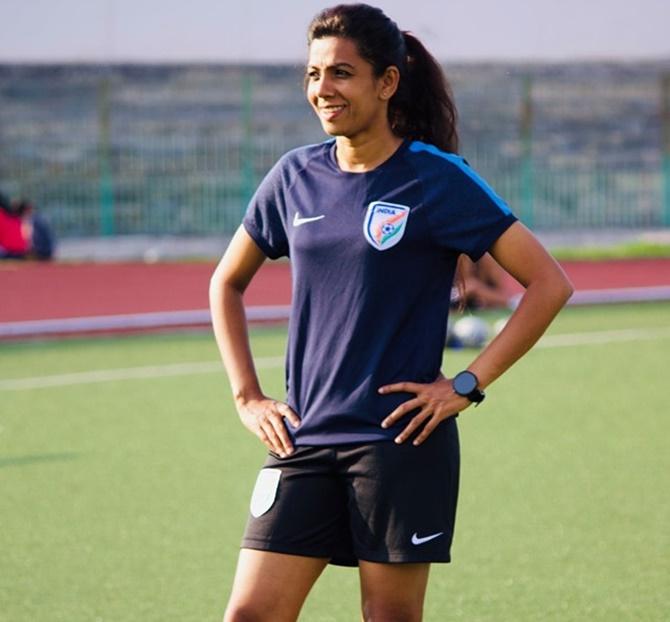 How difficult was it to convince your parents?
After the Under-19 selection trials, I was selected to play for Maharashtra in the Under-19 Nationals at Assam. It made the sports pages of the local dailies in Kolhapur and got the people talking.
However, my parents were unconvinced about the prospect of football as a career option. Even after playing in several nationals and finally leading the Maharashtra team (I became the first captain from Kolhapur), my parents asked me to stop playing football and join the police force for job security. Half-heartedly I applied but never appeared for the exams.
I did not want to be trapped in the job scenario. I wanted to play football.
Finally, I ran away from home at the age of 17 to pursue football as a career.
Mostly, you would read newspaper headlines that 'girl ran way to get married', but I ran away from home to play football.
It was difficult to digest at first, but my parents were happy when I started working and finished my studies and started supporting them. It took several years to win their faith and trust.
Football was essentially considered to be a male game, how did you manage to play?
It was definitely controversial and I landed in the conversational circles of my family and village elders. For girls to be wearing shorts, coming home at odd hours and playing a sport which is generally accepted as male behaviour, is not something that people were able to readily accept and I found myself in tight situations on several occasions.
It was just unacceptable behaviour as far as my family was concerned.
Some people from my village and nearby towns tried to influence my father. I also learnt to ride a motorbike; it created all the more talking points since driving/riding vehicles was strictly meant for men.
Eventually, my father intervened and asked me to stop playing football and going to school and suggesting, rather amusingly, that I get married after completing my 10th standard exams.
You have undergone a lot of struggles and challenges in order to pursue your passion. Did you at any point of time feel like giving up?
After my father forced me to join the Maharashtra police I was left with little choice but to leave home. I just packed my bags and left.
There was a National championship going on in Ahmedabad. The Maharashtra team wanted me, but I could not join them. I borrowed 1000 rupees from an elderly football enthusiast neighbour and took a bus to Mumbai and from there to Ahmedabad.
I joined the team for the last two matches and we managed to finish runners-up.
The coach was impressed with my performance and wanted me to join his club in Pune. I had nowhere to go and instantly said yes. They promised to take care of my stay and education.
Just to make ends meet I used to wash utensils in the house where I was staying as a paying guest.
I didn't get in touch with my parents and there was no effort from their side, too.
I returned with a greater resolve to achieve something bigger in the football field.
That was the peak time of my performance. I was working hard throughout the year to get into the National team. During those times I got selected for the India camp twice but, unfortunately, those camps never took place.
I stayed in Pune for one-and-half years. It was challenging to stay in a city like Pune and mostly in Mumbai.
There used to be times where I would think what would I eat for lunch as I had no money.
Later I went for Senior National trials in Mumbai and the coach of Maharashtra team offered me a job of coaching in an NGO (Magic Bus). I was very happy and after coming from the Nationals, I immediately joined Magic Bus.
When I came to Mumbai I realised that, forget English, I needed to work on my Hindi too.
The owner of the NGO spoke English and I didn't understand a word.
I stayed in a hostel at Dockyard Road on rent; my salary was Rs 5000. I managed my education and rent within that. After 2008, I didn't play football. I got promoted and my job required a lot of travelling. My college was in Pune and I was staying in Mumbai. It was difficult to juggle work and study.
Honestly, I am an extremely optimistic person and I never gave up on things I have done in life.
The kind of values I have learned through my football journey and in my early farm life were crucial in moulding me into the person I am today.
The connections I made between values and my daily life helped me to always push myself for a better tomorrow.
Even today, I try to analyse my day and make sure that I utilise every minute to the fullest extent.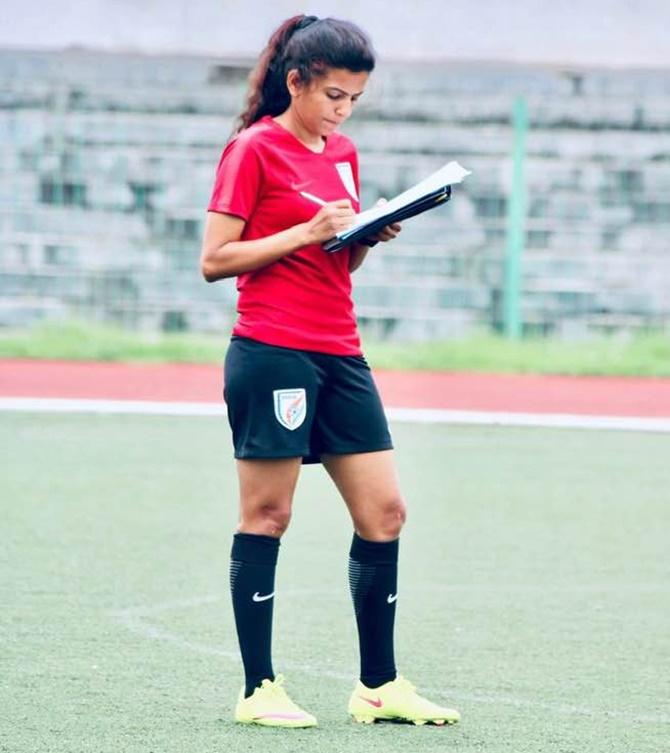 Why did you shift to coaching after playing? How did this decision come about?
After I started working in Magic Bus I realised I had a great deal to learn about football. Magic Bus helped me to learn a lot about how holistic development plays a huge role in players, coaches, parents etc.
In the process, I realised that it's essential to continue with my studies so that I can do better in my job.
I also felt there were not many opportunities to play since the India camp got called off twice. Work was priority and was growing day by day. I wanted to earn money for my livelihood and slowly I stopped playing Nationals, but, whenever possible, continued to play for local level tournaments.
How difficult is it to coach a men's team as compared to a women's team?
Honestly, personally I never looked at men's/women's football differently when it comes to my work.
I have been doing a lot of coach/instructor education for grassroots development and most of the time I train men coaches. I have worked with the boys' team in Mumbai previously. Worldwide men coaches get more exposure in terms of playing football, coaching, competitions as a player and coach etc.
So, yes, experience matters but if you have self-belief, you are a keen learner, then nothing is impossible. I never think that I am a woman when I work with men. My priority is to deliver quality and be a better professional.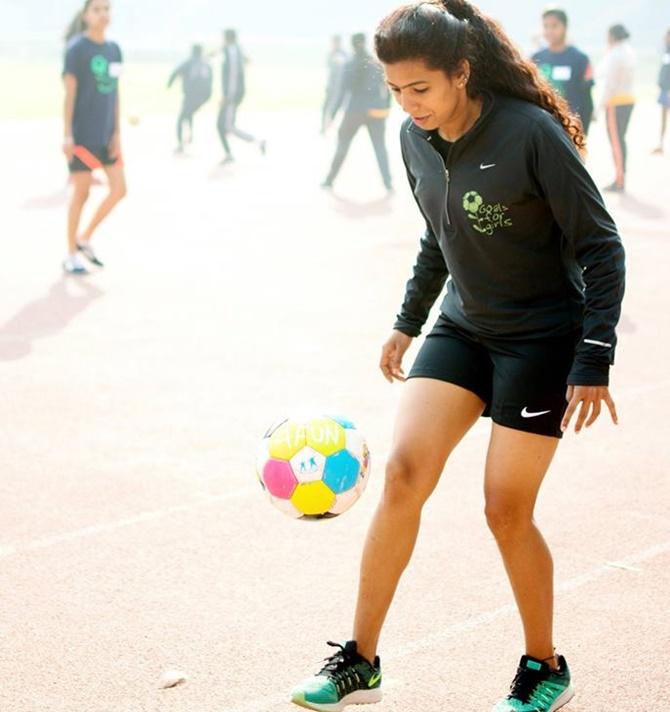 What is the state of grassroots football in India? What are some of your goals?
The AIFF has a short history in terms of grassroots development. It's been five years since we adopted the FIFA/AFC Grassroots philosophy. The entire nation needed the education and to know its importance. Since then grassroots is always priority for the AIFF. We have reached all over the country to spread awareness about grassroots development.
Within a few years I am very happy to see the seriousness, efforts and respect the stakeholders are putting in for grassroots development in the country. There was a time when we had to be convinced to take up the concept, but today the scenario is altogether different. We have done a lot of coach education for grassroots, and that's the key.
What is your dream now for yourself, personally and professionally?
I just want to serve my country in whichever way possible. I take one step at a time. I have achieved my dream about playing football, but as a coach it all begins here.