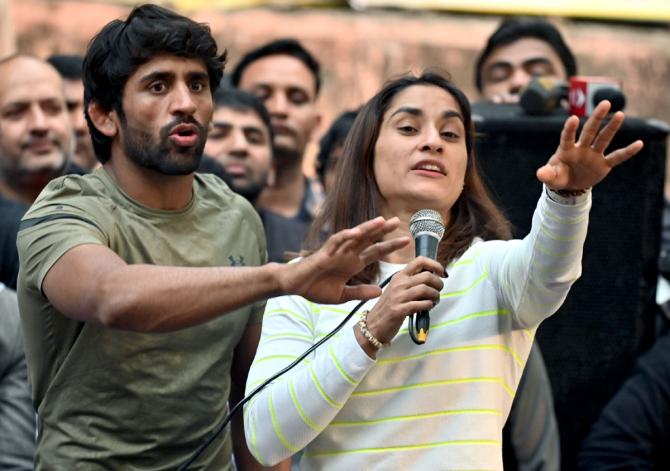 Amid allegations of sexual harassment against BJP MP and Wrestling Federation of India chief Brij Bhushan Sharan Singh, the Congress on Friday demanded that the sports body should be dissolved and Prime Minister Narendra Modi answer what action he took when issues were allegedly flagged to him by a wrestler in 2021.
Flanked by Olympic bronze medallist boxer Vijender Singh and Commonwealth Games gold medallist discus thrower Krishna Poonia, both Congress leaders, party spokesperson Supriya Shrinate said it was "shameful" that even after 72 hours Singh had not resigned and the government was maintaining a "conspicuous silence"

The Congress' first and foremost demand is that the federation should be dissolved with immediate effect, she said.

"Brij Bhushan Singh should have resigned yesterday itself. But the biggest demand that we raise for public interest is that women need to be made safe and secure," Shrinate said at a press conference at the AICC headquarters here.

These are some of India's most decorated athletes who have come out in the open and talked about sexual harassment, she said, asking "What more do we want our girls to say".

"The biggest question before the country today is that when Mr Modi got to know the gory details of what was happening in the Wrestling Federation of India in October 2021 and Vinesh Phogat is on record to say that she briefed the prime minister along with her family, what did he do, why did he not get an inquiry done?" Shrinate said.

"Was there an inter-departmental inquiry done, was Mr Brij Bhushan Singh summoned, was he asked to clarify his stance, there are many questions today and that is our foremost demand. This country needs to know the truth," she said.

Poonia, a Congress MLA from Rajasthan, said it was very difficult for women athlete as it is and with such matters coming to light it is going to get tougher.

She alleged that the BJP has "torn the Beti Bachao slogan to shreds" with repeated incidents involving BJP leaders coming to light.

Olympic medallist boxer Vijender Singh said he had gone and expressed solidarity with the wrestlers and strict action should be taken immediately in the matter.

Asked about a failed attempt during UPA rule to bring in a legislation to keep politicians away from sports administration and whether the BJP should do so now as it has a majority, Shrinate said, "We were willing to give our support then and your saying this is right that political consensus could not be formed back then."

"You (BJP) have majority, you make an ordinance at will...there are so many sports federation where BJP leaders have captured power, there should be a debate on this (bringing a legislation) but that is a separate issue. The lesser the political interference, the better it would be," she said.

Star wrestler Vinesh Phogat on Wednesday alleged that that the president had sexually harassed women wrestlers for years, a charge vehemently rejected by the sports administrator.

She also claimed that she had received death threats at the behest of the WFI president from officials close to him because she dared to draw Prime Minister Modi's attention to several issues plaguing Indian wrestling when she met him after the Tokyo Games.

Top Indian wrestlers' meeting with Union Sports Minister Anurag Thakur remained inconclusive on Thursday night as they refused to back down from their demand that the government immediately disband the Wrestling Federation of India.

The wrestlers, who have accused the WFI president of sexual exploitation and intimidation, have continued their sit-in.

Tokyo Olympics medallist Bajrang Punia, Rio Olympic medallist Sakshi Malik, world championship Sarita Mor, Sangeeta Phogat, Anshu Malik, Sonam Malik, Satyawart Malik, Jitender Kinha, Amit Dhankar and CWG medallist Sumit Malik are among the wrestlers who have protested against the WFI chief.

Singh, 66, was elected unopposed as president of WFI for a third consecutive term in February 2019.