The fact that Tamil Nadu Chief Minister J Jayalalithaa approved an expenditure of Rs 29 crore for the World Chess Championship between Viswanathan Anand and Norway's Magnus Carlsen to be held here points to the significance the event has for the state government.
With full-page advertisements in major national dailies and huge hoardings across this city, the government is trying its utmost to make the event a success.
"Chess is very close to my heart and I regard this game very highly, as a player and as an enthusiast…The entire atmosphere here is charged with intellectual voltage, as both prepare vigorously for the epochal battle. This event is iconic and historic and Chennai is proud to host it. In Chennai, we wait with nail-biting anticipation," Jayalalithaa said at the inauguration of the event on Thursday.
This year, the event has seen sponsorships galore. Sponsors include Indian Overseas Bank, Indian Bank, Indian Oil Corporation, Tamil Nadu Newsprint Ltd and United India. Sponsorship amounts are estimated at Rs 50 lakh each.
The prize money for the 12-game series, to be held from November 9 to 26, is Rs 16 crore. The winner would get 60 per cent of this, as well as a 15-sovereign gold medal, while the other contestant would get the remaining amount and a 10-sovereign silver medal.
At Hyatt Regency hotel here, the venue for the match, all the 327 rooms had already been booked till November 28, said a hotel spokesperson, adding most of those who had booked these rooms were from Norway. "There's a huge Norwegian contingent here, with about 50 journalists, apart from Carlsen's team. Rooms were also booked by chess associations from various parts of the country," he said. In and around the hotel, security has been beefed up.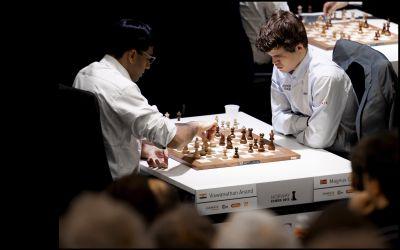 On the two contestants, the chief minister said, "Grandmaster Viswanathan Anand is, quite simply, the greatest sportsman India has ever produced. He has been the epitome of chess in India."
Welcoming Carlsen, she said with his youthful vigour and talents, he had captured the imagination of chess lovers across the world. "Carlsen has experienced one of the fastest ascents to the elite stratosphere of chess, the pinnacle of which we are all assembled to witness, as he challenges world champion Viswanathan Anand for the world title."
Anand, a native of this city, checked into the hotel a few days ago, while Carlsen, currently at another hotel, would shift to Hyatt soon.
Jayalalithaa said when World Chess Federation President Kirsan Illyumzhinov had met her in 2011, he had said the World Chess Championship match would be held in Chennai, at a cost of Rs 20 crore. However, Russia, which made the highest bid for the championship, won the right to host the event that year.
As a goodwill gesture, the federation had agreed to hold the championship match in Chennai this year, without any bid. Hyatt Regency's Ball Room, the actual venue for the match, is being refurbished with soundproof glass and symmetric seating arrangement. According to hotel sources, there are 350-400 seats, 60 per cent of which have already been booked. While standard daily tickets cost Rs 2,000 each, seasonal ones are priced at Rs 21,000. Their premium counterparts are priced at Rs 2,500 and Rs 26,000, respectively. For corporate boxes, daily tickets cost Rs 35,000, while seasonal ones cost Rs 3.25 lakh.
An official of the company responsible for setting up the soundproof glass said, "It was two and a half months of planning, and two and a half days of execution." For match chairs, it was reported the players had been asked to choose from a variety of 15 chairs and six models.
Across the hotel, giant chess pieces are displayed at strategic locations, including the lobby. To add to the prevailing fervour, a few hotel employees have been dressed as King and Queen chess pieces.
At the hotel, dedicated staff would help address all queries related to the event.
The hotel has also organised various food and beverage promotions and specials through the month. It is also preparing to serve Norwegian delicacies, including smoked salmon and salmon steak.
Image: Viswanathan Anand and Magnus Carlsen
Photograph: Kent Skibstad/NTB Scanpix/Reuters