Defending champion Viswanathan Anand will start his campaign with black pieces against Magnus Carlsen of Norway in the first game of the 12-round World Chess Championship in Chennai on Saturday.
After declaring the 'FIDE World Championship Match-2013' open, Tamil Nadu Chief Minister J Jayalalithaa picked the photograph of Anand from the first bowl and a 'black piece' from the other during the draw of lots for the match, to be held at Hyatt Regency hotel.
Instantly, it brought loud cheers from the almost packed Jawaharlal Nehru Indoor stadium, with spectators wishing Anand the very best.
Anand will get back-to-back white games in round six and seven when the changeover will be done.
As per rules, the player getting white in game one has to get black in game seven to make it even for both participants.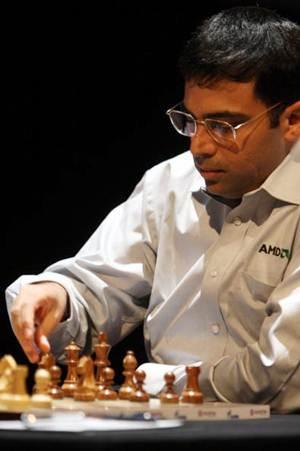 Anand, who won World Championship matches in 2000, 2007, 2008, 2010 and 2012, is used to open with black pieces in World Championship matches.
In the campaign against Vladimir Kramnik of Russia in Bonn in 2008 and against Veselin Topalov of Bulgaria in 2010, Anand had started with black, which is known as a slightly unfavourable colour in the game, and yet won in style.
In 2012, though, the Indian ace had white in game one against Boris
Gelfand of Israel.
Jayalalithaa inaugurated the event at a glittering function in the presence of both the players, FIDE president Kirsan Ilyumzhinov, Tamil Nadu Sports Minister K C Veeramani, All India Chess Federation President J C D Prabhakaran and FIDE vice-president D V Sundar.
Seven budding state chess players escorted Anand and Carlsen to the dais and the two contestants exchanged pleasantries with the chief minister. Both Anand and Carlsen got huge cheers from the crowd.
Jayalalithaa hailed Anand as the greatest sportsman India has ever produced and Carlsen as 'Mozart of Chess' whose precocious talent has captured the imagination of chess lovers across the world.
Jayalalithaa described Anand as the epitome of chess in India and a role model for aspiring chess players of the country.
"This astoundingly modest personality from Chennai has made us all proud with his resplendent ability to deftly navigate expertly around this complex maze of 64 squares," she said.
Talking about Anand's love and hunger for mastering his craft, Jayalalithaa said "consistency, versatility and single-minded focus have always been Anand's forte".
"He gained national recognition at an early age when he won National Sub-Junior Chess Championship in 1983 at the age of 14. In the following year, he became the youngest Indian to be entitled to the International Master title," she said.
The Chief Minister went on to list the achievements of Anand, including becoming of first Indian Grandmaster in 1988, winning the Rajiv Khel Ratna, Chess Oscar and then India's most prestigious civilian awards, Padma Shri and Padma Vibhushan.
"Anand was the only chess player to have won the World Chess Championships in all three formats -- knock-out in 2000, tournament in 2007 and classical in 2008."
Talking about Carlsen, she said: "He was totally fascinated by chess and became deeply engrossed and involved in chess to the point of obsession from early childhood and by the age of 13, he was an International Grandmaster.
"At the age of 20, he became the youngest number one of the FIDE rating list in history. On February 1 this year, he achieved 2872 points in FIDE ratings, the highest score in world chess history so far."
Saying it is a proud moment for Chennai to host the historic event, she added: "Carlsen has experienced one of the fastest ascents to elite stratosphere of chess, the pinnacle of which we are all assembled to witness, as he challenges world champion Viswanathan Anand for world title.
"The entire atmosphere here is charged with intellectual voltage as both prepare vigorously for the epochal battle."
Image: Viswanathan Anand
Photograph: Getty Images