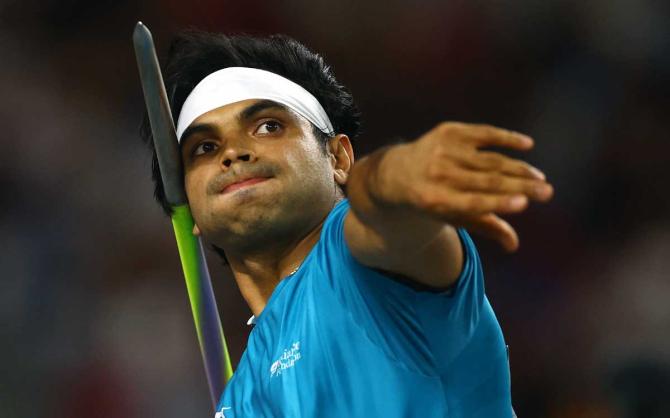 For someone who was cajoled into taking up sport to shed weight, Neeraj Chopra's rise to stardom from a Haryana village has been nothing short of spectacular, and at 25, he is on course to becoming one of India's greatest sporting icons.
Two years ago, his spear soared high into the Tokyo sky as he became the country's first Olympics track and field gold medal winner. He was just 23, as he became only the second Indian to win an individual gold medal in the Olympics after legendary shooter Abhinav Bindra.

A star was born overnight in a country that had for long craved for the ultimate success in sport's biggest platform.

Before Bindra, who won the 10m air rifle gold in 2008 Beijing Olympics, India's eight other yellow metals at the Games had come from hockey, a team game.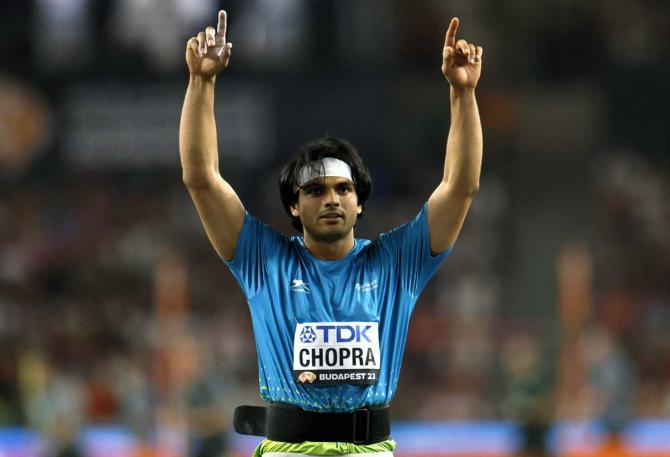 With his gold medal on Sunday in the World Championships, the legend of Chopra continued to grow.

He is now only the second Indian -- again after Bindra -- to simultaneously hold the Olympics and World Championships title. Bindra won the World Championships title when he was 23, and the Olympics gold at 25.
With age on his side, Chopra is bound to achieve more success if he stays fit. He will have two Olympics and two World Championships before he turns 30.

The world junior championships triumph in 2016 heralded Chopra's rise on the world stage but it was the gold in Tokyo in 2021 that etched his name in Indian sporting history.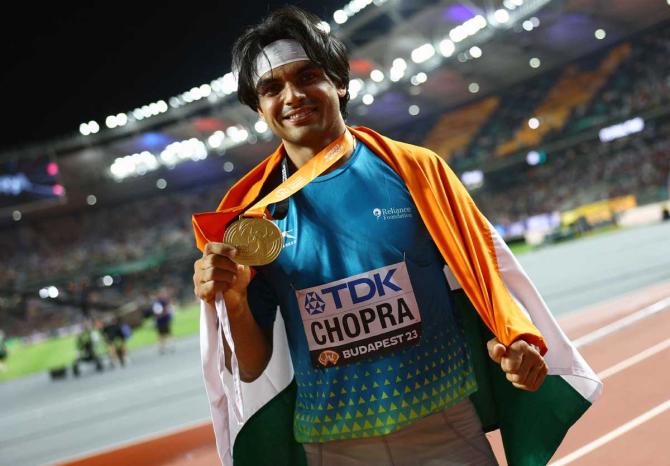 The adulation showered on him was unprecedented; it was at par with if not more than some of the cricket icons.

He was the toast of the nation and having attended so many felicitation programmes on one occasion exhaustion and fever forced him to leave a welcome function near his village. He later revealed that he had put on weight after missing training due to the many felicitation functions he had attended after the historic success in Tokyo.

Chopra found himself among the most-searched Indian personalities online and ranked above the likes of Virat Kohli and Rohit Sharma in Google searches in India. After his Tokyo triumph, Chopra's brand value skyrocketed with top brand sponsors lining up for him.

His brand value was compared with people like Kohli and his Instagram and Twitter followers swelled instantly.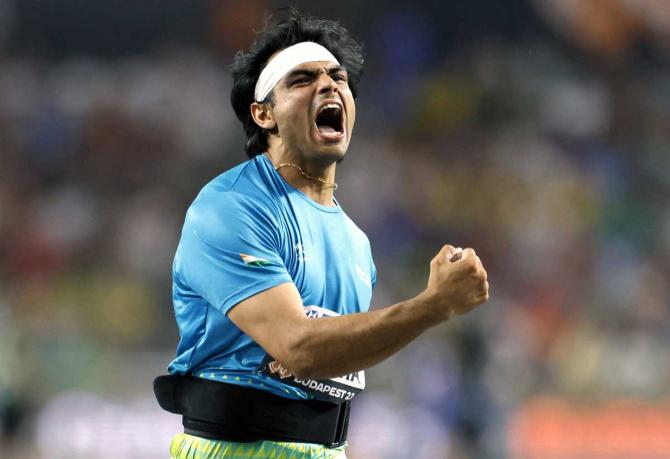 In December last year, Chopra dislodged the iconic world record holder sprinter Usain Bolt as the 'most visible' and 'written-about' athlete in the world.

Chopra led a star-studded field in terms of media coverage with 812 articles published in his name, followed by Jamaican sprint trio of Elaine Thompson-Herah (751), Shelley-Ann Fraser-Pryce (698) and Shericka Jackson (679).

Athletics Federation of India president Adille Sumariwalla said recently that Chopra's Tokyo Olympics gold has made parents think that there is a career beyond cricket in India.

Sumariwalla may not be off the mark as more than half a dozen Indians are currently capable of hurling the spear above 80m and three Indians, including Chopra, featured in the World Championships men's javelin final on Sunday.

August 7, the day Chopra won gold in Tokyo, is now being celebrated as National Javelin Day.

Consistency has been Chopra's forte since his Tokyo triumph as he has thrown above 86m in all the events he has taken part in the last two years. Of course, he has not competed in too many competitions -- just two this year before the World Championships -- but there has not been any drop in his performance.

The least distance he has cleared since the Tokyo gold was the 86.69m while winning the Kuortane Games title in Finland in June last year. His best is the 89.94m which fetched him a second place at the Stockholm Diamond League, also in June last year.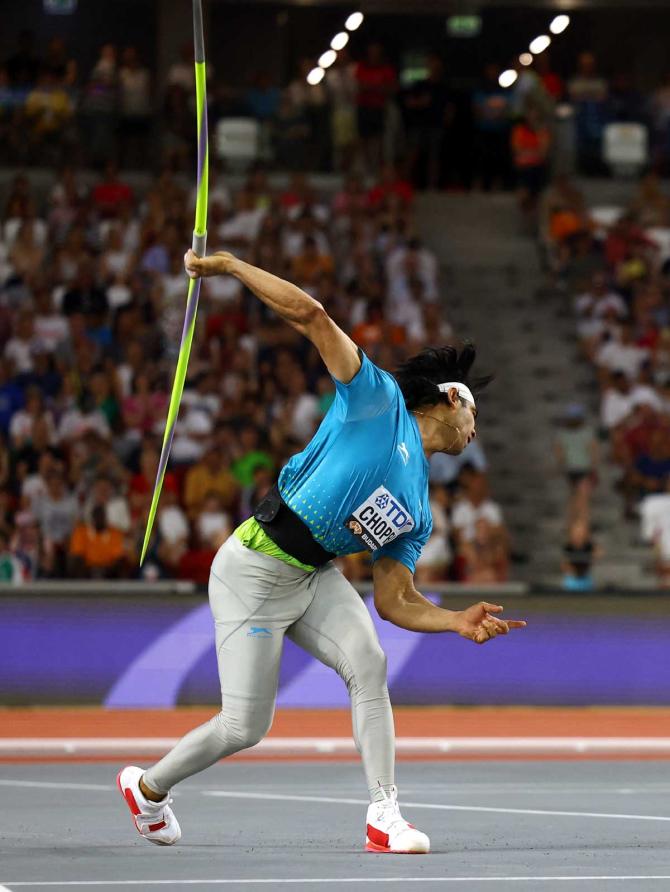 Compared to this, his closest competitors such as Tokyo Olympics silver medallist Jakub Vadlejch of Czech Republic has thrown below 85m many times. Of course, Vadlejch has featured in more than 20 competitions in the last two years, more than twice as that of Chopra.

It's almost the same in case of Julian Weber of Germany, who was fourth in Tokyo and also in the 2022 World Championships.

Anderson Peters of Grenada suffered a dip in form after winning gold in the 2022 World Championships -- his second after 2019 edition triumph -- and he could not even touch 80m in the qualification round here on Friday to make an early exit.

Chopra may not be as articulate as the likes of Bindra but his 'I can't hurt or disappoint anybody' mindset can floor anyone. He would readily oblige fans in India and abroad for selfies and autographs. He will not say no to scribes wanting to talk to him.

No doubt, the Tokyo Olympics success brought certain restrictions as far as access to him is concerned with 'guards' surrounding him often, but he remains down to earth as before. He is still accessible in the playing arena.

Chopra speaks from the heart and not in a nuanced way. He would even candidly tell scribes that medals are not awarded in certain events.

But many years before he achieved greatness, Chopra was under tremendous pressure from his joint family of 17 to lose weight.

He was all of 13 at that point and had become a mischievous boy, often fiddling with the bee hives on village trees and trying to pull buffaloes by their tails.

His father Satish Kumar Chopra wanted something to be done to discipline the boy. So, after a lot of cajoling, the child finally agreed to do some running to shed the flab.

His uncle took him to Shivaji Stadium in Panipat -- around 15km from his village.

Chopra wasn't interested in running and almost instantly fell in love with javelin throw when he saw a few seniors practising at the stadium.

He decided to try his luck and, as they say, the rest is history, which would now probably make its way into school textbooks.