'Doha is famous for 90m throws.'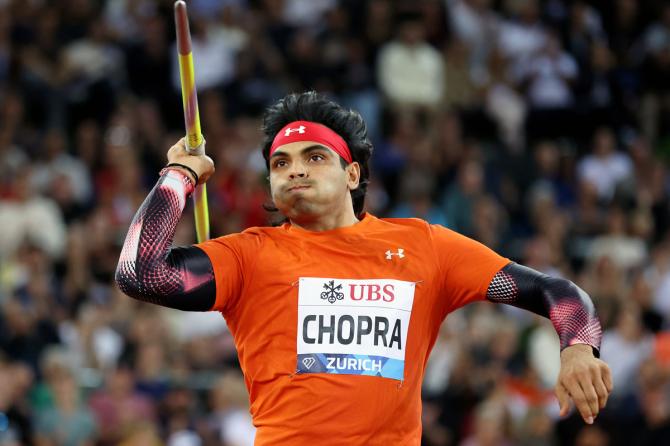 Competing for the first time as Diamond League champion, star javelin thrower Neeraj Chopra will be up against his familiar nemeses in the first of the prestigious meetings series in Doha on Friday, as he aims to begin a 'long' season studded with top international events with a strong performance.
The 25-year-old Chopra, also a 2022 World Championships silver winner, faces the likes of reigning World champion Anderson Peters of Grenada and Tokyo Olympics silver medallist Jakub Vadlejch of Czech Republic in a star-studded field at the Qatar Sports Club.

Chopra, who has a personal best and national record of 89.94m, had finished fourth with 87.43m in 2018 in the only other participation in the Doha Diamond League. He could not take part in the event last year due to lack of "overall fitness and strength".

Despite missing the Doha leg, Chopra went on to script history one after the other last year. He became the first Indian Diamond League champion after winning the 2022 grand finale in Zurich in September last year. A month before that, he became the first Indian to win a Diamond League Meeting in Lausanne.

Chopra last month said that he was feeling better "physically and technically" at the corresponding point in time, but it will not be easy for him to win the top prize in the season-opening Diamond League, going by the incredible competition seen at the event last year.

Peters had produced the fifth-longest throw in history by hurling the spear to 93.07m, a mark just outside German Thomas Rohler's 93.90m, a meeting record set in 2017.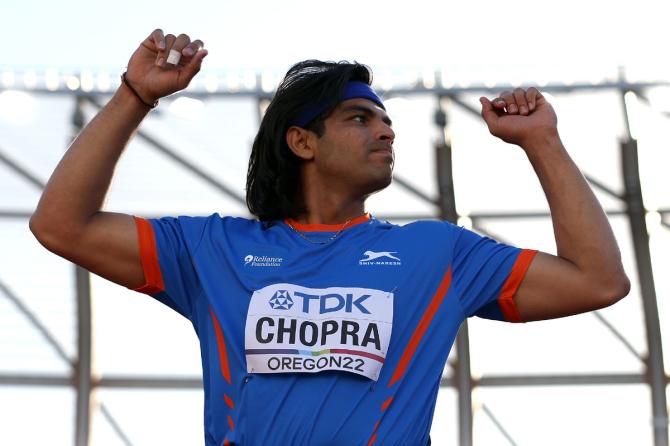 Vadlejch, who finished second behind Chopra in Tokyo Olympics and won a bronze in the 2022 World Championships, also recorded a personal of 90.88m here last year in his first ever throw over 90m.

Alongside the decorated trio, the Doha Meeting will also have European champion Julian Weber of Germany, who has a personal best of 89.54m, 2012 Olympic champion Keshorn Walcott (PB 90.16m) of Trinidad & Tobago and former world champion and 2016 Olympic silver medallist Julius Yego (PB 92.72m) of Kenya.
"This is my first competition of the season. It's always good when you have great competitors," Chopra said at the pre-event press conference.

"Vadlejch has already thrown 88.38m in Potchefstroom (South Africa, on April 18), so I think tomorrow will see great competition. Also, Doha is famous for 90m throws. So we will see, hopefully tomorrow will have great results for all."

One of the targets for Chopra, the first Indian Olympic gold medallist in track and field, this year will be to cross the 90m mark, the gold standard in the world of javelin, but whether he can achieve the feat in his first competition of the season will have to be seen.

Last month, he said he would also be looking to cross the coveted mark this year, though he is not putting himself under pressure to achieve the feat.

"Last year, I was just 6cm short of 90m. I hope to do it this year but I will not put any pressure on myself. It's a magical mark and 90m club is famous in world of javelin. I hope to enter it this year," Chopra had said.

The Doha meet will also see 2022 Commonwealth Games triple jump champion Eldhose Paul compete in a field, which includes Tokyo Olympic champion Pedro Pichardo (PB 18.08m)) of Portugal, reigning Diamond League winner Andy Diaz Hernandez (17.07m) of Cuba and two-time Olympic gold winner (2012 and 2016) and five-time world champion Christian Taylor (PB 18.21m) of the United States.

With a personal best of 16.99m, it will be difficult for Paul to be on the podium in a top-class field. He had won gold in the Birmingham CWG with a wind-assisted effort of 17.03m.

The Diamond League is track and field's most prestigious series sitting in the top tier of World Athletics' one-day competitions. The 2023 Diamond League comprises 13 meetings, starting with the Doha event leading up to the two-day Diamond League Final in Eugene, United States, on September 16-17.