Someone who confessed he would have been beating buffaloes with sticks had it not been for the javelin went on to win India's first Olympic gold medal in athletics.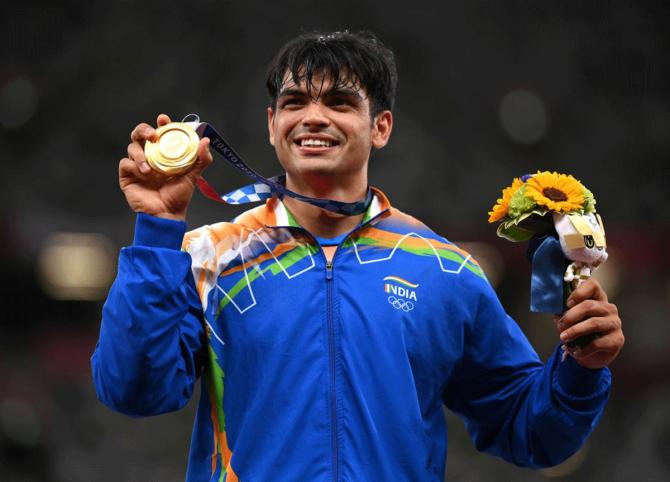 In the 2020 Tokyo Olympic Games, as the 23-year-old javelin thrower Neeraj Chopra completed his second attempt, he raised his hand signalling victory without even looking at where his javelin had landed, so confident was he of his throw. He had done it. He had secured India's first gold medal in athletics.
From an overweight teenager to an athlete at the peak of his fitness and best form of his game, Chopra, like any other successful sportsperson, may seem like an overnight achiever. Nothing could be further from the truth.
His story is that of a family looking to better their economic prospects, a community staying put together in thick and thin and, above all, a young Indian who followed a path chosen for him with the deepest honesty and sincerity.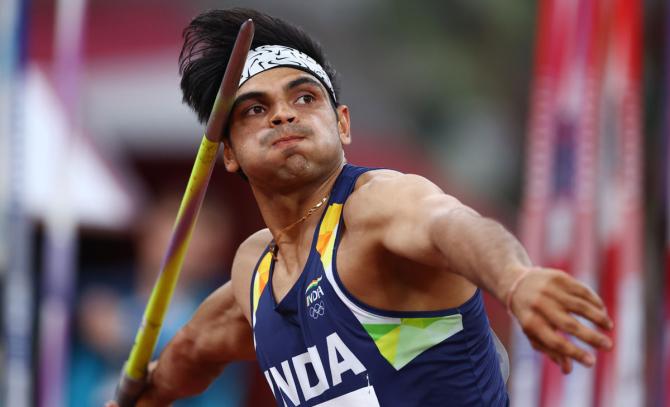 Arjun Singh Kadian, an academic and policy professional, took it on himself to tell this young man's story.
In his book, Neeraj Chopra: From Panipat to the Podium, Kadian not only traces Chopra's journey but also touches on the myriad factors impeding India's success in competitive sports.
He begins the book with a brief history of the javelin, tracing the roots of the javelin in hunting animals for food.
Kadian invokes the cave paintings and Tamil Sangam literature where we find mention of training with weapons such as a 'vel', a spear.
Then he goes on to add that it was in 1908 that the first men's javelin event took place and that women had to wait 24 years for their category to be included in the sporting event, before delving into the changes that javelin design has undergone over the years.
Kadian credits brothers Bud and Dick from the US who designed the 'modern-day javelin in the 1950s'.
But the design had to adapt to the concerns that were raised after the German athlete Uwe Hohn's 104.8 m long throw -- a world record that still holds.
It dawned upon professionals that 'there was the possibility of overshooting the stadium and the javelin landing in the crowd', which is why, as of now, for the men's event, a javelin weighs 800 gm and is 2.6 m long, and its design ensures it lands within the marked sectors of the field.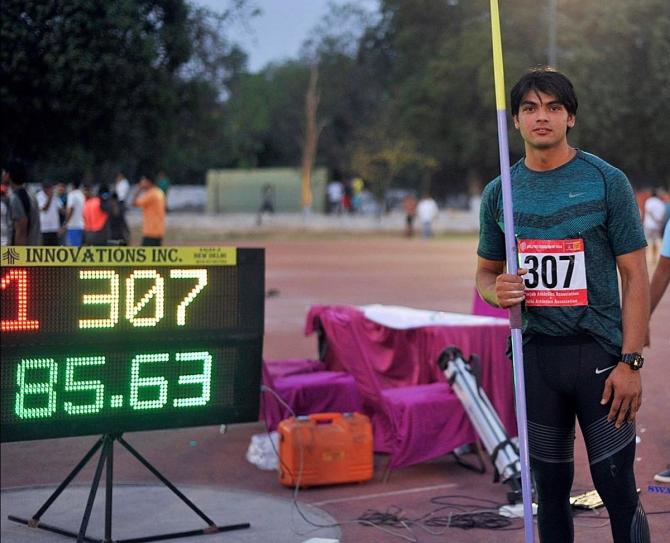 One such javelin landed at the 87.58 metre mark, putting an end to the wait by a country for gold in athletics for far too long.
Interestingly, that someone who made it possible never willingly chose the sport.
Born to Satish Kumar and Saroj Devi, Chopra's career was discussed and decided on his behalf by his joint family, consisting of his uncles -- Surender, Bhim and Sultan.
Surender, who was in the 'network marketing business', first met Jitender Jaglan, a former javelin thrower, and started slipping into conversations and exploring options for his nephew, Neeraj.
One thing led to the other and a little over a decade later someone who confessed that he would have been beating buffaloes with sticks had it not been for the javelin went on to become a Padma Shri awardee.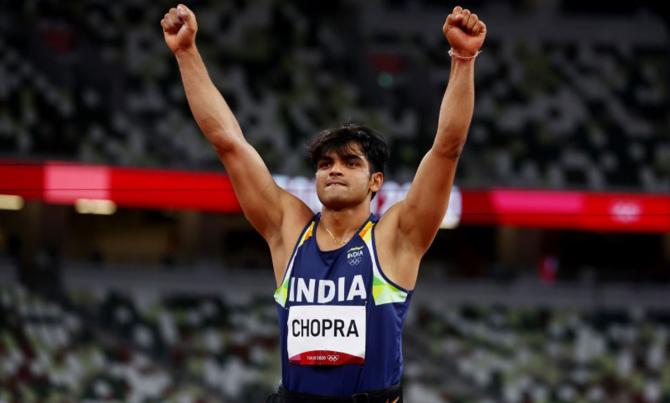 Chopra's tale is not only one of guts and gumption but also of humility, rootedness and perseverance.
It's also one of luck and the right things happening for him, unlike many of his colleagues.
It's fitting to note here that Kadian also takes an opportunity to critique Indian sports infrastructure in the book.
'The sports facilities are quite inadequate and whatever is available is in such a shabby state that it poses more risks than advantages,' he writes
As someone who has covered akharas, I agree with Kadian. If one happens to be in Delhi, a visit to the Hanuman Galli, Roshnara Park, will offer an idea of the dire state of the Guru Hanuman Akhara.
Despite the appalling conditions, young people, the dreamers, and their relentless and hard-working mentors, 'manage' and somehow try to overcome this handicap by giving their all.
But eventually what do they get? When Chopra enrolled in the Indian Army as a Naib Subedar, he had the privilege to go on extended leave to continue his training.
Kadian writes, 'The job had a significant role, psychologically speaking. It did what it was supposed to do -- act as a backup position.'
However, how many of the erstwhile sports stars have had this security? Golden arm or leg, most of our sportspersons do not get their due, especially if they're not playing cricket.
With little incentives during and after a win, if they manage to secure it, there's a tremendous burden they have to bear when they go to represent India.
Though Chopra triumphed, and we should celebrate his win, the thought of the debilitating state of India's sports management should worry us too.
Saurabh Sharma is a Delhi-based queer writer and freelance journalist.
Feature Presentation: Rajesh Alva/Rediff.com