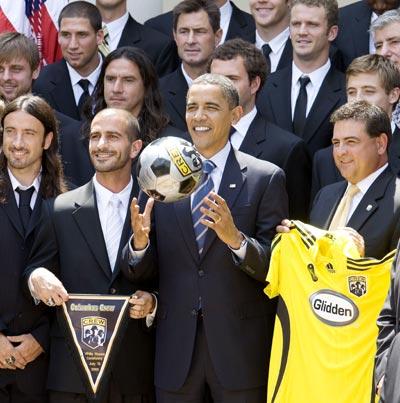 US President Barack Obama hosted the MLS Columbus Crew team in the Rose Garden of the White House in Washington on Monday.
Obama congratulated the team on its MLS championship winning run.
The American President joined the team from Ohio in the Rose Garden to honour a turnaround from a losing season in 2007 to the best record in the league for 2008.
The president joked that he's been watching plenty of soccer these days to help his ddaughters with the game.
He says he's learned two main rules for youth soccer: no matter the position, players should run toward the ball all at once; and snacks at halftime must never be forgotten.
Obama said soccer's popularity is on the rise in the US, and that the national team has been playing with distinction.
The reference was obviously to the American's team dream run to the final of the Confederations Cup last month in South Africa, where the US team upset the likes of European champions Spain en route to the final where they losta close match to holders Brazil.