IMAGES from Day 8 of the action at the US Open at USTA Billie Jean King National Tennis Center at Flushing Meadows in New York on Monday.
Alcaraz makes quick work of Arnaldi to reach last eight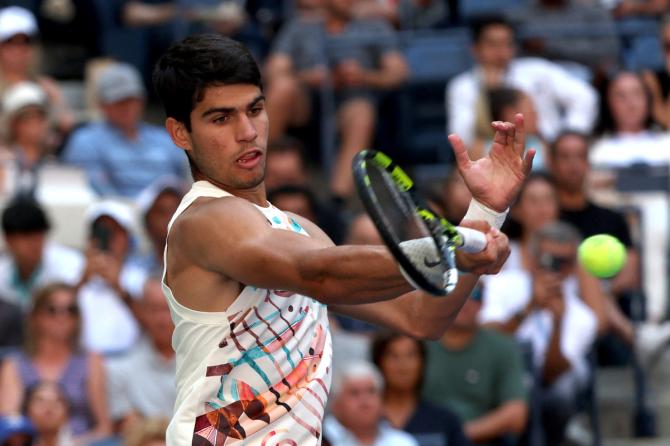 On the American Labour Day holiday, US Open defending champion Carlos Alcaraz went to work and eased past Italian Matteo Arnaldi 6-3, 6-3, 6-4 on Monday to reach the quarter-finals.
Through the first week of the season's final Grand Slam, the world number one has been putting in routine shifts and dropped only one set en route to the last eight.
But the second week is the business end of a Grand Slam when the draw has thinned out and serious contenders surface.
In Alcaraz's rear view mirror are relative unknowns, like Arnaldi and Dominik Koepfer, but further ahead lurk familiar danger men such as Russians Daniil Medvedev and Andrey Rublev.
He will next face either Italian sixth seed Sinner or 12th seeded German Alexander Zverev.
Alcaraz has not shown his best yet on the New York hardcourts but like a hot Wall Street stock the Spaniard is trending in the right direction.
There have been a few hiccups and lapses but the 20-year-old's raw talent, power and repertoire of weapons make him the man to beat and he is on track for another showdown with arch rival Novak Djokovic.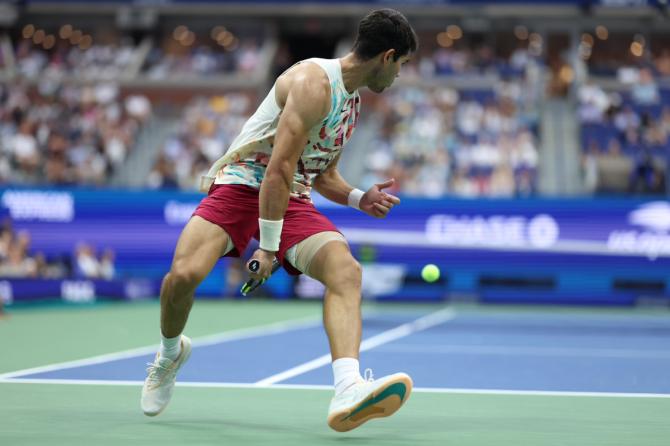 Under a closed roof on Arthur Ashe Stadium, Alcaraz was solid from the start against a man who was playing in the Flushing Meadows main draw for the first time.
It took a few games for Alcaraz to size up his opponent but once the Spaniard did it was pretty much one way traffic.
Alcaraz took charge with a break for a 4-2 lead in the first set and then broke again at the start of the second to find himself 2-0 up.
The feisty Italian had his moment in the third set, breaking Alcaraz at 2-1, but the Spaniard immediately broke back and then broke again to seal victory.
Later Arnaldi confirmed what most already knew - he could see no holes in Alcaraz's game.
"(I) try to not let him find weakness to my game," said Alcaraz. "I try to put him to the limit every time that I can in every match, against every opponent.
"I try to put my own game, try to put my style on the match.
"I'm happy that he said that because I'm doing great things on the court."
It has been rare to catch Alcaraz without a smile whether on court, television or mingling with fans signing autographs.
For now everything is going according to plan and Alcaraz, without a hint of bravado, rated his performance so far as great.
"Honestly, I've played great matches with a great level, high quality," he said. "I hope to keep going like this.
"For me, nothing else matters than playing my level and be happy with the level that I'm playing on court.
"That's the only thing I care about right now.
"All the pressure that people put on you, on the defending champions, I just delete it and focus on my own game."
Zverev edges out Sinner to reach US Open quarter-finals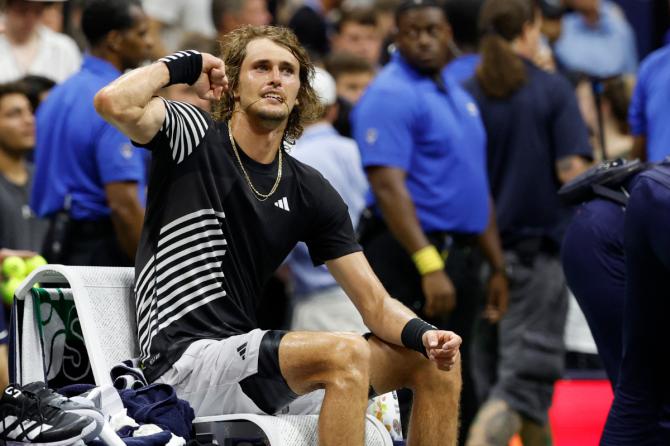 Former US Open runner-up Alexander Zverev beat sixth seed Jannik Sinner 6-4, 3-6, 6-2, 4-6, 6-3 late on Monday to move into the quarter-finals of the year's final Grand Slam.
The 26-year-old German's victory earned him a meeting with defending champion and top seed Carlos Alcaraz.
Zverev, who is rediscovering his best form after an ankle injury wrecked his 2022 season, swapped breaks with Sinner early in the contest and was locked in a tight battle until 4-4 before going ahead to take the first set with two aces.
Sinner responded immediately with some heavy hitting in the next set to go up 3-0 and turned up the heat in a steamy Arthur Ashe Stadium to thwart the 2020 finalist's late charge.
Sinner then struggled with cramp in both legs in the next set. The 22-year-old saved five breakpoints to hold for 2-2 but 12th seed Zverev reeled off the next four games.
World number six Sinner began swinging at everything in the fourth set and Zverev cracked under the onslaught, dropping serve in the ninth game as his opponent forced a decider.
But a crucial break in the fifth set gave Zverev the upper hand and he held his nerve to close out the win in four hours and 41 minutes with a powerful serve.
Fifth seed Jabeur knocked out by Zheng in fourth round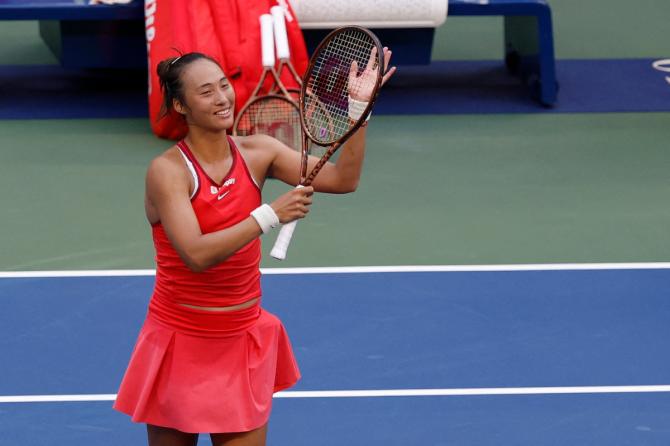 China's Zheng Qinwen knocked out last year's U.S. open runner-up Ons Jabeur in the fourth round on Monday with a 6-2, 6-4 win over the Tunisian fifth seed at Louis Armstrong Stadium.
Illness had left Jabeur struggling to catch her breath at times earlier in the tournament and she looked exhausted against Zheng, who will face second seed Aryna Sabalenka in her first Grand Slam quarter-final.
"I always believe that I'm able to beat everyone if I play the right tennis that I have to play," said 23rd seed Zheng, who called Monday's win a "breakthrough".
"I believe that if I'm really there fighting for every point, I mean, things (are) going to happen."
There were early signs of trouble for Jabeur as she handed Zheng a break with a double fault in the third game and the Chinese player cruised through the fourth.
The pair traded breaks in the fifth and sixth before Jabeur produced another double fault and two unforced errors - among 33 in the match - in the seventh, giving Zheng the opportunity to close out the set on serve.
Jabeur, down two breaks in the second set, stayed in the match when Zheng dropped serve with a pair of double faults in the eighth game. The Tunisian saved a match point in the ninth, two more in the 10th before a sublime cross-court forehand from Zheng put the match to bed.
A New York fan favourite, Jabeur said she fed off the crowd's energy to keep her going.
"They support me no matter what. That's actually what I need as an athlete, as a player," she told reporters. "Hopefully we'll come back next year stronger and just get the support from this incredible crowd."
Zheng said she knew she had to take the game to her opponent if she was to come out on top.
"If I want to win the match today, I have to be aggressive," she said. "Of course, I need to be able to (defend) lot of balls, to be aggressive player, need to find a balance.
"I'm happy that today I found the right balance to get win this match."
Medvedev gets 'early' win to reach quarters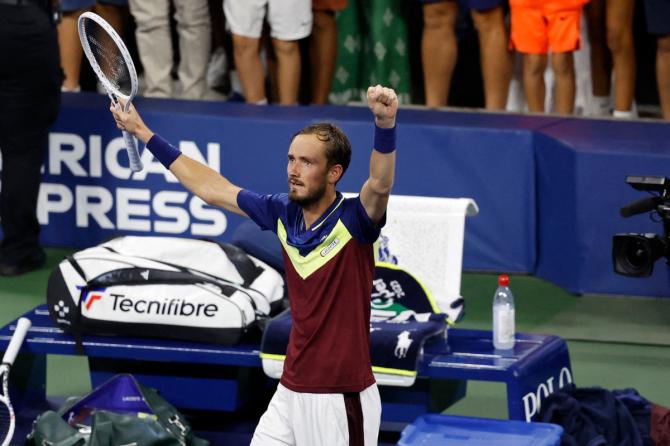 After two late-night matches at Flushing Meadows third seed Daniil Medvedev finally finished work 'early' on Monday by taming Australian Alex de Minaur 2-6, 6-4, 6-1, 6-2 to move into the US Open quarter-finals for the fourth time in five years.
Medvedev has been working the graveyard shift at the US Open, with his previous two matches starting one day and ending early the next, but after a sluggish start he stepped into high gear to speed past 13th seeded De Minaur.
Medvedev, the 2021 champion, led their head-to-head meetings 4-2 coming into the match but the Australian had won their last two contests, including a straight sets quarter-final win at the Canadian Open tune-up event.
De Minaur looked like he might make it three straight after taking the opening set on Louis Armstrong before Medvedev found his comfort zone.
Finally starting to dictate play, the Russian broke to win the second set and stepped up the pressure in the third to move in front before calmly closing out a comfortable win.
Rublev hoping nine times is the charm at the US Open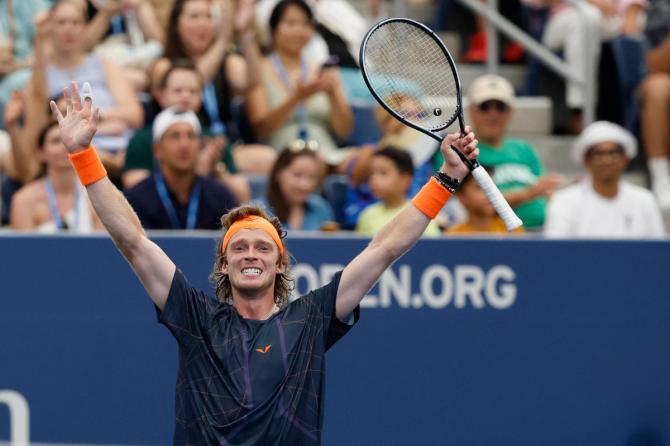 Andrey Rublev dispatched the last Briton Jack Draper 6-3, 3-6, 6-3, 6-4 to reach the US Open quarter-finals and then go back to the drawing board to figure out a way to clear the next hurdle.
Getting to the last eight is nothing new for the Russian, who has now made it to the quarters of a Grand Slam nine times but on each occasion so far that is where his journey has ended.
Rublev has run into a quarter-final brick wall at three US Opens, tripped up by Rafael Nadal in 2017, Daniil Medvedev in 2020 and Frances Tiafoe in 2022.
Compatriot Medvedev could again be the obstacle he needs to navigate with the 2021 U.S. Open champion taking on Australian Alex De Minaur later on Monday for a quarter-final spot.
"I don't want to think about my game, to be honest, because I feel I'm playing well, and that's the most important thing," said Rublev. "That's why I don't want to pay attention to the game and to put extra pressure on me.
"I feel the ball well. I played good match today."
Rublev was a one-man French wrecking crew on way to the quarters by disposing of lucky loser Arthur Cazaux, Gael Monfils and Arthur Rinderknech before facing Draper.
The British left-hander arrived in New York unsure if he could compete after suffering a small tear in his shoulder that forced him out of the Winston-Salem tune-up event but in the end was the last Briton still on court.
Draper, into the fourth round of a Grand Slam for the first time, came on court to battle and split the first two sets.
But in the third Rublev's big match experience and quality began to show, as did Draper's frustrations, as the Russian confidently claimed the next two sets and the match.
"In the third set I started to listen to my team and I started to also realise that, yeah, I was doing everything right," said Rublev. "I was playing well, I had everything under control. "I just needed to get back to that mood."
Sabalenka overwhelms Kasatkina to reach quarters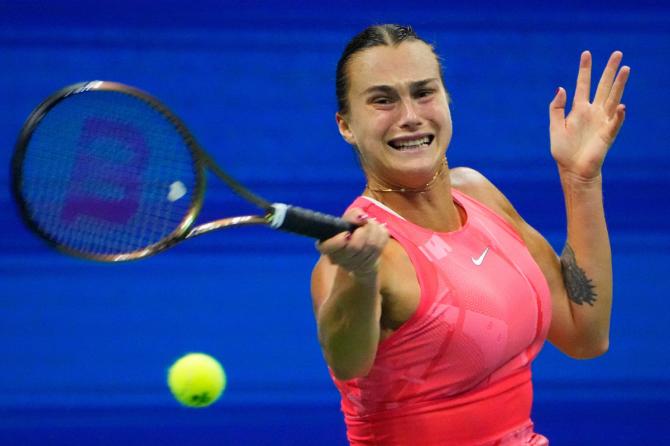 Second seed Aryna Sabalenka eased past Daria Kasatkina 6-1, 6-3 to make the US Open quarter-finals for the third year in a row on Monday, subduing her opponent with her powerful forehand inside Arthur Ashe Stadium.
Australian Open champion Sabalenka will rise to the top of the WTA rankings when they are updated after the tournament and was playing with the confidence of a world number one as she pounded Kasatkina with 31 winners.
Kasatkina lost in straight sets to the Belarusian last month in Cincinnati and had clearly not cracked the code, as Sabalenka overwhelmed her at every turn.
"I think I'm playing great tennis," Sabalenka told reporters. "But there is always things to improve. There is always things to keep building and keep getting better with every match you play."
Sabalenka next faces China's Zheng Qinwen, who knocked out 2022 finalist Ons Jabeur in straight sets.
The second seed said her opponent will have nothing to lose in their first meeting.
"She played great tennis against Ons. I haven't watched her previous matches," Sabalenka said.
"The trickiest part is that she's moving well, playing some heavy shots. I have to be physically and mentally ready that it's going to be some winners against me in that match.
"I just have to focus on myself more than on her, on my game. I know if I'll bring my tennis there, I have chance to win this match."
The players traded breaks early in the first set before Sabalenka wrested the lead, breaking Kasatkina to love thanks to a series of aggressive forehand shots in the fourth game.
Kasatkina had struggled with double faults through the first three rounds and they were a problem yet again on Monday, as she handed Sabalenka a break with a double fault in the sixth game and in the opening game of the second set.
The Russian broke back in the second game, as Sabalenka put up a pair of unforced errors and a double fault herself, but Kasatkina's momentum was short-lived as the Belarusian converted on a break point to retake the lead in the third game.
The players swapped breaks yet again late in the second set before Sabalenka forced Kasatkina into a backhand error to break her serve on match point and pumped her fist with satisfaction.