IMAGES from all the action on Day 7 of the US Open played at USTA Billie Jean King National Tennis Center at Flushing Meadows in New York on Sunday.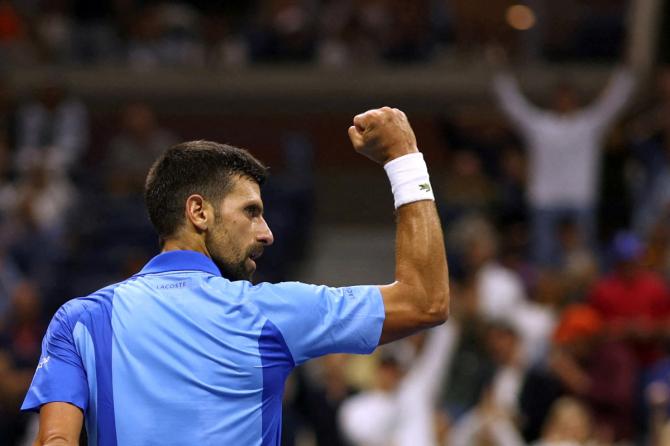 After a five-set nailbiter in the previous round, Novak Djokovic was in no mood for another tense evening at the US Open on Sunday and the Serb cruised into the last eight of the year's final Grand Slam with a 6-2, 7-5, 6-4 over Borna Gojo.
Djokovic had endured a far more testing match on Friday, having to come back from two-sets down against Laslo Djere to keep alive his bid for a fourth US Open title that would see him match Margaret Court's record haul of 24 Grand Slams.
On Sunday, the 36-year-old Serb broke to open the contest and was never threatened as Gojo managed only a single break chance in the entire match.
Djokovic committed just 12 unforced errors compared to 40 by the 105th ranked Croat, who was under constant pressure and had his serve broken five times before the second seed closed out the contest with his 12th ace.
"I was watching him play qualifications, last couple of rounds of the main draw, and saw that he's a big shot player," said Djokovic after his 98th career match at Flushing Meadows, where he trails only Jimmy Connors (115) and Roger Federer (103).
"Obviously serve and forehand big weapons. He moves pretty well for a big guy.
"In a best-of-five sets I try to manage my energy and focus on accuracy with my serve.
"I think I've done well in important moments and just glad to get through in straight sets."
Next up for Djokovic is top-ranked American and ninth seed Taylor Fritz, who advanced with a tidy 7-6 (2), 6-4, 6-4 win over Swiss qualifier Dominic Stricker.
Fritz will head into the showdown as the only player yet to drop a set but still stinging from the 6-0, 6-4 beating Djokovic laid on him in the quarter-finals of the Cincinnati Open.
"Obviously Taylor has been now an established top-10 player for the last couple of years," said Djokovic, who has won all seven career meetings with Fritz.
"He has been playing some terrific tennis, particularly on home soil on hardcourt tournaments.
"He has improved so much over the years so, obviously the matches are only going to get tougher from now onwards and I'm ready for the challenge.
"It's going to be great."
Defending champ Swiatek knocked out by Ostapenko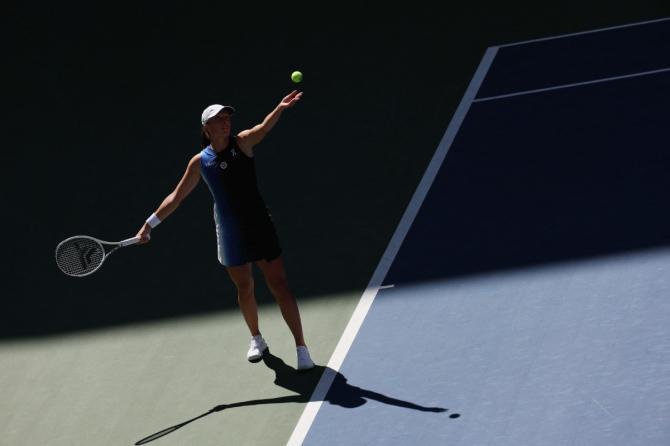 Defending champion and world number one Iga Swiatek exited the US Open in the fourth round on Sunday after she unravelled 3-6, 6-3, 6-1 against Latvia's Jelena Ostapenko at Arthur Ashe Stadium.
The Polish three-times Grand Slam winner had not dropped a set before Sunday's match but was unable to hold off the confident 20th seed's charge.
Ostapenko fired off a crisp forehand winner to break her opponent's serve on match point, pumping her fist as she extended her career head-to-head record against Swiatek to 4-0.
The 2017 Roland Garros champion next faces American sixth seed Coco Gauff, who beat wildcard Caroline Wozniacki in three sets earlier in the day.
"I always expect a tough battle against Iga," Ostapenko said.
"I knew I had to play my game. I have to be aggressive because that's what she doesn't really like and I was just fighting until the very last point."
Swiatek got off on the wrong foot, helping Ostapenko to a break in the first game with a double fault and a pair of forehand errors.
She broke back immediately, though, and converted on another break-point chance with a fine forehand winner in the sixth game before taking the first set.
But things began to fall apart for Swiatek in the second set.
She sent a forehand out to hand Ostapenko a break in the second game and was unable to convert a break point in the ninth game before Ostapenko tied the match at 1-1.
Swiatek looked demoralised in the third set while Ostapenko upped her level further, taking full control to cruise through the first five games and adding only two more unforced errors to her count en route to sealing victory.
She faces a tough challenge against an in-form Gauff, whom she beat in the fourth round of the Australian Open earlier this year.
"She's a great young player, I played against her this year in Australia. It was a tough match," said Ostapenko.
"Of course, it's going to be another tough match. I don't expect any easy matches here at the Grand Slams. So I'm ready for another battle."
Gauff outlasts Wozniacki to reach quarter-finals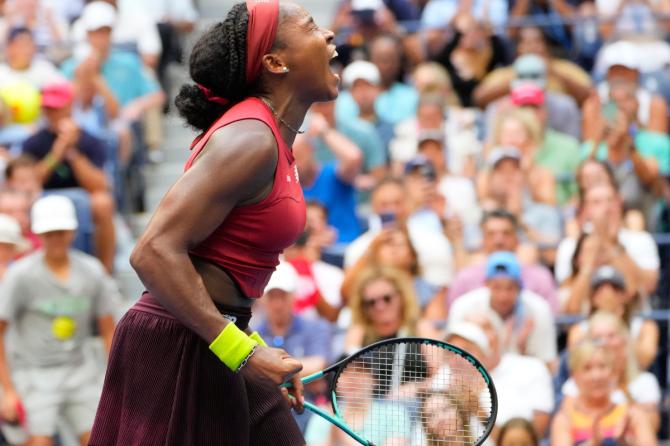 American teenager Coco Gauff ended Caroline Wozniacki's US Open comeback with a 6-3, 3-6, 6-1 victory to reach the quarter-finals on Sunday.
The Dane, who returned to Flushing Meadows for the first time since 2019 after coming out of retirement following the birth of her two children, kept sixth seed Gauff on her toes for two sets but in the end her lack of match practice caught up with her and she ran out of steam.
The 19-year-old Gauff represents one of the United States' brightest hopes at the year's final major and she beat an opponent 14 years her senior by producing 33 winners.
"She definitely gets to a lot of balls... today I knew going in I had to play aggressive," Gauff said in an on court interview.
"I have confidence in myself that I can go even further."
She next plays Latvian 20th seed Jelena Ostapenko who defeated Polish world number one Iga Swiatek late on Sunday night.
Gauff has been playing the best tennis of her career this season, picking up titles in Washington and Cincinnati, and refused to let herself be rattled as she handed Wozniacki a break with an unforced error in the first game of the match.
She levelled the contest in the fourth game and broke Wozniacki to love in the eighth, as the Dane struggled with her first serve and could not match Gauff's firepower.
But Gauff lost her edge completely in the second set, where the mistakes piled up and she was forced to defend five break points across her first three service games.
She helped Wozniacki to the break in the eighth game with a pair of double faults and appeared irritated with members of her coaching staff.
Gauff handed the 2018 Australian Open champion another break in the opening game of the third set when she whacked a backhand into the net but broke back in the next game, showing fresh resolve.
The 2022 Roland Garros finalist ran away with the momentum from there, cheering triumphantly as she forced Wozniacki into a backhand error on match point.
"Getting it to 2-1 was the turning point," said Gauff. "I showed that I was still in the match after breaking back."
Ticket holders would struggle to find two more well-liked figures playing on the same court at the Open, with Wozniacki the sentimental pick and Gauff the charismatic American fan-favourite.
The duo also expressed their affection for each other while they hugged at the net and Gauff said she was thrilled at a chance to play one of her childhood inspirations.
"Caroline, she's back and it's like she never left," said Gauff. "To be out here on the court with her today was an honour."
Cirstea beats Bencic to reach first Grand Slam quarters in 14 years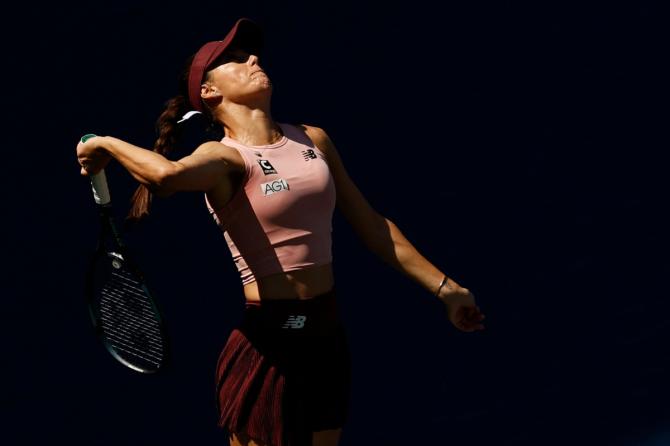 After 14 years of hard work Sorana Cirstea got her reward on Sunday, returning to the quarter-finals of a Grand Slam for the first time since 2009 with a 6-3, 6-3 upset of 15th seed Belinda Bencic at the US Open.
Making her 59th Grand Slam main draw appearance and 15th at the US Open, the 33-year-old Romanian's only other last eight appearance was at the 2009 French Open when she was still in her teens.
Now Cirstea becomes the oldest woman to reach the quarter-finals at Flushing Meadows for the first time.
"Unfortunately in tennis, not all the work you've put in is always rewarded," said Cirstea.
"So it's nice to work hard and also get the reward.
"I don't think there is any magic thing or any key. I wish I had one I can turn it on and off.
"Sooner or later if you put in the hard work, it comes."
The upset is just the latest in what has been a remarkable run for the Cirstea, who had already delivered one of the big Flushing Meadows shocks taking out fourth seed and 2022 Wimbledon champion Elena Rybakina in the third round.
There had been signs this year that Cirstea was capable of a deep run at Flushing Meadows after she reached the quarter-finals at Indian Wells, losing to world number one Iga Swiatek, and following that result by getting to the Miami semi-finals.
Next up for the Romanian is Czech 10th seed Karolina Muchova who advanced with a 6-3, 5-7, 6-1 win over China's Wang Xinyu.
It will mark the fourth time the two have clashed this year, with Muchova winning in Dubai and Montreal and Cirstea coming out on top in Miami.
"We've had very tough matches, very tight battles every time we played against each other," said Cirstea.
"This year we played three times so I think we know each other quite well.
"I'm really expecting a tough one. But again, I'm very happy and grateful to be here."