Former heavyweight boxing champ Mike Tyson is full of rage and remorse in a new two-hour documentary and hints that his self-destructive behaviour could be part of a death wish.
"Maybe in my next life, I'll have a better life," Tyson says in Fox Sports Net's "Beyond The Glory" programme, to be aired next Wednesday.
And the pugilist added darkly, "That's why I'm just looking forward to go to the other world."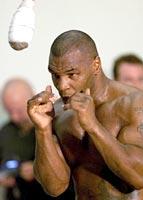 Later in the show he says, "I'm gonna live my life. I understand this society that I live in hates me" and "I'm gonna live it 'til they kill me."
Fox released a transcript of the show to media on Wednesday.
Tyson ruminates about the turbulent life that has taken him on a rollercoaster ride from abject poverty to the top of the sports world to prison as a rapist.
He says his fate was cast in the colour of his skin.
"I'm a nigger. I'm a big strong nigger that knocks out people and rapes people and rips off people and bullies people," Tyson says.
Tyson says he liked armed robberies growing up in Brooklyn and described himself as being a monster as a kid.
Locked up at age 13, Tyson's life took a turn when a corrections officer rang boxing coach Cus D'Amato in upstate New York and asked if he would take in Tyson.
He flourished as a fighter, channeling his anger into knockouts under the indulgent care of D'Amato, who protected him from complaints about how the young bruiser treated the local girls, according to his then-trainer, Teddy Atlas.
Atlas said he drew the line when Tyson grabbed the backside of his 11-year-old sister-in-law, holding a loaded gun to Tyson's ear as a warning.
The ferocious Tyson went on to become heavyweight champion at age 20 and earned hundreds of millions of dollars in a career he says has brought him little satisfaction.
"I haven't received any dignity from it. I received a lot of pain from it. It made me not like Mike Tyson no more."
Tyson says he was undone by lust when he lost his first bout to 42-1 underdog Buster Douglas in Tokyo in 1990.
"I was (censored) those Japanese girls like it was, like it was eating grapes," he said in the documentary, which repeatedly bleeped out his colorful language. "You'd (have) thought I was Caligula ... ."
From current girlfriend Luz Whitney to former wives, actress Robin Givens and Monica Turner, the women closest to Tyson agreed his lust for women was often his undoing.
"I probably cheated on every woman I ever been with," says Tyson. "I want to, but I just don't have love for anybody."
Givens recalled one telling incident.
"I remember ... picking him up one time and actually, he had on a white sweatsuit. And he had lipstick stains on his crotch," she said, able to laugh about it years later.