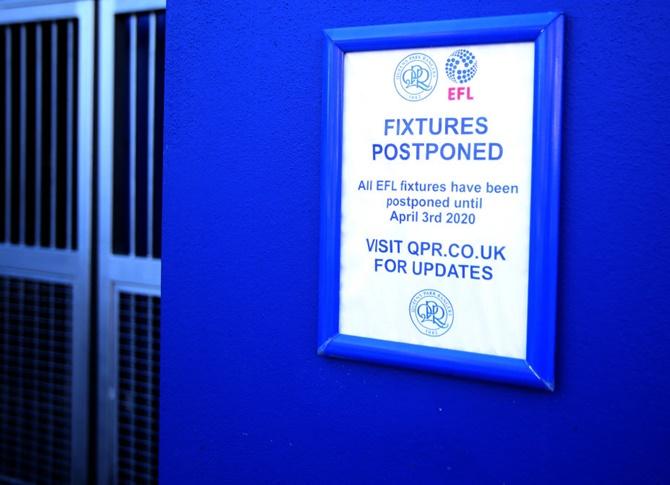 While the whole world grapples to contain the spread of the coronavirus outbreak, the sporting world has been brought to a complete standstill.
The coronavirus pandemic has led to the suspensions and cancellations of all the major sporting events across the world.
The virus has spread to at least 184 countries with the worldwide death toll surpassing the 16,000 mark.
A lot of top sportsperson around the world have also tested positive for COVID-19 as major events like Tokyo Olympics, Formula One, Indian Premier League and the top football leagues in Europe all face long-term suspension.
A look at players who have tested positive for the coronavirus:
Mikel Arteta, Arsenal manager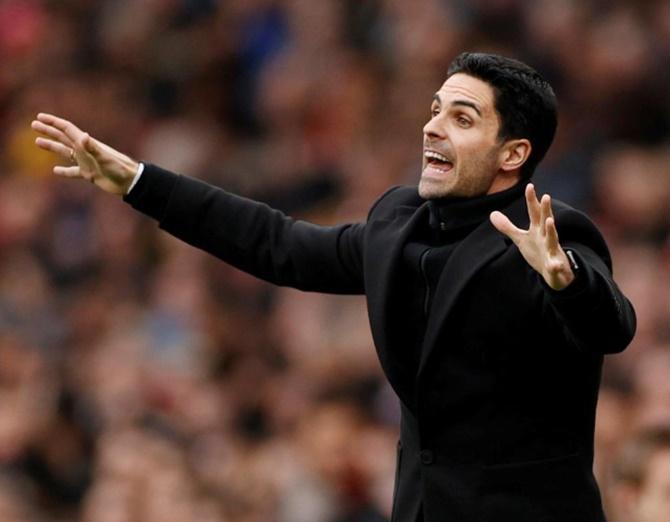 Arsenal manager Mikel Arteta tested positive March 12, forcing the club to close its training complex and put the entire first team in self-isolation.
On the same day as Mikel Arteta, the 19-year-old Chelsea winger Callum Hudson-Odoi also said he was infected.
Hudson-Odoi became the first Premier League player to test positive for the coronavirus.
His positive test last week had prompted the London club to partially close their Cobham training centre, with the first-team squad and coaching staff asked to self-isolate as a precaution.
Following their positive tests, the English Premier League was suspended.
Francisco Garcia, Malaga club Atletico Portada Alta manager

Spanish football coach Francisco Garcia has passed away aged 21 after contracting coronavirus.
Francisco Garcia, a youth team coach at Malaga club Atletico Portada Alta, only received his cancer diagnosis after going to the hospital with symptoms of the virus, the Independent reported.
Garcia was serving as the manager of Atletico Portada Alta's youth team since 2016. He has become the youngest victim of the illness in the region, goal.com reported. Atletico Portada Alta released an official statement on Instagram about the passing away of Garcia.
"We want to express our deepest condolences to the family, friends and close friends of our coach Francisco Garcia who has left us, unfortunately, today," the statement said.
"Now what do we do without you, Francis? You were always there with us at Portada or wherever you were needed, helping out. How can we keep covering all those kilometres in the league? We don't know how, but we will surely do it for you. We will not forget you, rest in peace, phenomenon. Until forever," it added.
He passed away on Sunday after testing positive for COVID-19 last week, having been sent to the Regional Hospital of Malaga for treatment. When the manager arrived at the facility, it was also found out that he was also suffering from leukemia.
Marouane Fellaini, Shandong Luneng
Chinese Super League star player Marouane Fellaini tested positive for coronavirus in China, the health department of Jihan province confirmed the news. Fellaini was lining up for his club Shandong Luneng and arrived by train in Jinan on March 20 when the positive test was taken.
The 32-year-old is the first Chinese Super League (CSL) player to test positive for coronavirus to date.
Former Manchester United midfielder Fellaini moved to Shandong in 2019 and enjoyed a successful first season with the club as he scored 13 goals in all competitions as his side finished fifth in the league.
Paulo Dybala, Blaise Matuidi and Daniele Rugani, Juventus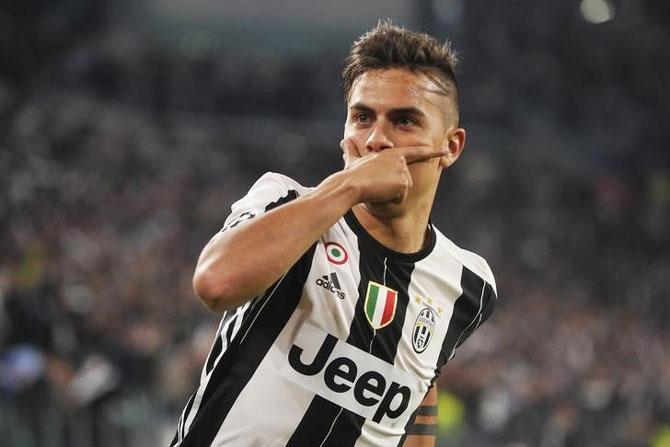 Juventus defender Daniele Rugani became the first player in Italian Serie A to test positive for coronavirus.
His team-mate and Argentina soccer forward Paulo Dybala also tested positive for coronavirus a few days later along with midfielder Blaise Matuidi, a World Cup winner with France in 2018.
Dybala is the third Juventus player to test positive for COVID-19. The Argentina soccer playmaker said he is in "voluntary home isolation (in Italy) and he is asymptomatic and fine."
Dybala tweeted that both he and his girlfriend Oriana Sabatini both tested positive but that "luckily we are in perfect conditions."
The Turin side are one of Europe's biggest clubs with a squad that includes five-times world player of the year Cristiano Ronaldo, who is currently in his native Madeira.
Italy is the worst-hit country after China by the pandemic, which has killed more than 6000 people in the Mediterranean nation.
Sampdoria football club players

Five footballers from the Italian club tested positive, along with the team's doctor.
Midfielder Fabio Depaoli announced on his Instragram account March 14 he tested positive for COVID-19. Depaoli wrote: "Unfortunately I've tested positive for COVID-19. But I want to reassure you that I'm OK! This invisible monster is hitting us indiscriminately, but by adopting the correct measures and following medical advice, we can win our biggest match and return stronger than before."
Albin Ekdal, who has also played for the Swedish national team, tweeted March 13: "I am already feeling much better after a days rest. I hope everybody takes this disease seriously. If you feel the slightest symptoms, stay at home."
Juventus and France midfielder Blaise Matuidi tested positive for the coronavirus, the Turin-based Serie A club said in a statement on March 17. Juve said Matuidi, a World Cup winner with France in 2018, was in self-isolation at home and not showing any symptoms.
Wu Lei, Espanyol
Spain-based China international Wu Lei tested positive for coronavirus on March 21 but says he is on his way to making a full recovery.

The Chinese Football Association announced on Saturday that Wu, who plays for Espanyol in La Liga, had contracted the coronavirus and the 28-year-old confirmed he is now self-isolating.

"Dear fans, as you might already know I indeed have got the virus," said the striker, who joined the Spanish club last January from Chinese Super League side Shanghai SIPG.

"Now I'm at home in self-quarantine. Mentally, I'm very well and my symptoms have almost all gone," he added in a video on Weibo.

"My lungs have been checked, including with a CT scan and it showed that the situation has turned out very well.

"I believe we will defeat this virus and I can't wait to be back playing matches."

Wu is the first player from China to have contracted COVID-19, which originated in the Chinese city of Wuhan late last year.
Luca Kilian, Paderborn

Earlier this month, German top flight club Paderborn said central defender Luca Kilian has tested positive for the new coronavirus while French second division side Troyes confirmed two players had also been infected.

Kilian, 20, had been sidelined due to injury for a number of weeks but his infection meant the whole club had to undergo testing.

Paderborn added that manager Steffen Baumgart had tested negative for the virus.

Troyes said one senior unnamed player and another from their academy had tested positive.

"The two players were immediately placed in isolation in their homes. The whole club also remains under medical supervision," Troyes said on their website here

French media reported Troyes striker Suk Hyun-jun, a South Korea international, was one of the positive tests.
Deportivo Alaves football club players

Spanish football club Deportivo Alaves last week confirmed a total of 15 positive coronavirus cases, including three players from the first team squad and seven members of the coaching staff.
None of those affected had displayed any symptoms, the La Liga side said in a statement on March 18.
Rudy Gobert, Utah Jazz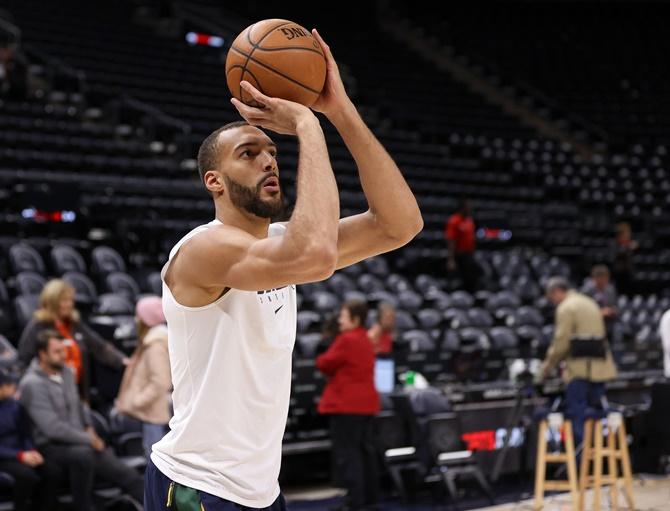 The National Basketball Association (NBA) said on March 12 that it was suspending the season until further notice after a Utah Jazz player tested positive for the coronavirus.
The test result was reported shortly before the Jazz were due to play the Oklahoma City Thunder at Chesapeake Energy Arena. The game was then scrapped.
The league said the affected player, reportedly Jazz center Rudy Gobert, was not in the arena. The NBA basketball star triggered criticism after he was seen carelessly touching microphones and voice recorders at a media event on March 9 after he was diagnosed with the virus.
"Thank you to all the people who have been supportive and for the positive energy. I have been feeling better every single day. As you may already know, I just wanted to remind you guys to wash your hands with soap and water. It is all about protecting yourself and the people around you. I wish I would have taken this thing more seriously," Gobert said in a video posted by the NBA.
After being tested positive, an old video of Gobert surfaced for playing a prank with media professionals and they argued that it put them in the risk of contracting the illness.
As Gobert was leaving a media event on March 9, before he was diagnosed with coronavirus, he touched every microphone and recorder in front of him in jest. However, after testing positive, the player went on to issue a public apology on Instagram.
"The first and most important thing is I would like to publicly apologize to the people that I may have endangered. At the time, I had no idea I was even infected. I was careless and make no excuse. I hope my story serves as a warning and causes everyone to take this seriously," Gobert had said on Instagram.
Donovan Mitchell was another Utah Jazz player who also tested positive for COVID-19 days later on March 12.
Kevin Durant, Brooklyn Nets
Brooklyn Nets forward Kevin Durant has tested positive for coronavirus, less than a week after the global outbreak prompted the suspension of the NBA season.
"Everyone be careful, take care of yourself and quarantine. We're going to get through this," 10-time NBA All-Star Durant was quoted as saying.
The Nets had said earlier said that four of its players were isolated and under the care of team physicians after testing positive for coronavirus but did not identify the individuals.
Two unidentified LA Lakers
NBA team Los Angeles Lakers on March 20 confirmed that two of their players have tested positive for coronavirus.
However, both players remain asymptomatic and are in quarantine. LA Lakers has chosen not to reveal the identities of both the players.
"We learned today that two Lakers players have tested positive. Both players are currently asymptomatic, in quarantine and under the care of the team's physician," LA Lakers said in an official statement.
"All players and members of the Lakers staff are being asked to continue to observe self-quarantine and shelter at home guidelines, closely monitor their health, consult with their personal physicians and maintain constant communication with the team," it added.
Marcus Smart, Boston Celtics
The Boston Celtics guard posted a tweet on March 19 confirming that he had tested positive. "I was tested 5 days ago and the results came back tonight, which were positive. I've been self quarantined since the test, thank goodness."
The number of confirmed cases in the NBA continues to grow.
Fernando Gaviria, cyclist
The Colombian sprint cyclist confirmed on March 12 that he contracted coronavirus while racing during an event in the United Arab Emirates, and was admitted to a hospital in the Gulf nation.
Dmitry Strakhov was the second cyclist at the UAE Tour (The race was canceled two stages early due to rumors of coronavirus in members of participating teams) to have been diagnosed with the virus.
Victor Lange, Golf
Victor Lange of South Africa was diagnosed with COVID-19 upon returning home to Johannesburg on March 9 from playing a PGA Tour Latinoamerica event in Mazatlan, Mexico. Lange, ranked 1,215th in the world, was tested as a precaution while going to a non-virus related doctor's appointment with a friend. Lange received the diagnosis March 17.
A statement from the PGA Tour said Lange had no symptoms and was expected to make a full recovery after a period in quarantine at his home in Johannesburg.