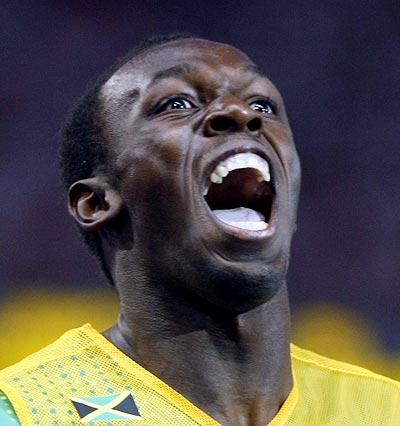 Jamaican Usain Bolt, who shattered the 200 metres world record to win gold at the world championships on Thursday, said he is closing in on his biggest aim of becoming a sprinter the world would not forget.
"I keep telling you guys my aim is to become a legend. I don't think about records. I don't put myself under pressure. I know what to do and I go and execute," the 22-year-old told reporters.
"I did well for myself and I am on my way to becoming a legend so I am just happy."
Bolt claimed three gold medals at the Beijing Olympics last year and two at these world championships in Berlin, smashing the world records on his way to every title.
In the same stadium where American Jesse Owens won four gold medals, including three in the sprints, at the 1936 Berlin Olympics, Bolt knocked off 11 hundredths of a second in each of his two gold medal races, the 100 and 200 metres.
"I keep saying anything is possible. You work hard, you train hard. I still train very hard and running fast races doesn't change that," he said.
Bolt said he is not interested in convincing those who did not believe the records are a result of his hard work, saying that questions about doping are an inevitable part of athletics.
"I am not worried. I don't get offended," he said. "I know it is going to be always like this in the sport."
Asked whether a knighthood from Queen Elizabeth would be something he would like, Bolt said: "I just say that would be a great thing. Seriously that would be wonderful."
"I would get the title 'Sir Usain Bolt'. That sounds very nice."