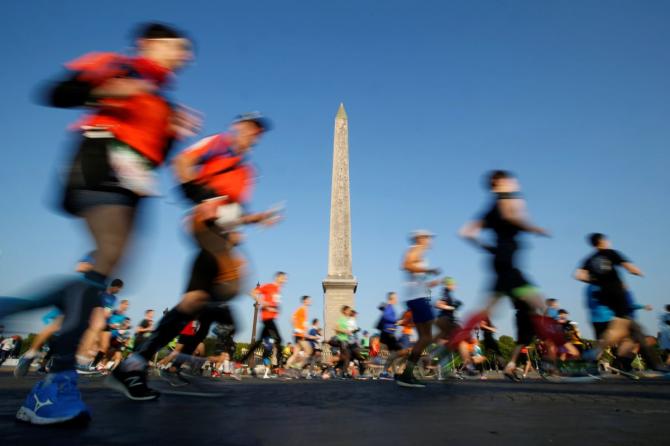 This year's Paris marathon has been cancelled, organisers said on Wednesday, as France battles against a resurgence of the COVID-19 virus.
The marathon was originally due to take place on April 5 but had been postponed to Nov. 15 because of the pandemic.
"After having tried everything to maintain the event, we, alongside the City of Paris, feel obliged to cancel the 2020 edition of the Schneider Electric Marathon de Paris and the Paris Breakfast Run," organisers said in a statement.
"Faced with the difficulty that many runners, especially those coming from abroad, had in making themselves available... it was decided that it would be better... for those concerned if we organised the Schneider Electric Marathon de Paris in 2021.
"We will be working side-by-side with the City of Paris to put on a 2021 edition that brings together the most passionate runners on the most beautiful streets in the world."
The Paris marathon, one of the most popular events on the global running calendar which routinely attracts over 40,000 participants, is the latest to be disrupted by the worldwide novel coronavirus outbreak.
In June, the New York City Marathon was cancelled while the Boston Marathon was also scrapped for the first time in its 124-year history.
Marathon majors in Berlin and Chicago were also cancelled while the London Marathon, originally set for April, was postponed to Oct. 4 and will be run as an elite-only event.
France has reported over 236,000 infections and more than 30,000 deaths from COVID-19.
Rugby League: Hull FC say six players tested positive for COVID-19
Five players from English rugby league side Hull FC tested positive for COVID-19 following their Super League match against Salford Red Devils and have been quarantined, the club and the Rugby Football League (RFL) said in a statement on Tuesday.
It added that a sixth Hull FC player, who was not in the squad for Sunday's match, plus two members of the coaching staff had also tested positive. Another member of the team is being re-tested after an inconclusive result.
Salford's routine weekly results had not yet been received.
Both teams have cancelled training sessions planned for Wednesday and all those who tested positive are now required to quarantine for 10 days in line with national guidance.
"The Rugby Football League is now analysing Sunday's match to determine how many players from each team will also be required to self-isolate under the test and trace procedures that have been agreed with Public Health England," it said.
"Announcements on the impact on forthcoming Super League and Challenge Cup fixtures over the next two weekends will be made as soon as possible."
The Super League restarted on August 2 following a five-month break due to the novel coronavirus outbreak.
Rugby: Blues players sent home due to COVID-19 lockdown, still hoping to play last game
The Auckland Blues have sent their players home ahead of a lockdown due to a new outbreak of the novel coronavirus in the region but are hopeful their sold-out final Super Rugby Aotearoa match on Sunday can still go ahead.
New Zealand's government said late on Tuesday that four new cases had emerged in Auckland after 102 days without community transmission and the country's largest city would go into lockdown until Friday.
The Blues are scheduled to host the Canterbury Crusaders at Eden Park on Sunday, but have sent their players home and will distribute training equipment to continue preparations.
"We are busy this morning readying our facility for shutdown as per level 3 requirements, cleaning gym equipment which will be dispersed around players so they can continue to train and prepare for our final game," the Blues said in a statement.
"NZR is in close and constant dialogue with Government and we will pass on more information when we have it.
"We are working through all the numerous scenarios and will probably be in a better position to comment with more clarity tomorrow (Thursday)."
The lockdown rules limit the number of people allowed to gather in the same place to 10 in the wider Auckland region and 100 in the rest of the country, which could place in jeopardy both of the weekend's games if the restrictions extend past Friday.
The Otago Highlanders are due to host the Wellington Hurricanes in Dunedin on Saturday.
The Blues said on Monday that all 43,236 available tickets had been sold for the final game of the domestic championship, which was organised after the wider Super Rugby competition was shut down in March.
The Crusaders wrapped up the title with a game to spare on Sunday.
A North-South match, which is being looked at as an All Blacks trial game, is scheduled for Eden Park for August 29.
Organisers had hoped to base the annual Rugby Championship competition involving Australia, South Africa and Argentina in New Zealand later in the year.
LPGA cancels Shanghai event due to COVID-19
The LPGA Shanghai tournament has been cancelled because of health concerns and travel restrictions put in place due to the COVID-19 pandemic, the elite women's professional golf circuit said on Tuesday.
The event was scheduled for Oct. 15-18 at Qizhong Garden Golf Club.
Danielle Kang successfully defended her title at Qizhong Garden last year with a one-stroke win over fellow American Jessica Korda.
The LPGA returned from a 166-day hiatus two weeks ago at Inverness Club for the first of two consecutive spectator-free events in Ohio.