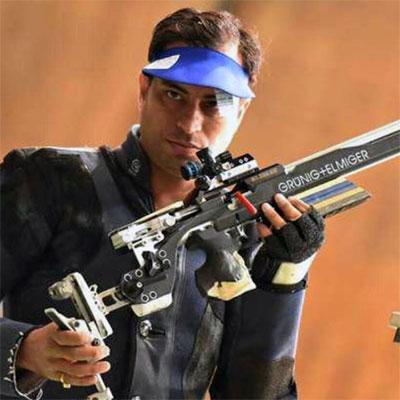 A poor transition from prone to the standing series cost Sanjeev Rajput dear as he finished fifth in the 50 metres rifle 3 positions event while Harveen Srao managed seventh place in the women's 10m air pistol as India endured another medal-less day at the ISSF World Cup in New Delhi, on Sunday.

Competing in the day's second final, Rajput was well-placed at third position at the end of the prone series with a score of 305.5, jumping two places from the kneeling series. He had a fine sequence of scores in the prone series, competing on an even keel with Switzerland's Jan Lochbihler to enter the final stage on a positive note.

However, a series of low nines and an 8.4 in the fourth shot of the standing series, just before the start of elimination round, did Rajput in.

The Arjuna Awardee tried to come back but failed to close out the deficit at the Dr Karni Singh Shooting Range, eventually finishing with a score of 420.6.

The other two Indian participants in the event - Chain Singh finished ninth in the qualification stage with a score of 1157, while Satyendra Singh shot 1154 to finish 13th.

China continued its dominance as Hui Zicheng (454.2) and Jian Sun (451.6) clinched the gold and silver medals respectively, in a one-two finish for the country. Lochbihler, who led the field for a while, eventually settled for the bronze medal with 440.2.

In the women's 10m air pistol final, Harveen shot 133.6 to finish at seventh place, having qualified as the eighth contestant with 379 after shooting 96, 92, 95 and 96 in four series of 10 shots each.

Former World No. 1 Heena Sidhu could not make the cut, finishing 11th in the qualification stage with 378, while Priyanka Susvirkar was way behind at 36th.

Lin Yuemein (240.8 in the final) won the gold medal with a world record and compatriot Zhang Mengxue (237.8) bagged the silver in another one-two finish for China. Singapore's Shun Xie Teo managed a bronze with 217.4.

Rajput, who drew a warm applause from the crowd, was a tad disappointed with the final outcome.

"I could not make the transition from prone to standing, and it was a bit windy. But I am looking forward to shoot in the future events and not think about what has already happened. Shooting in front of home crowd in a Word Cup, I was expecting to win a medal, but I am a bit disappointed as I could not despite giving my best," Rajput said.

In the shotgun range, the Indian shooters failed to qualify for the mixed trap events, used as a test event as a part of the International Olympic Committee's (IOC) aim to achieve gender equality in its 2020 Tokyo Olympic program.
Image: Sanjeev Rajput
Photograph courtesy: Sanjeev Rajput/Facebook