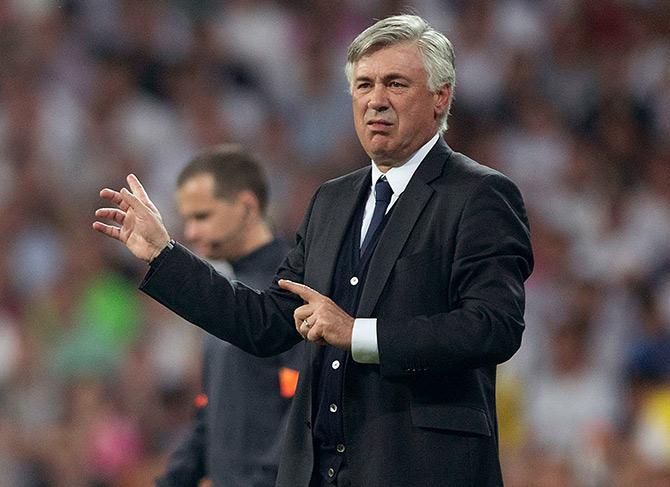 Carlo Ancelotti during Real Madrid's UEFA Champions League semi-final against Juventus. Photograph: Gonzalo Arroyo Moreno/Getty Images
Real Madrid fans could be forgiven for wondering whether a new president is needed rather than yet another new coach after Carlo Ancelotti was sacked.
Ancelotti ended 12 years of bitter failure when he led Real to a record-extending 10th European crown in his first term in charge in 2013-14, as well as a King's Cup triumph.
Despite that historic achievement, the affable 55-year-old has become construction magnate Florentino Perez's latest scapegoat after he ended his second season in Spain without major silverware.
With the Italian's dismissal, a year before his three-year contract expires, Perez has now been through nine coaches during two six-year stints at the helm of the world's richest club by income, including such decorated managers as Vicente del Bosque and Jose Mourinho.
Although Ancelotti delivered the long-awaited Decima, or 10th continental title, Perez decided he was not the right man for the job after all, despite saying in March "we have the best coach and the best players that Real Madrid could have".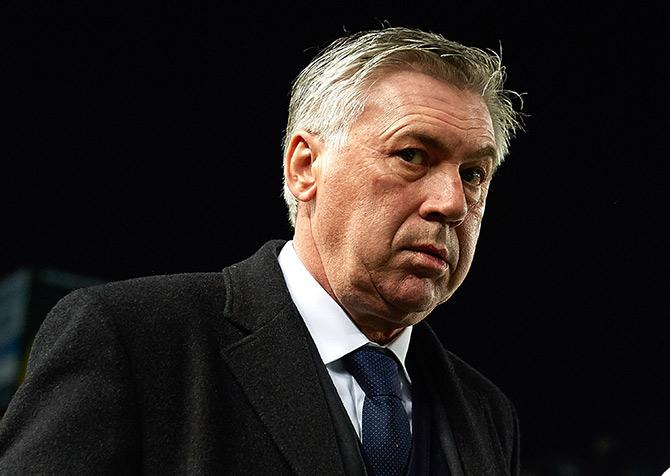 Outgoing Real Madrid coach Carlo Ancelotti. Photograph: Manuel Queimadelos Alonso/Getty Images
Many Real supporters may be asking why Ancelotti, a proven winner and hugely admired by his players, was not given at least one more year to get the team back on track.
"The demands are huge and we believe it is the right moment to give fresh impetus that will allow us to win more titles and reach our optimum competitive level in a new phase," Perez told a news conference at the Bernabeu on Monday.
Real would announce a successor next week, Perez said, with Napoli's Spanish coach Rafa Benitez the front runner, according to local media.
Perez is known for his policy of cherry picking the world's most marketable players, dubbed 'galacticos', and while he may have transformed Real into a money-making machine, results on the pitch have not always been impressive.
Under his regime, Real have won two Champions Leagues, three La Liga titles and two King's Cups, adequate at best considering close to one billion euros ($1.1 billion) has been splashed on players.
Perez has broken the transfer fee world record five times since 2000, most recently in 2013 when Real paid 100 million euros to lure Wales winger Gareth Bale from Tottenham Hotspur.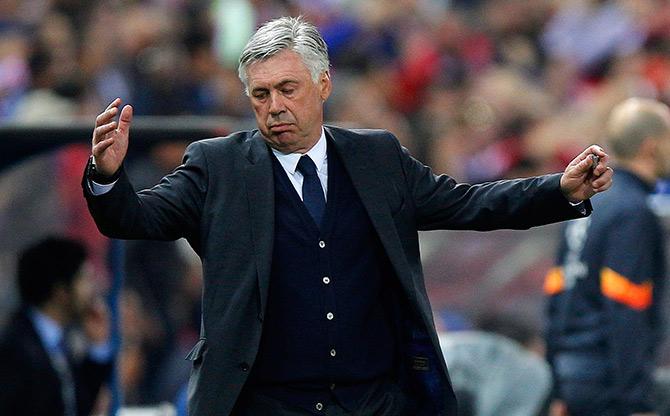 Carlo Ancelotti shows his frustration during a match. Photograph: Gonzalo Arroyo Moreno/Getty Images
To make matters worse for Real fans, bitter rivals Barcelona, who wrapped up a fifth La Liga title in seven years this month, are on course for a treble of Spanish league and Cup and Champions League titles.
They became the first la Liga club to achieve the feat under Pep Guardiola in 2008-09, while Real have never managed it.
Despite Perez's apparent inability to stick by a coach for more than a few seasons, his position is unlikely to be challenged anytime soon.
Real are one of four Spanish top-flight clubs owned by their members, or socios, along with Barca, Athletic Bilbao and Pamplona-based Osasuna and in September 2013, Perez won their backing for statute changes that make it harder for outsiders to seize control.
Presidential candidates have to have been club members for at least 20 years, up from 10 years previously, and along with their proposed board must provide a bank guarantee worth 15 percent of the club's budget -- around 90 million euros.
How long Real's members are prepared to put up with the status quo remains to be seen but if nobody is willing or able to oppose Perez he is unlikely to be forced out.