North Macedonia has asked UEFA to probe Austria's Marko Arnautovic's goal celebration during their Euro 2020 match on Sunday. The 32-year-old Arnautovic, who has Serbian background, apologised on Monday for his reaction towards North Macedonia fans but denied he had using racist language towards them.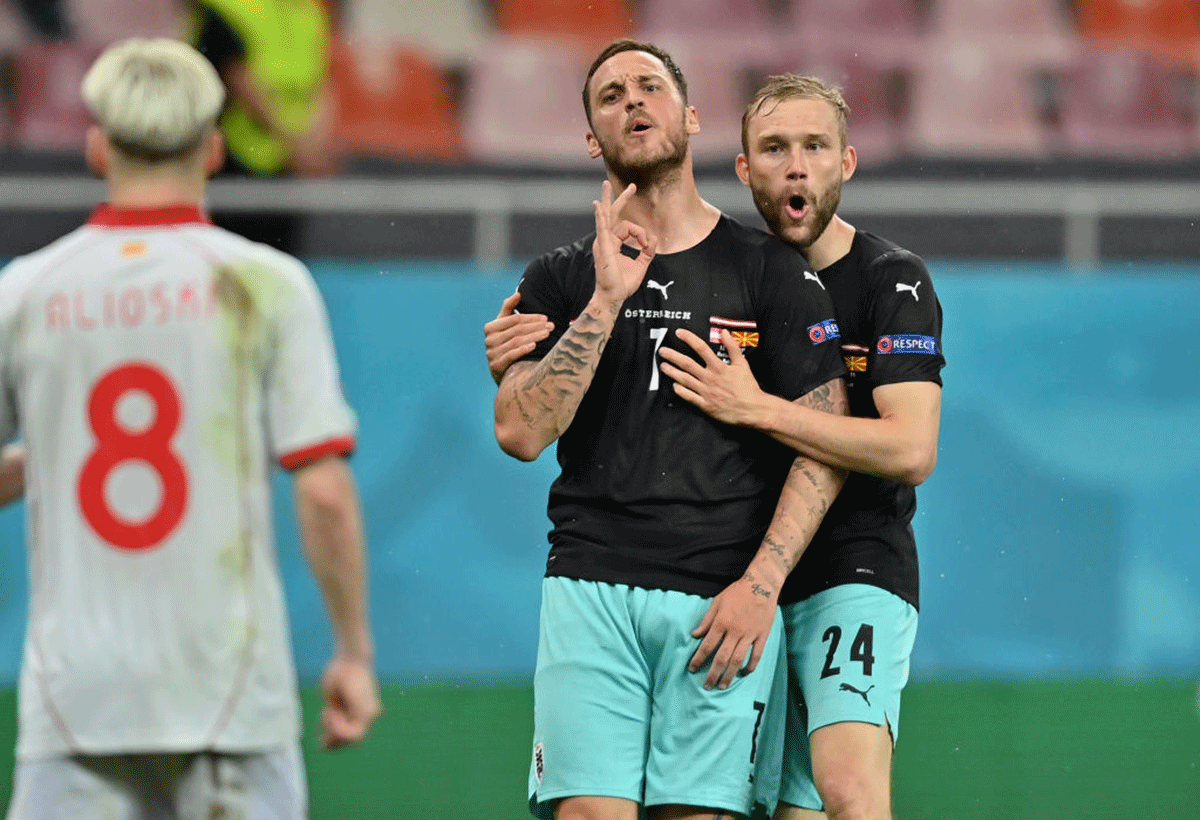 UEFA has opened an investigation into Austria forward Marko Arnautovic's goal celebration in their opening match of the Euros against North Macedonia, European soccer's governing body said on Tuesday.
North Macedonia urged UEFA to look into Arnautovic's reaction after he scored in the 89th minute to complete Austria's 3-1 win on Sunday.
Second-half substitute Arnautovic appeared furious as he celebrated his late goal, before captain David Alaba stepped in to restrain him.
"An Ethics and Disciplinary Inspector has been appointed to conduct an investigation regarding the incident involving the player Marko Arnautovic that occurred during the 2020 European Championship group-stage match between the national teams of Austria and North Macedonia on 13 June 2021," UEFA said in a statement.
Arnautovic, who has Serbian background, apologised on Monday for his reaction towards North Macedonia fans but denied he had used racist language towards them.
Serbia does not recognise the independence of its former province Kosovo.
North Macedonia's soccer governing body (FFM) said that Arnautovic's remarks were aimed at North Macedonia's Gjanni Alioski, who has Albanian roots.
Alioski said his arguments with Arnautovic during the match were nothing out of the ordinary but he took exception to the Austrian forward's reaction after the goal.
"We had some arguments during the game and I think it's a normal thing," Allioski told a news conference on Tuesday.
"The best thing is that after the game we spoke and shook hands.
"The problem is that after he scored he said something to me and UEFA have the videos. It's difficult for me to repeat what he said."
The FFM said it strongly condemns the "nationalistic outburst" of Arnautovic.
"We are always against nationalism, discrimination and all other forms of insults and outbursts that are not in the spirit of football and values that we all stand together," the FFM said on Facebook.
"We will always stand up and defend the interests and dignity of Macedonian national players wherever they perform."
Sweden report social media abuse of striker Berg to police
The Swedish FA will submit a formal report to the police after striker Marcus Berg was subjected to a storm of abuse on social media for missing an open goal in his side's scoreless draw with Spain at Euro 2020 on Monday.
Many abusive comments were posted below pictures on the 34-year-old's Instagram account after he skied a second-half shot over the bar with the goal at his mercy before being substituted along with Alexander Isak who set up the chance.
"I have spoken to Marcus just now, we've sat down and collected what's on the internet, or what we can find, and it's more than enough to feel that it has gone over the boundaries that we can accept," the Swedish team's security chief Martin Fredman said on Tuesday.
"So the next step is to go further with a police report, and the police are prepared to hear from us," he added.
Fredman explained that it was up to police to decide if there would be a case to answer for those who had made abusive comments.
Berg's team mates defended him strongly after the Swedes' dour but effective stifling of Spain in their Euro clash.
"It's so ridiculous, I'm not even going to invest energy in it. I and everyone else in the team knows how important 'Mackan' (Berg) is for the team," goalkeeper Robin Olsen told reporters.
"It's incredibly low to be carrying on like that. He knows that I and the rest of the team have his back," he added.
Former Sweden captain Andreas Granqvist posted a picture on Instagram of himself and Berg embracing with the caption: "KING @marcusberg.9. I stand behind you always."
At the 2018 World Cup, the Swedes made a public stand against racism when winger Jimmy Durmaz was subjected to a similar stream of abuse for conceding a free kick against Germany which their opponents scored from.
The Swedes face Group E leaders Slovakia on Friday and Spain take on Poland the following day.
Belgium vs Denmark will be emotional after Eriksen collapse: Tielemans
Belgium midfielder Youri Tielemans said their Euro 2020 match against Denmark on Thursday will be "emotional," with the players still trying to process Christian Eriksen's collapse on the pitch due to a cardiac arrest.
The Dane collapsed in the 42nd minute of Saturday's match against Finland and was given CPR before being taken to hospital. The Danish FA's communications director Jakob Hoeyer told reporters on Monday Eriksen's condition remains stable.
"It's going to be an emotional match -- we know that, with what happened," Tielemans told reporters on Monday.
"You can't just forget about that in a couple of days, we'll never forget that."
Tielemans said he had contacted Leicester City team mate and Denmark goalkeeper Kasper Schmeichel to offer his good wishes to Eriksen after the incident.
"It's a very difficult moment to go through for everybody in football but also in the world," Tielemans added.
"We definitely don't want to see that live, but that did happen. They (Denmark players) reacted very well and handled it excellently."
Belgium are top of Group B after their 3-0 win over Russia in the opener, while Denmark are third following their 1-0 defeat by Finland.