Schick goal was 'out-of-this-world', says Czech coach Silhavy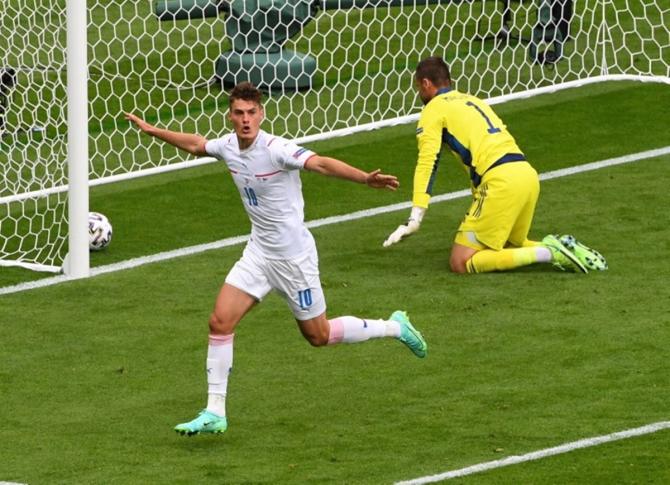 The Czech Republic's ability to withstand early pressure in their Euro 2020 opener against Scotland on Monday was crucial before Patrik Schick's 'out-of-this world' long-range strike sealed their 2-0 win, Czech coach Jaroslav Silhavy said.
Roared on by a loud Hampden Park crowd, Scotland piled forward in the early stages but the Czechs defended stoutly and were bailed out by big saves from goalkeeper Tomas Vaclik.
"We expected them to push from the very beginning but we managed that," Silhavy told reporters. "We defended well and when they got behind our lines it was saved by our goalie."
Silhavy also singled out Schick after the Bayer Leverkusen forward opened the scoring in the first half with a header before his astonishing effort from 45 metres, the furthest distance from which a goal has ever been scored at a European Championship.
Silhavy said the goal, in which Schick caught the Scottish keeper off his line and looped in a shot, was the kind of effort the player has attempted before in matches and training.
"We know he is a genius and he knows how to finish," Silhavy said. "The second goal was something out of this world. He likes to try that in training and he tried it in one of our previous games as well."
The result left the Czechs on three points, level at the top of Group D with England, who beat Croatia 1-0 on Sunday, while Scotland will already be feeling nervous about their prospects ahead of their next game against England on Friday when the Czechs face Croatia.
Silhavy said the win will ease the pressure on the Czechs who can prepare knowing a draw in either of their next matches could send them into the knockout stages.
"I'm not saying we have it in the bag but we only need to make one more step to get out of the group," Silhavy said.
Scotland boss Clarke praises Czech hero Schick for wonder goal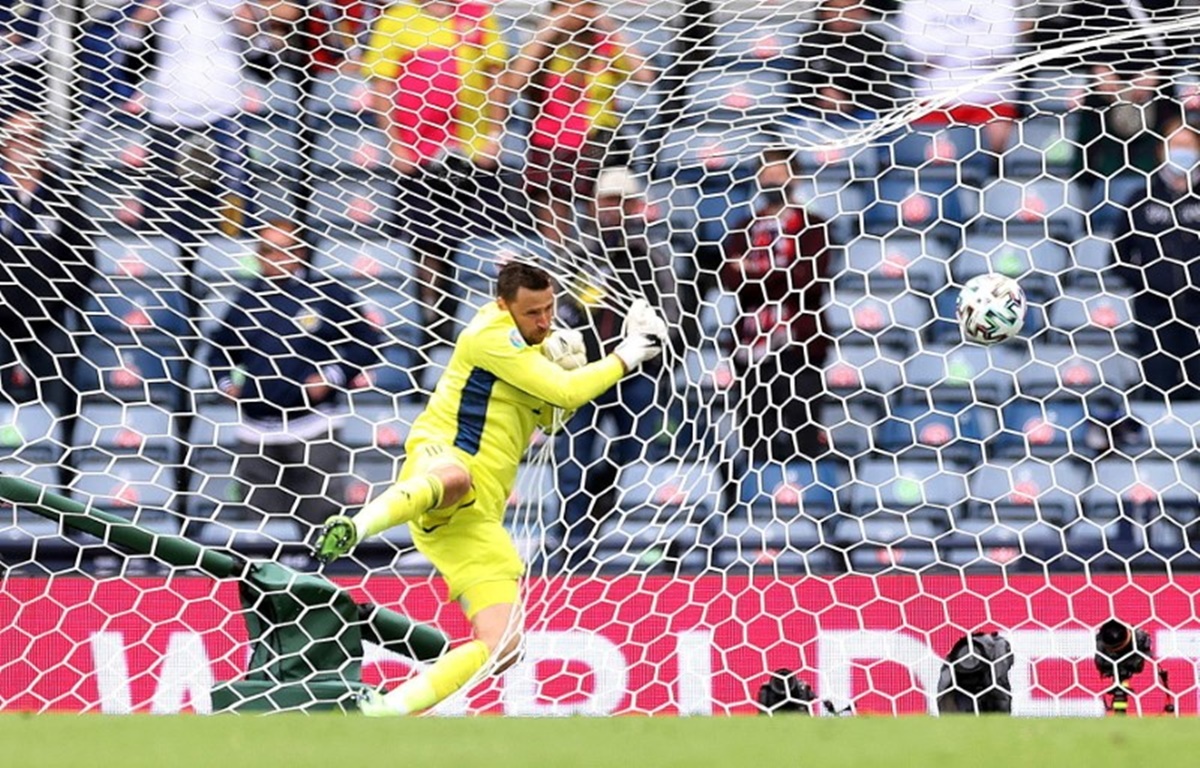 Scotland manager Steve Clarke refused to blame goalkeeper David Marshall for conceding a goal from the halfway line in their Euro 2020 Group D 2-0 defeat by the Czech Republic and instead heaped praise on scorer Patrik Schick.
The 25-year-old forward fired the Czechs ahead with a 42nd-minute header and then netted a brilliant second shortly after the break when he curled an audacious lob over Marshall who was far off his line.
"If (Marshall) had been on his line he would have caught it but sometimes you have to credit the goalscorer," Clarke told an online news conference after the clash at Hampden Park.
"He produced a marvellous finish and from there it becomes a difficult afternoon. We showed good invention and had chances to get back into the game but the breaks went against us at the wrong time.
"Disappointed but we have to get ready for the next one. We'll look at what we did right and what we did wrong. We didn't come here for a learning experience, we came here to be competitive.
"Sometimes a football match doesn't go your way and today was that day."
The Scots, who reached their first major tournament since the 1998 World Cup, play England at Wembley on Friday and then take on Croatia at Hampden Park on June 22.
Schick said he had anticipated he would catch Marshall in no man's land and added the Czechs headed into the game well prepared for Scotland's tactics.
"I saw him (off his line), I checked in the first half when this situation would come," he told the BBC. "I was checking where he was standing."
"It's always hard to play against us, we have a lot of hardworking players. Scotland were a tough opponent but we were ready for their tactics."
Scotland midfielder Stuart Armstrong rued their lack of cutting edge as they missed a string of chances in the second half and stressed they must be sharper against England.
"At this level you do need to be clinical," he told the BBC.
"We need to take experiences of today, learn from what happened, make a few little tweaks to our game. Fundamentally there were some positive moments and we have to carry that through to Friday.
"We've got two chances to produce a good performance and get something from it."