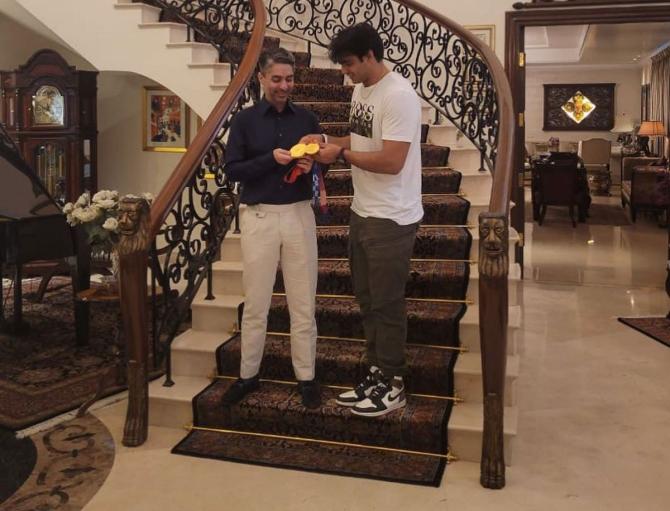 Five-time Olympian Abhinav Bindra had a surprise for Neeraj Chopra when the two champions met in Chandigarh on Wednesday.
The 2008 Beijing Olympics gold medallist presented the 2020 Olympics javelin throw champion a puppy, named 'Tokyo'.
Thanking the ace shooter, who won gold at Beijing in the 10 metres Air Rifle event, for the gesture and warm hospitality, Chopra said he will cherish 'Tokyo' forever.
"Took my Olympic medal to meet its elder sibling from Beijing today Thank you @Abhinav Bindra sir for your family's warm hospitality and for 'Tokyo' who I will cherish forever!" the 23-year-old Army man tweeted.
Bindra was quick to reciprocate.
"The two of us agree that the process is the Goal. The process is the Gold. And the Process is most rewarding. Happy to have spent the afternoon with this young Gold Medalist," Bindra wrote, expressing hope that 'Tokyo' will motivate Neeraj to get him a sibling named 'Paris' at the 2024 Olympics in Paris.
"Was a pleasure to meet and interact with India's golden man @Neeraj_chopra1! I hope that "Tokyo" will be a supportive friend and motivate you to get a sibling named Paris for him in 2024 !"
Chopra won India's first track and field Olympics gold at the Tokyo Games on August 7 with a throw of 87.58 metres.