'I hope Lionel Messi gets a little percentage of the shirt sales because I've never seen so many Argentine number 10 shirts in my life!'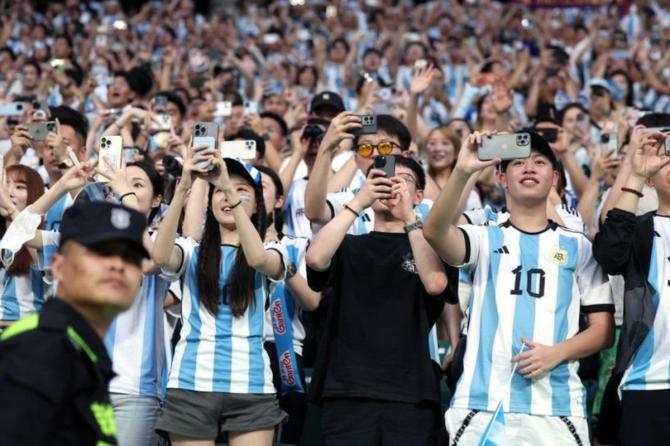 Beijing's Workers Stadium was a sea of Albiceleste as Lionel Messi led Argentina to an easy 2-0 win over Australia in an international friendly on Thursday.
The stadium that sits 68,000 had an attendance of over 51,000 -- all there to watch Messi weave his magic.
And magic he did when he scored the opening goal in the opening 2 minutes of the game. Argentina doubled their lead in the second half when Rodrigo De Paul floated in an enticing cross into the box and substitute German Pezzella found space between two defenders to fire home a free header.
Just before the corner was taken for the goal, a fan in a Messi jersey ran onto the pitch and briefly hugged the bemused Argentine, dodged several flailing security personnel, ran to the centre circle and high-fived goal-keeper Emiliano Martinez.
Roared on by the capacity crowd, he continued to outmanoeuvre and outpace stewards before running back to Australia's box where they eventually got hold of him and took him away.
Messi has been the focus of attention ever since he landed in Beijing last week.
The Argentina captain has legions of supporters in China where soccer is popular and fans often look further afield for teams to follow given the poor state of the men's national side.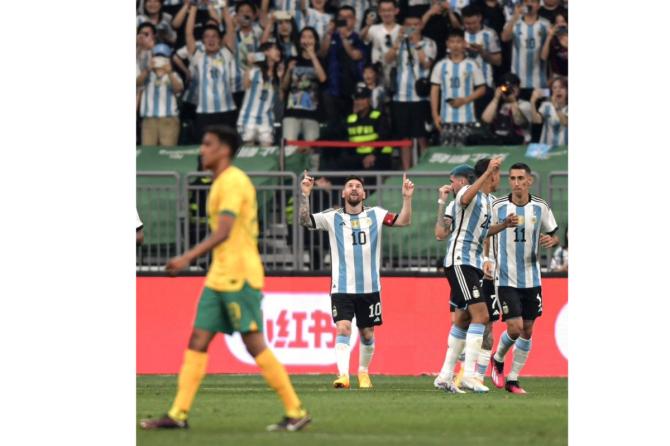 The areas around the stadium and the hotel where Messi and his team mates have been staying have been awash with people wearing replica Argentina jerseys in recent days.
Hundreds queued outside the hotel each day in the hope of catching a glimpse of Messi leaving for training.
A sea of blue-and-white had greeted the teams as they stepped out onto the pitch with an overwhelming majority of the 68,000 capacity crowd sporting Argentina colours.
'I can't see any yellow shirts anywhere,' Australia Coach Graham Arnold said before the match.
'I just really hope Lionel Messi gets a little percentage of the shirt sales because I've never seen so many Argentine number 10 shirts in my life!'