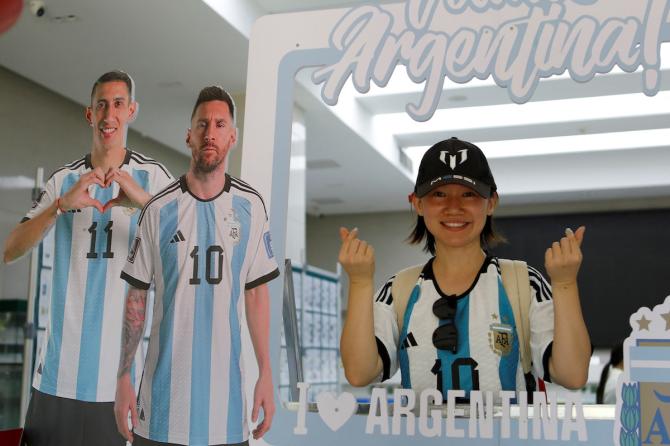 For thirtysomething Zhang Jiao, after realising her dream of witnessing Argentina soccer great Lionel Messi lift the World Cup every match he plays from now on is "precious".
Zhang travelled from Shanghai to Beijing this week to join scores of other giddy Messi fans as the Argentina captain came to town to play a friendly against Australia.
"For Messi fans, you really have to cherish the remaining time," said Zhang, who was still trying to get a ticket for Thursday's game.
"It is just a friendly game, so there is not much competitive value in it. So why should I come to Beijing this time? But any opportunity to come here, to see him in a game, is valuable, precious, because you know there are not that many left."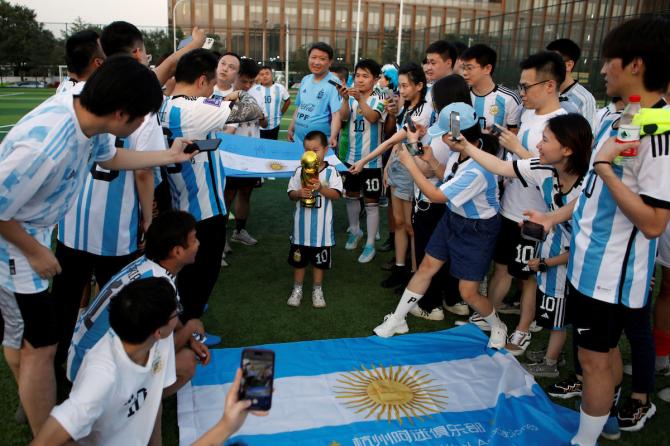 Not initially a soccer fan, Zhang was hooked at first sight in her Shanghai university dorm when she watched Messi make his World Cup debut as a teenager in 2006.
During the course of Messi's glittering career she has watched hundreds of his matches on TV, often getting up in the middle of the night to see him play for Barcelona or Paris St Germain.
Zhang has travelled to Messi's hometown in Argentina and to the last three World Cups to see him play.
She visited a monastery in Tibet ahead of the last year's tournament to pray for her biggest wish to come true, for Argentina to win in Qatar.
And she watched all seven of his matches from the stands in Qatar, culminating in Argentina's victory over France in the final.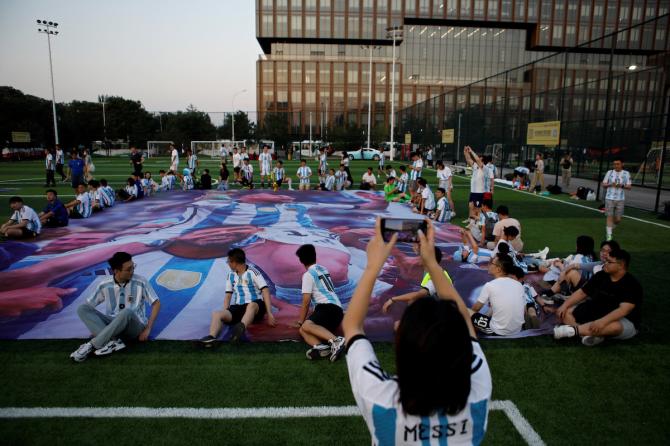 "The feeling was then I no longer had any regrets in my life," she said.
"It was definitely the highlight of my life after so many years, because not only I realised my dream, Messi also realized the dream. So I witnessed this double dream."
WELCOME DISTRACTION
As she sat on the touchline of an artificial pitch surrounded by dozens of other Chinese fans sporting Argentina shirts having a kickabout, Zhang reflected on the importance of her Messi fandom to her life.
It had allowed her to travel the world, meet people, make friends, share experiences she would not have otherwise had and, she felt, become a more positive person.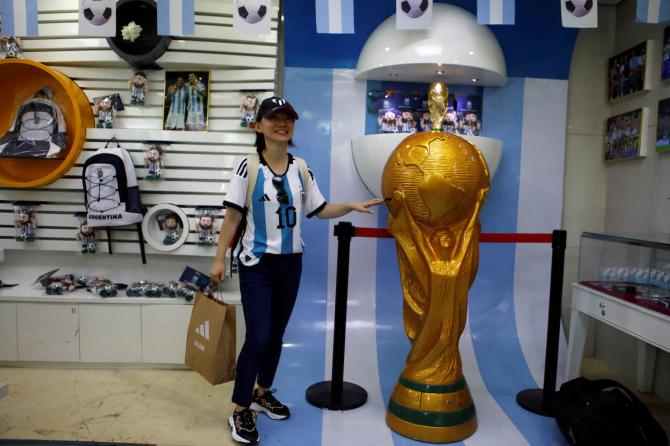 It had also proved a welcome distraction from the notoriously long hours demanded of Chinese employees in her jobs at a management consultancy and internet companies.
"It will make you feel that, in fact, life is actually still very good after all," she said, tears filling her eyes.
"I find Messi can give you a kind of power ... I may have had a very annoying, frustrating or bad time at work, but at least at that time you will feel that you still have something that you love."
Messi, at 35, is approaching the twilight of his career as he prepares to move to Inter Miami in the United States and Zhang hopes he will play on for as long as possible, even if she doubts he will be at the 2026 World Cup.
"One day he will retire, and I can only say that on that day, I can only slowly think back to his long years of playing football, which brought me so much happiness, so many happy moments, I will be especially grateful to him," she said.