A title match requires months of preparation and pulling out of other events, putting together a team of seconds, etc. Carlsen just says he lacks the motivation to do this again.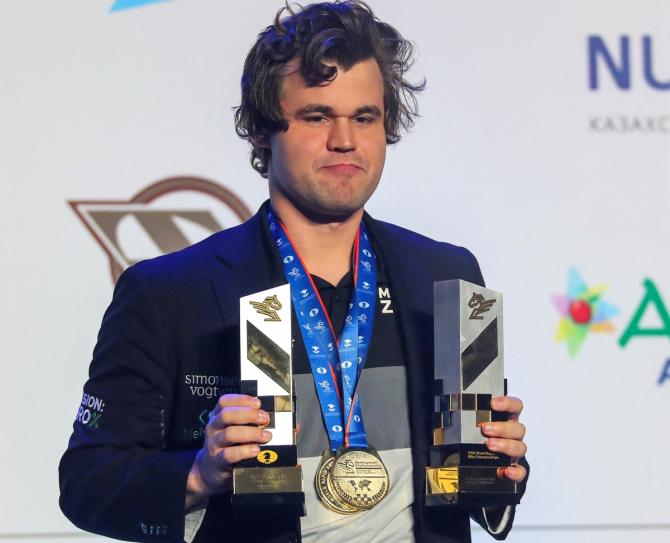 On Sunday, March 4, 2022, Norwegian Grandmaster Magnus Carlsen played his last game as the reigning world chess champion.
It was a hard-fought draw against an old 'frenemy', Grandmaster David Howell of England (they've been rivals since they were 12 year olds).
The 32-year-old Carlsen is not retiring.
He continues to be rated World Number 1 and is, in fact, the reigning 'triple champion', holding the trifecta of Classical (long time control), Rapid and Blitz titles. But he's not interested in once again defending the classical title he claimed by beating Viswanathan Anand in a title match in Chennai in 2013.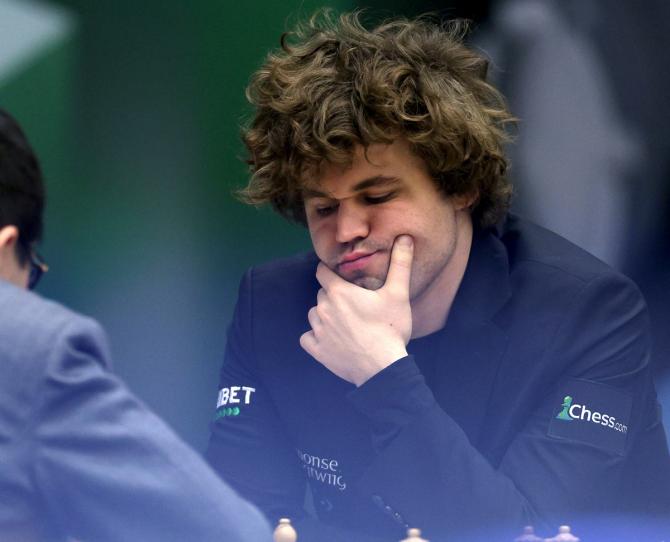 In four subsequent title matches, Carlsen has beaten off challengers such as Anand himself (2014), Sergey Karjakin (2016), Fabiano Caruana (2018) and Ian Nepomniachtchi (2021).
Just after Nepomniachtchi once again became the challenger, in July 2022, Carlsen issued a statement that he would not defend the title.
Nepo will, therefore, play Chinese Grandmaster Ding Liren for the title in a match to be held in Astana, Kazakhstan, in April-May 2023. But Carlsen's withdrawal somewhat devalues the title itself.
'World champion' has been the most valuable intellectual property in chess since 1886 when Wilhelm Steinitz played Johannes Zukertort in what's reckoned to be the first formal title match.
Steinitz gained the bragging rights associated with becoming the first world champion.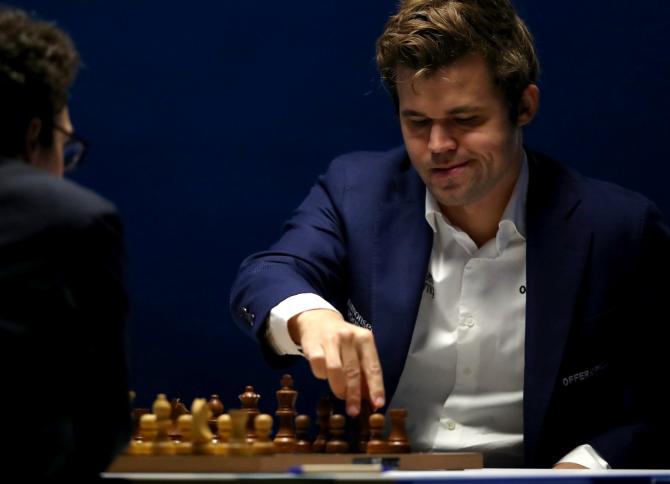 There have been only 17 Classical World Champions across 137 years, a measure of how difficult it is to reach this pinnacle.
Early on, title matches used to be laissez-faire affairs funded by sponsors (usually rich individuals).
That's how it was until 1946, when the fourth champion Alexander Alekhine died in possession of the title.
At that stage, it became a formalised process organised and run by FIDE.
There's a chain of qualification events to ensure that anybody, from anywhere, has a theoretical crack at the title.
This consists of national championships, World Cups, continental championships, etc.
The challenger finally emerges by winning a Candidates Tournament featuring eight players who've survived that massive filtration process.
The Challenger then plays the champion in a big money head-to-head match (Astana offers €2 million in prize money).
Note that the world champion isn't necessarily the world's strongest player.
He (or she, although only one woman has made it to the Candidates) is 'merely' the individual who has fought through a title cycle.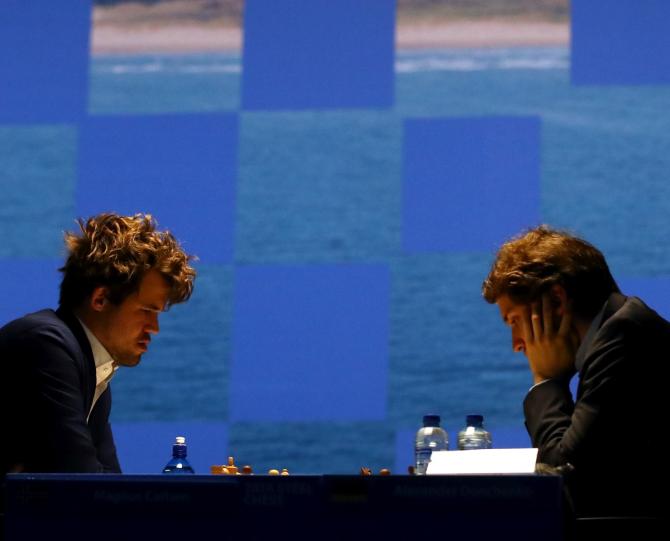 Chess has a complicated statistical rating system, which is re-calculated game by game, to yield a ranking list.
That list is informally updated live every day, and formally updated on a monthly basis.
There have been periods when the reigning world champion has not been No 1.
Carlsen, for instance, made it to No 1 in January 2010, long before he won the title.
Bobby Fischer (the 11th World Champion), who won the title in 1972, was No 1 from 1970.
Garry Kasparov (#13) lost a world title match to Vladimir Kramnik (#14) in 2000, but Kasparov remained No 1 until his retirement in 2005.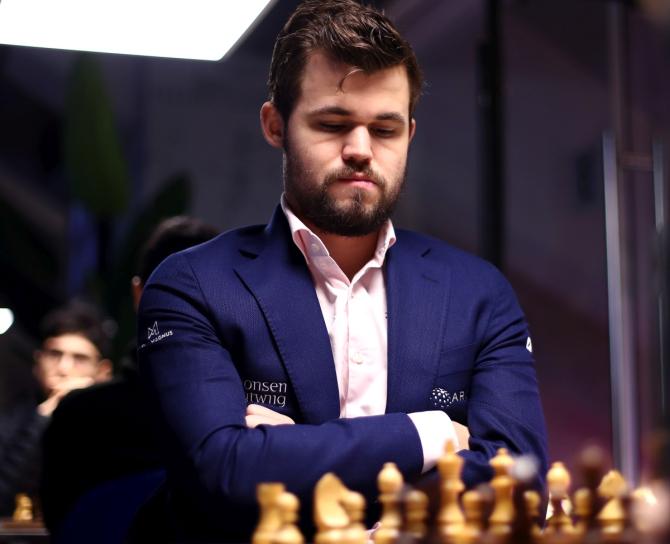 Given how hard it is to claim the title, champions also tend to defend their titles with fierce dedication.
At the very least, a title match means a big payoff even for the loser.
Prior to Carlsen, only one man, Bobby Fischer, has ever voluntarily relinquished his title.
The American GM made a sequence of outlandish demands in 1975, and refused to defend his title, giving challenger Anatoly Karpov (#12) a free pass.
The subsequent trajectory of Fischer's life makes it clear that he was mentally unstable.
Carlsen is just as clearly not. A title match requires months of preparation and pulling out of other events, putting together a team of seconds, etc. Carlsen just says he lacks the motivation to do this again.
Carlsen has also parlayed his hard-earned position at the top of the chess food chain into financial comfort.
He's won more big prize money events than one can count. Plus he's done endorsements, and his company, PlayMagnus, was sold for $82 million in 2022.
So he doesn't need to play another title match to keep his portfolio manager happy.
It'll be interesting to see what he chooses to play and whether he gets into the lucrative business of regularly live-streaming games.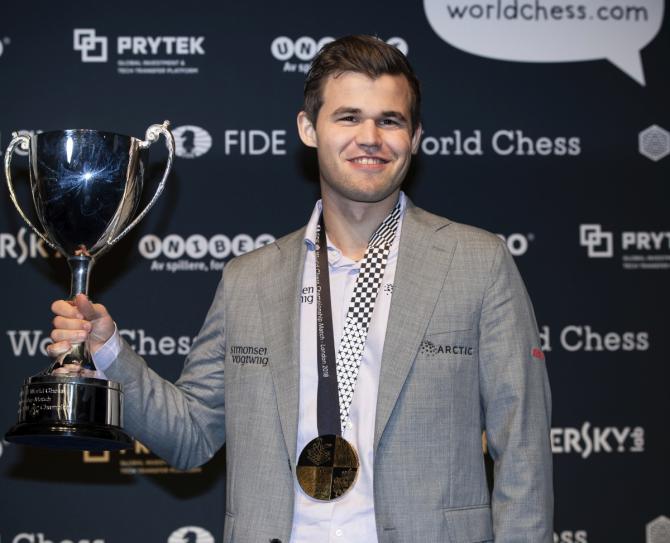 Honour roll
There have been 17 Classical World Champions including one Indian, one Norwegian, one Cuban, one Dutchman, one Austrian, one American, one German, one Bulgarian, two Russians and seven Soviets.
Several have changed citizenship at different times. Fischer was Icelandic, Alekhine and Spassky French, etc.
Garry Kasparov is the youngest-ever champion. He was 22 when he won the title in 1985.
The first title match featured Wilhelm Steinitz and Johannes Zukertort in 1886. Playing in several venues across the US, Steinitz won 10-5.
(Steinitz was from Prague, Czech Republic, and an Austrian citizen who became an American and then Brit. Zukertort was from Poland, a Russian citizen who became German and then Brit.)
The first title tournament was in 1948 because Alexander Alekhine died while being reigning champion.
Mikhail Botvinnik became the first Soviet champion in 1948. Viswanathan Anand won another title tournament in 2007 in Mexico.
The first million dollar purse featured in the Karpov-Kasparov title match of 1985.
The two Soviet citizens played in Moscow and split 1.6 million Swiss francs.
Feature Presentation: Rajesh Alva/Rediff.com