The embattled All India Tennis Association (AITA) on Thursday claimed to have worked out a compromise formula to resolve the selection crisis for the Olympics by deciding to send two men's doubles teams for the event, pairing Leander Paes with a lower-ranked Vishnu Vardhan.
Giving the decision, which it itself termed "unfair" on world number 7 Paes, AITA has allowed Mahesh Bhupathi and Rohan Bopanna to team up for the London event after both of them adamantly refused to partner the 39-year-old veteran.
"In the given circumstances, the best option is of sending two teams. Undoubtedly the most patriotic one, who has the record of most David Cup appearances for India and has served the nation for over 20 years, had been driven to the wall and had to react sharply," AITA president Anil Khanna said referring to Paes' threat of a pullout from the Olympics in case of being paired with a junior partner.
"AITA does not want Leander's image to be tarnished. AITA asks Leander to forgive the utterances (against him by Bhupathi and Bopanna).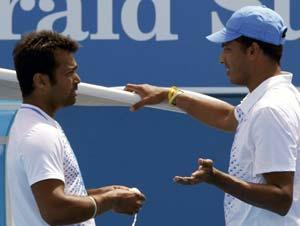 "Leander Paes and Vishnu Vardhan (ranked 207) and Mahesh Bhupathi and Rohan Bopanna will be the two teams. We request Leander to reverse to his thoughts and he should help Bopanna and Vishnu to succeed in their first Olympics," he added ending speculation of Paes being paired with Somdev Devvarman, who is recovering from a shoulder injury.
"This decision is unfair to India No. 1 (Paes). AITA holds Leander in very high esteem. We are confident that Leander won't disappoint us as he has done yeoman's service to the game."
But in a decision that is bound to go down not so well with Bhupathi, the body has decided to break his Australian Open and most recently French Open-winning partnership with Sania Mirza in the mixed doubles.
Khanna said Sania, in case she gets a wildcard for the Olympics on June 28, will partner Paes as the duo's combined ranking ensures a direct entry to the mega event.
"Sania has already stated after the French Open that although she prefers to play with Mahesh, she would play with any partner in the Olympics," Khanna said.
"Leander and Sania are the only direct entry for the mixed doubles. If Sania gets a wild card, they will be only Indian pair at number 19 with their combined rankings," he added.
Asked why Somdev was not considered for teaming up with Paes even though he had declared himself fit, Khanna said, "We don't want to jeopardise Paes' chances by pairing him with someone who may not be fit effectively."
Thursday is the last day for sending entries for the London Games to the International Tennis Federation (ITF).
Khanna, however, ruled out any immediate disciplinary action against Bhupathi and Bopanna, who had minced no words in expressing their displeasure with the original selection.
"To take a harsh decision against Mahesh and Rohan is not in the best interest of nation. AITA established a code of conduct, we will consider action only after the Olympics," he said.
"AITA admits that decision of pairing with Mahesh and Rohan is not the best on tennis grounds. AITA admits that this decision may not be fair in all aspects but is the best one to AITA's understanding and in the best interest of the players," added Khanna.
Apologising for the feud that followed the selectors' initial decision to send just one team to the Olympics -- that of Paes and Bhupathi -- Khanna said he had thought the differences between the players could be resolved.
"We can assure you that when we sat in the meeting in Bangalore, we were aware that the selection was going to be difficult but AITA decided not to take serious note of the differences between players.
"AITA expected players to put aside their personal differences and this has what has been desired by our honorary life president S M Krishna," he said.
"I would like to mention that tennis unfortunately is not a sport which is governed like other sports. Top tennis players are employed with ATP and don't have much to do with ITF or the national association," said Khanna.
"The kind of reactions they (Bhupathi and Bopanna) have given, the ATP will not even consider it indiscipline. Till  last evening we were trying to talk to them but both Mahesh and Bopanna said they won't partner Leander.
"But the AITA believes that Olympics without Leander is unthinkable," he added.
Also read:
- Enraged Paes threatens to pull out of London Olympics
- Bhupathi, Bopanna breaking agreement with AITA: Paes
- AITA's decision defies logic: Bhupathi to Maken
- Maken favours two teams, hints at Hesh-Bopanna pairing
- Bopanna tells AITA he won't partner Paes at Olympics
- Paes ready to play with Bhupathi at London Olympics
- Bhupathi lashes out at Paes, AITA after Olympics selection