Sports minister Ajay Maken has refused to intervene in the selection crisis that has shaken Indian tennis, and left it to the All India Tennis Association to take a final call on the men's doubles combination for the London Olympics.
The ministry had sought an explanation on the controversy, which started when the AITA picked Leander Paes and Mahesh Bhupathi as India's lone entry for the mega event despite the latter's refusal to team up with the former.
Bhupathi, who wants to be paired with Rohan Bopanna at the Games, had approached the ministry for help, but Maken's stand has come as a blow to his hopes.
- Bhupathi, Bopanna breaking agreement with AITA: Paes
AITA's decision defies logic: Bhupathi to Maken
Maken favours two teams, hints at Hesh-Bopanna pairing
Bopanna tells AITA he won't partner Paes at Olympics
Paes ready to play with Bhupathi at London Olympics
Bhupathi lashes out at Paes, AITA after Olympics selection
Even Bopanna refused to team up with Paes, citing his commitment to Bhupathi with whom he joined hands this season.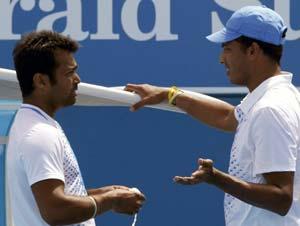 "The Sports Ministry does not wish to be part of selection process. We had raised certain issues because of requests from certain iconic players," read a statement from Ajay Maken.
Following Maken's intervention, the AITA had sent a letter to the ministry detailing its logic for selecting the Paes-Bhupathi combination.
The AITA gave the ministry five options, asking it to suggest the right combination, but Maken left the matter to the body's discretion.
"The Sports Ministry leaves it to AITA to exercise any of the options in the best of national interest," he said.
"Whatever needs to be done in the best of national interest, I have asked AITA to do and whenever it needs our help, we will do that and speak to players if they need to be spoken to. I hope that everyone works in national interest," he added.
It is now clear that either Bopanna or Bhupathi will have to agree to play with Paes or miss out on participating in the Olympics and possibly face disciplinary action.
"We had a cordial meeting with the ministry officials. Lot of suggestions were made and the five possible options were outlined in our reply to the ministry," said AITA president Anil Khanna after a meeting.
"We have only three doubles players and only two out of three can go and the selection committee has already decided that Paes should partner Bhupathi and in case Mahesh declines, it should be Bopanna.
"The govt is supportive. The sentiments of Paes have to be kept in mind," he added, referring to the fact that Paes has individual entry to the Olympic draw due to his top-10 ranking while Bhupathi and Bopanna make the cut on the basis of their combined ranking.
There were suggestions of sending two teams -- Bhupathi-Bopanna and Paes with a lower-ranked player like Yuki Bhambri -- but with the ministry's refusal to intervene, it looks unlikely.