Sports Minister Ajay Maken stepped in to resolve the crisis Indian tennis is beset with, suggesting the country should send two men's doubles teams to the upcoming Olympics.
He also hinted that he would favour the pairing of Mahesh Bhupathi and Rohan Bopanna, and Leander Paes teaming with another player, adding his ministry has written to the All India Tennis Federation to resolve the crisis by sending two teams.
"If we are entitled to sending two teams why sending only one? If Sania Mirza gets a wild card (either singles or women's doubles) who will pair with her in the mixed doubles. We have to take into account that Bhupathi and Sania had recently won the French Open mixed doubles title," Maken said.
"We have to look into two things. One, as a layman I feel that if two players in a pair have developed a chemistry between them it would be advisable to have them in a team.
"Second, we have to see who Sania will pair up in the mixed doubles," he added.
Maken said his ministry, as a matter of policy, does not want to interfere in selection matters but he was forced to intervene as it involved national interest.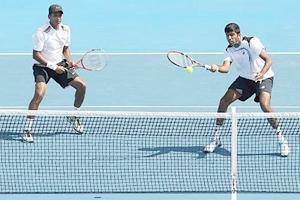 "As a minister, I don't want to interfere in selection matters of the federation. As a matter of policy, I am not in favour of politicians dictating terms on federations. But I am taking up the issue as a matter of national interest," said Maken.
"I have asked senior Sports Ministry officials not to write to AITA as instructions but as advice to them," he added.
He said he received Bhupathi's letter to the Sports Ministry in which the ace player questioned the AITA on choosing him to pair with Paes knowing fully well that he and Bopanna have been preparing for the Olympics for some time together in the ATP circuit.
"I received Mahesh Bhupathi's e-mail yesterday and this morning I have asked the senior sports ministry officials to talk to the AITA people to look into the matter."
Asked what advice he would give to the AITA and Bhupathi, Maken said, "I don't want to talk about individuals but would want to advice Bhupathi and AITA to think of national interest in the issue. I hope better sense will prevail."
Earlier, Maken also questioned AITA's decision to send only one men's doubles team when the country can field two.
"We can send 2 teams, why send 1? Hidden question is on who should pair Sania? Why disturb victorious Grand Slam mixed double pair?" asked Maken in his latest post on social networking site Twitter.
The estranged duo of Paes and Bhupathi have been declared AITA's picks for the Olympics even though the latter has made it clear in no uncertain terms that he was not willing to team up with his former partner.
Paes, with a top-10 ATP ranking, is entitled to pick a partner of choice for the big event. Bhupathi, on the other hand, can make the draw as a team with his current partner Rohan Bopanna on the basis of their combined ranking.
Bhupathi has insisted on being paired with Bopanna with whom he joined hands at the start of the season specifically with the Olympics on mind.
He reacted to sharply to AITA's decision, saying that he would not share court with someone who "backstabbed" him by breaking up the partnership last season despite being well aware that 2012 is an Olympic year.
With Bopanna also refusing to team up with Paes, sighting his pact and on-court camaraderie with Bhupathi, the AITA is left with a massive feud to resolve besides finding a partner for Paes.
The AITA had earlier warned that disciplinary action will be taken against the player, who refuses to be part of the team.
If Bopanna too sticks to his stand then the AITA may be left with no option but to select either Somdev Devvarman or Yuki Bhambri to team up with Paes.
Paes and Bhupathi have played together in four Olympics together but never won a medal. Paes though won a singles bronze medal at the 1996 Atlanta Olympics.