India's ace doubles player Leander Paes wrote to the All India Tennis Association on Monday, saying it will be unfair on him if Mahesh Bhupathi and Rohan Bopanna are paired as a second team for the 2012 Olympics.
The 1996 Olympics Olympics singles bronze medallist added that Bopanna and Bhupathi will be breaking an agreement the three of them signed with the AITA to "to play unconditionally for the country."
- Paes ready to play with Bhupathi at London Olympics
"I have been informed that both Mahesh Bhupathi and Rohan Bopanna have refused to play with me at the London Olympics. This is unfortunate, as we have laid down our differences in the past and had a successful doubles partnership on the ATP Tour and in the Davis Cup. The three of us had signed an agreement with the AITA to play unconditionally for the country," he wrote in a letter addressed to Bharat Oza, secretary-general of the AITA.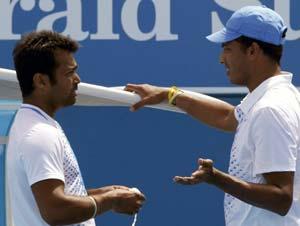 Paes said unlike the duo, he had agreed to participate in the Olympics without any conditions and accepted whatever decision the AITA had taken with regards to selection.
"When I sent you my unconditional participation in the Olympics, I believed we would put our best team forward for a gold medal," he wrote.
India's sports minister Ajay Maken jumped into the controversy earlier on Monday, suggesting that the AITA's decision "defies logic", adding two teams should be sent for the Games.
"If we are entitled to sending two teams why sending only one? If Sania Mirza gets a wild card (either singles or women's doubles) who will pair with her in the mixed doubles. We have to take into account that Bhupathi and Sania had recently won the French Open mixed doubles title," Maken said.
But Paes claimed that the decision to pair with him a lower-ranked player in Somdev Devvarman or Yuki Bhambri would be unfair on him.
"By setting up a second team as suggested by some you would create a situation where your No.1 player and the only Indian in the Top Ten ATP Doubles Rankings would have to play with the No. 5 Indian player. This would not be fair," the veteran tennis player said.
Earlier in the day, Bopanna wrote to the AITA, saying he does not want to paired with Paes.
"With all respect and humility, I have been unable to accept AITA's offer and have communicated my decision to them in writing this morning," read a statement from Bopanna.
"Since the beginning of the year, I have partnered with Mahesh Bhupathi towards playing together as at team at the Olympics. This was communicated to the AITA at every step and we were encouraged to continue to play together.
"Having played alongside Leander Paes only twice during my career, I recognise that as a team we are under-prepared for the demands of the Olympics and, in good faith, I could not accept AITA's offer that we play together."
Paes won the bronze medal in the men's singles tennis event at the 1996 Olympic Games in Atlanta. He believes that getting a chance to represent the country on a big platform like the Olympics is motivating enough and asked the warring duo to accept AITA's decision.
"Besides, it is an honor to represent our country and one would have thought that this would have been a motivation for them to accept the AITA selection decision and participate in the Olympics," he wrote.