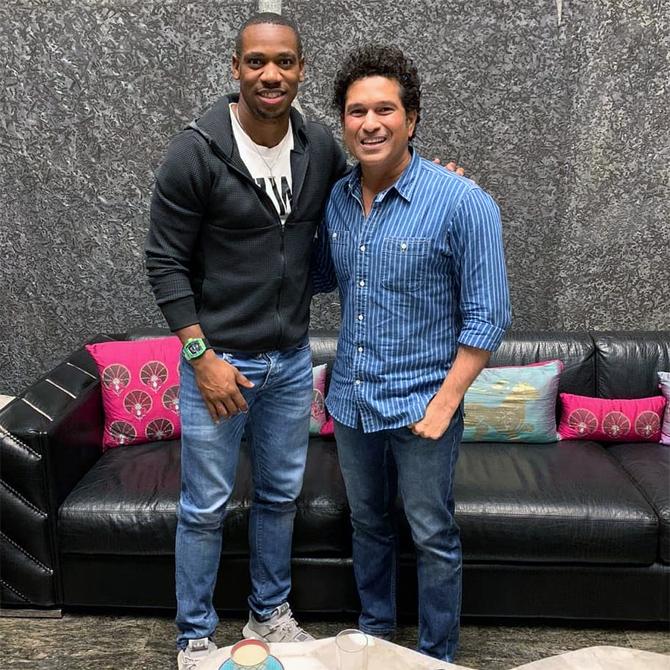 Ace Jamaican sprinter Yohan Blake met legendary batsman Sachin Tendulkar at his residence in Mumbai on Wednesday.
"Just had a wonderful chat with the great man at his home in Mumbai. @rsworldseries @sachin_rt," Blake, who has two Olympic gold medals and as many silvers to his credit, wrote on Twitter along with a picture with Tendulkar.

The 29-year-old Jamaican sprinter has already made it clear he is eyeing gold in the next year's Tokyo Olympics.
Olympic silver medallist Yohan Blake is still hoping for a crack at cricket after he hangs up his sprinting boots.

"Definitely, my dream is still alive to play cricket. I want to play the Masters. I am close, I have two more years in track and field and after that I will pursue my career in franchise cricket," Blake told Rediff.com on Tuesday.
VIDEO: Hitesh Harisinghani/Rediff.com

The 29 year old won silver medals in the 100m and 200m at the 2012 London Olympics, finishing behind Jamaican compatriot and sprint legend Usain Bolt in both races.

He teamed up with Bolt to win the 4x100m relay gold at the 2012 and the 2016 Olympics.

Blake, who is aiming to finish his sprinting career with a gold medal at the 2020 Tokyo Olympics, plays cricket whenever he gets an opportunity. His fast bowling skill is good enough, he states, and he would love to test it against Virat Kohli.

"I would love to bowl to Kohli. The West Indies are playing against India in Mumbai (in a T20 International on December 11) and if I get a chance I would go and bowl to him," he says.