Paes begins training for Davis Cup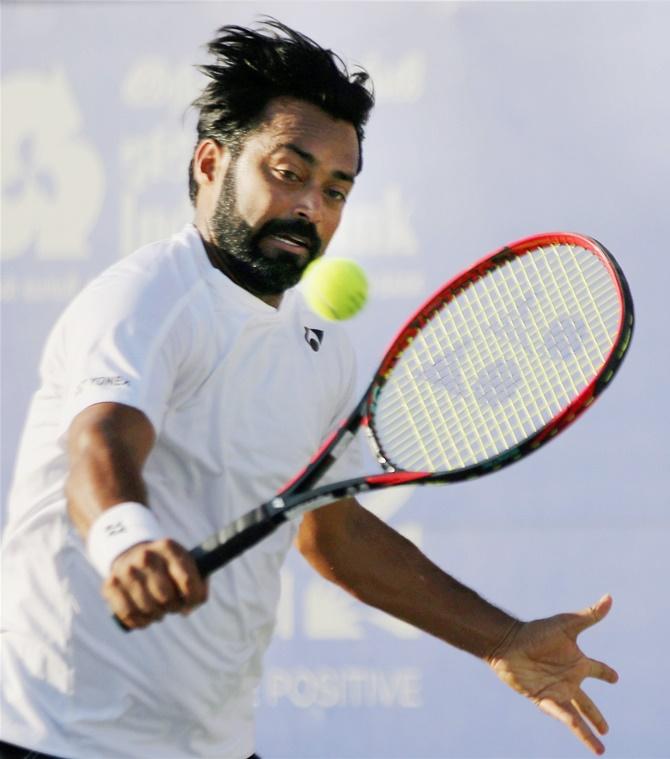 IMAGE: India's Leander Paes in action during a practice session. Photograph: PTI.
Amid continuing suspense over India's doubles combination, veteran Leander Paes, on Wednesday, began training for the Davis Cup Asia/Oceania Zone Group I tie against Uzbekistan, starting on Friday.
Paes, who is in the reserve team for the Davis Cup, trained for nearly three hours in the morning in the company of a couple of junior players and coach Zeeshan Ali.
The 43-year-old worked on his serve, backhand returns and forehand shots as he sweated it out at the KSLTA hard courts in Bengaluru.
"Oh, it feels so great," Paes said during one of the breaks at the practice session.
Paes arrived in the city, on Tuesday evening, from Mexico amidst non-playing captain Mahesh Bhupathi refusing to reveal the doubles combination for the Davis Cup tie against Uzbekistan.
Bhupathi has kept Rohan Bopanna and Paes as reserves.
Paes flew in from Leon, where he won his first Challenger title of the season, bagging the doubles title in the $ 75,000 Challenger Tennis Tournament on April 1.
Paes and his partner Adil Shamasdin of Canada outplayed Luca Margaroli of Switzerland and Brazil's Calo Zamperi 6-1, 6-4 in the final.