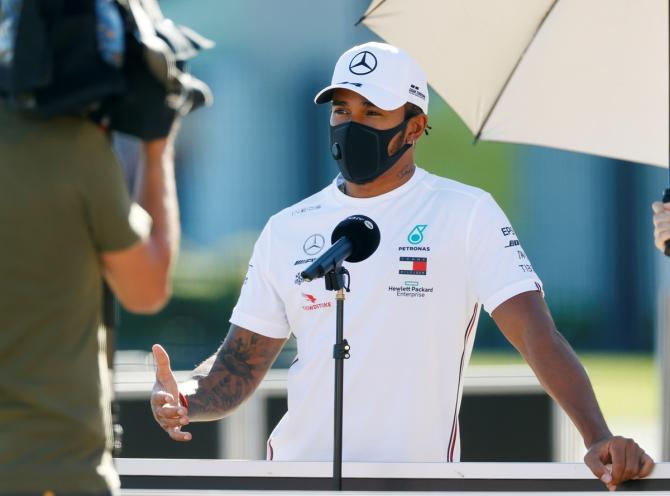 Lewis Hamilton said on Thursday his campaigning for equal rights and diversity made him more proud than an imminent seventh Formula One world championship.
The 35-year-old Mercedes driver will match Ferrari great Michael Schumacher's record seven at this weekend's Turkish Grand Prix if team mate Valtteri Bottas fails to beat him by eight points.
"Winning a world championship is very much a personal thing... and that doesn't necessarily impact people's lives," he told reporters at the Istanbul Park circuit.
"Something I'm much prouder of (is)... trying to improve conditions for people around the world... that's the most important thing for me."
Hamilton said he would still be "incredibly proud" to pull level with "an icon like Michael" and seven was way beyond his wildest dreams, but numbers and titles maybe meant more to those on the outside.
"When you're in it, it's different," said the winner of a record 93 races.
"What's important with the journey this year is it's been combined with the fight for equality and a real growing process of learning what's happening around the world and being a little bit more aware of surroundings and starting to see progress with that."
Hamilton said he hoped also to send a message, mostly to children, that "you have to dream bigger than you think you can dream and don't let anyone tell you you can't go for that."
When Schumacher clinched his seventh title in 2004, many felt the German's record would stand the test of time.
Hamilton had always hoped to emulate his late boyhood hero Ayrton Senna by winning three titles and he did that in 2015.
Those who felt his move from McLaren to Mercedes in 2013, as Schumacher's replacement, was a mistake have been eating their words for years.
"I knew it was the right thing for me, but did I know we'd win six world titles? No," said Hamilton.
"I think what it says is that in life we've got to definitely make sure we take that leap of faith, do what you think is right for you and not what people tell you to do."
Hamilton said he felt refreshed and ready to go.
"For me this is another race. I need to approach it exactly the same as I have in the past because if it ain't broke, don't fix it," he added.
Hamilton also called for more women in motorsport after the all-female W Series announced on Thursday it will be supporting Formula One at eight grands prix next season.
There are no female drivers in Formula One, with Italian Lella Lombardi the last to compete in a race in 1976, and women racers are a rarity in the junior series that feed into the top category.
Hamilton said the partnership with W Series, which uses Formula Three cars and aims to help women up the motorsport ladder, was a positive step.
"When people talk about diversity, people often think that we're talking about having more people of colour," said Hamilton.
"It's not just that. It is having more women involved. At the moment it is a male-dominated sport and that does need to change."
No details were given about which grands prix the W series would race at, although founder and chief executive Catherine Bond Muir told reporters F1's season-opener in Australia in March was probably too early.
This year's cancelled W Series championship would have supported grands prix in Mexico and the United States in October and that could again be a possibility.
The series started up in 2019 but cancelled racing this year due to the COVID-19 pandemic.
"When we promised that W Series would be bigger and better in the future, partnering with Formula One was always our ultimate objective," said Bond Muir.
"There is no doubt that, now that W Series will be run alongside and in collaboration with Formula One, our global reach, impact and influence will be increased significantly."
Britain's Jamie Chadwick was the inaugural champion of the series, which featured six rounds supporting the German Touring Car Championship (DTM) and paid out $500,000 to the winner.
Top drivers in the series will be eligible for points towards an FIA super licence needed to race in Formula One.
Formula One's managing director for motorsport Ross Brawn said W Series had been "a beacon to many" since the championship started.
"We believe it is incredibly important to give everyone the chance to reach the highest levels of our sport," he added.
"Their partnership with Formula One next season shows our determination and commitment to showcase their exciting series and the importance of building greater diversity across the sport."
Bond Muir said the W Series would prioritise free-to-air broadcasters, such as Britain's Channel Four.
"We are not looking for big bucks for TV deals, what we are looking for is reach," she said. "We want to be a truly global international series and the only way we can do that is by getting into as many households as possible."
Formula One this week published a draft 2021 calendar with a record 23 races running from Australia in March to Abu Dhabi in December.
Perez to take sabbatical from F1?
Mexican driver Sergio Perez recognised on Thursday he might have no option but to take a year out of Formula One next season, but said he would leave with pride at what he had achieved.
The 30-year-old will leave Racing Point at the end of the year with four-times world champion Sebastian Vettel joining from Ferrari.
"Everything is so late now, and it looks like I will know whether I continue in Formula One or not quite late in the year," Perez told reporters at the Turkish Grand Prix when asked if he might take a sabbatical rather than move to another series.
"So I think a sabbatical, it's an option. We will see what happens in the next couple of weeks."
Perez's only real hope is Red Bull, if they decide to replace Thai racer Alexander Albon as Max Verstappen's team mate.
Team boss Christian Horner has said they will look outside of the Red Bull driver pool if they do decide someone else is needed.
Red Bull's other options include German Nico Hulkenberg, who lost his seat at Renault at the end of last year but has twice been used as a stand-in by Racing Point this season.
Perez is sixth in the standings, despite missing two grands prix after testing positive for COVID-19, and 25 points clear of Canadian team mate Lance Stroll, whose father owns Racing Point, after 13 of 17 races.
"I am pleased with how I'm performing," said Perez.
"Obviously things could have been better, I should have two podiums already this season and should be having a lot more points.
"Missing two races is not ideal in such a short championship.
"If it's an injustice on missing out (on a drive), I think its part of Formula One. I always knew this is how it is. I can call myself privileged. I have a great career, 10 years in Formula One up to now.
"If I have to leave, I can leave with a lot of pride. We'll see what happens but I am at peace with myself."