Goalkeeper Subrata Paul who has been a hero in many of India's memorable triumphs of late was rewarded with captaincy for their international friendly against Qatar to be played in Doha on Sunday.
Incidentally, it has been 25 years since last time a goalkeeper was entrusted with the Indian captaincy. It was Atanu Bhattacharjee who led the Indian team during the 1986 Nehru Cup in Trivandrum.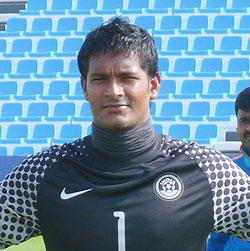 Paul will lead India against Qatar at Al Sadd on Sunday under coach Armando Colaco's policy to rotate captains of the new-look team.
Striker Sunil Chhetri led India in their 1-1 draw in their first international friendly against Maldives at Male on July 11.
Interestingly, it was Armando who as Dempo coach was scathing in his criticism about Subrata's collision with Cristiano Junior on a fateful December day in 2004 which led to the on-field death of the Brazilian striker.
Armando has time and again mentioned how Goan public in general and Dempo supporters have not been able to forgive Paul for that incident. But over the years Armando has mellowed down a lot from his earlier stance and now knows that Subrata is head and shoulders above the rest of the custodians in the country.
The Bengal player has been one of India's most consistent performers in recent times with sterling performances in AFC Challenge Cup in 2008 at home which gave India a berth in the 2011 Asian Cup after a gap of 27 years.
In that elite tournament held here in January, Subrata was the best Indian player, a fact which was acknowledged by the coach of Australia against whom India lost 0-4.
India also lost to South Korea 1-4 but the media of the East Asian country hailed Paul as the "spiderman" for his heroics under the bar.
He also played a big role in India's consecutive Nehru Cup title wins in 2007 and 2009.
"On one side it's just another match in the life of a footballer. On the other side, it's an honour which every player dreams of -- an inspiration to do better," Paul said.
"My dream is to serve my country to the best of my abilities and as long as possible," he said.