Pune Football Club goalkeeper Subrata Paul put to rest all rumours of him shifting alliance to any other club for the forthcoming 2011-2012 season.
The twenty-five-year old, Paul, who signed for Pune FC two seasons back in 2009, is contracted with the club until 2012 and confirmed that he will be committed to the same.  
"Rumours are part of the game during the end-season. I will like to confirm that I will be turning out in Pune FC colours next season as well," said Subrata.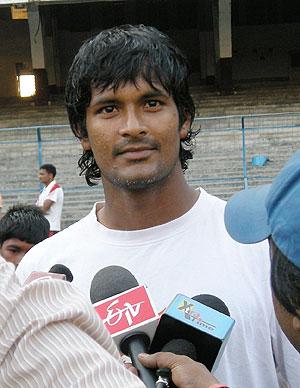 "I am extremely happy with my stay at the club and there is no doubt about that," he added.
The India No 1 custodian went on to explain his reasons of signing with PFC.
"Pune FC's professional approach to the game at every level was clear; it was something that convinced and primarily led to me joining them two seasons back. Add to that, their vision was different and very positive looking into the future.
"So far it has been a great two years with the management, the set up and not forgetting a wonderful coach in Derrick Pereira.
"I hope all rumours of me leaving Pune FC are put to rest as I categorically once again confirm myself with Pune FC for the next season."
Pune FC Head Operations, Chirag Tanna said, "I am extremely happy about the sportsman spirit shown by Subrata by telling me to end these speculations and rumours that are floating in the market.
"We look forward to Subrata's performance as he is a vital player in all our campaigns." Tanna added.