News of all that's transpired on and off the football field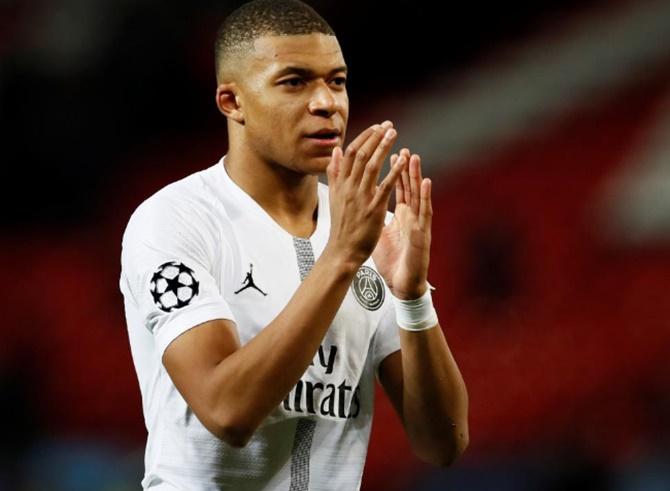 Paris St Germain must not fret over the absences of key players like Neymar and Edinson Cavani as their 2-0 win at Manchester United in the Champions League last 16 on Tuesday proved they can succeed without them, forward Kylian Mbappe has said.
Neymar and Cavani, who have scored a combined 41 goals this season, are sidelined with foot and hip muscle injuries and did not make the trip to Old Trafford for the first leg.
Despite their depleted ranks, PSG ran out worthy winners and United lost by more than one goal in a home European tie for the first time.
"We need to stop with the scare stories. People need to stop being afraid," Mbappe told French media outlet RMC Sport, adding that while Neymar and Cavani were important it was what PSG did with the players on the pitch that mattered most.
"We're happy, but it's only half-time in the tie and we need to continue preparing well, because I think in the last 20 minutes we dropped off a bit physically."
The second leg in Paris is on March 6.
Man United charged by UEFA over bottle thrown at Di Maria
UEFA has opened disciplinary proceedings against Manchester United after a bottle was thrown at Paris St Germain winger Angel Di Maria during Tuesday's Champions League last-16 tie at Old Trafford.
Di Maria was booed from the outset by the United supporters before a beer bottle was thrown from the crowd towards him in the second half, which he picked up and pretended to take a swig from.
The Argentina forward joined United in 2014 for a then club record 59.7 million pounds ($76.88 million) but an underwhelming debut season under then-manager Louis Van Gaal led to his departure to PSG a year later.
United were also charged for the blocking of stairways, while PSG have been hit with four different counts with the travelling fans alleged to have set off fireworks, thrown objects and committed acts of damage along with other crowd disturbances.
The case will be heard by UEFA's control, ethics and disciplinary body on Feb. 28.
French champions PSG won the first leg 2-0 with second half goals from Presnel Kimpembe and Kylian Mbappe.
Boo boys only made Di Maria stronger, says Tuchel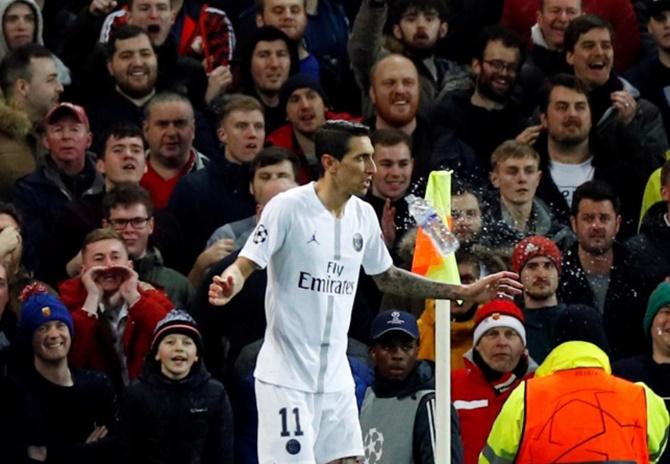 Paris St Germain forward Angel Di Maria was spurred on by the hostile crowd at Manchester United, on Tuesday, the French club's manager Thomas Tuchel said.
Di Maria was United's record signing in 2014 when he was bought for 59.7 million pounds ($77.04 million) but an underwhelming debut season under then-manager Louis Van Gaal led to the Argentina international's departure to PSG a year later.
In the Champions League last 16 on Tuesday, the 30-year-old was booed by fans and had a beer bottle thrown in his direction but he had the last laugh by having a hand in both PSG goals in a 2-0 win.
"He had a hard time in the first half, the guy is very competitive. If you tease him, it does not make him weaker," Tuchel told reporters.
"I thought he had a good relationship with the fans. He was a bit nervous and needed to be calmer in the first half. In the end he did well."
Arsenal did not play Ramsey in best position, says Juventus boss
Midfielder Aaron Ramsey was not used in his best position at Arsenal and can offer Juventus something different when he joins them next season, according to the Italian club.
Ramsey is set to join Juventus on a four-year deal in the close season after signing a pre-contract with the defending Serie A champions this week. The Welshman's contract at Arsenal expires this season.
The 28-year-old has played in a number of midfield positions and also played as a wide forward during his 11-year stay at the north London club.
Juventus Sporting Director Fabio Paratici said Juventus should play him as a 'mezzala' - an advanced role in a three-man midfield - to make use of Ramsey's goal scoring ability.
"Ramsey is a player who, in my opinion, has never found his position, because he has never played as a 'mezzala' in a three, which is his role," Paratici told Gazzetta dello Sport.
"He's more technical, he's a final ball man, he has a nose for the goal. He is a different player from what we've got, we don't have someone like him in our squad."
Bundesliga revenues up 10 per cent to $5 billion in 2017-18
Revenues for Bundesliga's top two divisions in 2017-18 rose by over 10 per cent year-on-year to 4.42 billion euros ($5 billion), marking the 14th consecutive year of growth, the German Football League (DFL) said in its annual report.
The DFL said revenues for the top two divisions in 2016-17 was 4.01 billion euros while overall revenues have more than doubled in the last decade.
The top league generated revenues of 3.81 billion euros, a 13 per cent rise from 3.37 billion in 2016-17.
"German professional football has continued its positive development. This is driven in particular by revenue from the current national media contracts, which are reflected in the balance sheets for the first time," DFL Chief Executive Christian Seifert said in a statement.
"Digitalisation and globalisation will open up new opportunities for German professional football in the coming years."
Revenues from media rights were up to 1.25 billion euros from 960 million due to the new broadcasting rights deal taking effect.
German football, on club and national level, has not enjoyed major success since the 2014 World Cup win, with no Bundesliga team reaching the Champions League final since 2013 and the German national team crashing out of the group stage at last year's World Cup in Russia.
The Bundesliga, however, remains successful with match, advertising and media revenues all up from the previous fiscal year.
Bundesliga clubs also pumped 177 million euros into youth development and academies, up from 163 million in 2016-17, with German players proving to be hot commodity in the international market during every transfer period.
Germany overhauled its youth training system back in 2002 after a string of bad results by the national team. From 2002 to 2017-18 clubs have invested a total of 1.6 billion in their academies.
"This is considered to be an investment in the future. The establishment and expansion of the targeted development of new talent began many years ago and remains one of the quality features of German football," the DFL said.
Turkish football boss' company makes best bid for sole betting firm: media
A venture including the company of the Turkish Football Federation's chairman made the best bid in the tender to operate Turkey's only legal sports betting company Iddaa, broadcaster NTV said.
The Sans Girisim venture of Demiroren and US firm Scientific Games made an offer to take 0.2 percent of revenues under the revenue-sharing scheme, revising down their previous bid of 2.1 per cent, NTV and other Turkish media said.
The other bidder in the tender, the Inteltek venture of Intralot and Turkish mobile phone operator Turkcell offered to take a 0.5 percent commission, after having offered 1.4 percent in the first round of bidding.
Turkcell's shares were down 0.27 per cent at 0821 GMT.
Demiroren Holding and Turkcell were not immediately available to comment on Wednesday morning.
Demiroren Holding, which also owns major media outlets in Turkey, is owned by Yildirim Demiroren, the current chairman of the Turkish Football Federation (TFF).
All other betting and gambling platforms are banned in Turkey.