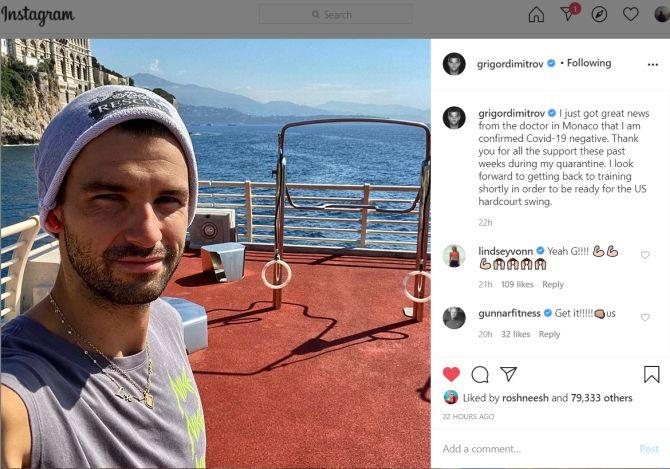 Tennis player Grigor Dimitrov, who was detected COVID-19 positive last month, has beat the virus.
The 29-year-old Bulgarian announced on Instagram 'that doctors in Monaco have confirmed that I am confirmed COVID-19 negative' and thanked his fans for their support.
The World No 19 was the first player to contract the virus while competing in the Adria Tour exhibition tournament in Croatia. Later Borna Coric and Viktor Troicki tested positive for the virus.
The Adria Tour tournament, was the brainchild of World No 1 Novak Djokovic, who, along with his wife also tested positive for COVID-19 after the Adria Tour's second leg in Croatia.
The 17-time Grand Slam champion then apologised online for organising the Adria Tour events, which brought together professional players from various countries to play matches in Serbia and Croatia.
Images and videos of the players hugging at the net, playing basketball together and partying at the tournament were posted on social media.
Djokovic tested negative after the second test he took last week and, having conceded after the failed tournament that it came to soon, he reiterated that he had acted in good faith.