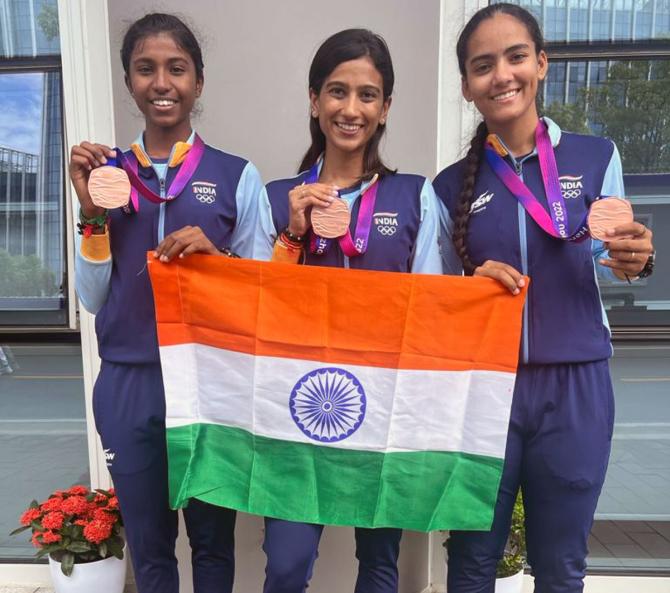 India's speed skaters dazzled at the Asian Games with two surprise bronze medals in men's and women's 3000m team relay events to match their best-ever performance in roller sports at the continental showpiece, in Hangzhou, on Monday.
Teenagers Karthika Jagadeeswaran and Heeral Sadhu combined with 29-year-old Aarathy Kasturi Raj to clinch India's first-ever medal in the speeding skating discipline in Asian Games.

Anand Kumar Velkumar, Siddhant Kamble and Vikram Ingale then followed their women counterparts to grab the third spot with a timing of 4:34.861s in the final at Qiantang Roller Sports Centre.

Roller sports made its debut in the Asian Games in 2010 when Anup Kumar Yama bagged bronze in men's single free skating event before combining with Avani Panchal to finish third in the pairs skating event.

On Monday, the women's quartet finished with a timing of 4:34.861s to bag the third place on the podium behind gold medallists Chinese Taipei (4:19.447) and silver winner South Korea (4:21.146).

"Winning bronze will definitely open up a lot of opportunities for us because we are not on the priority list in India. Sadly, this isn't an Olympic sport," Aarthy, a doctor and wife of Indian cricketer Sandeep Warrier, said after the win.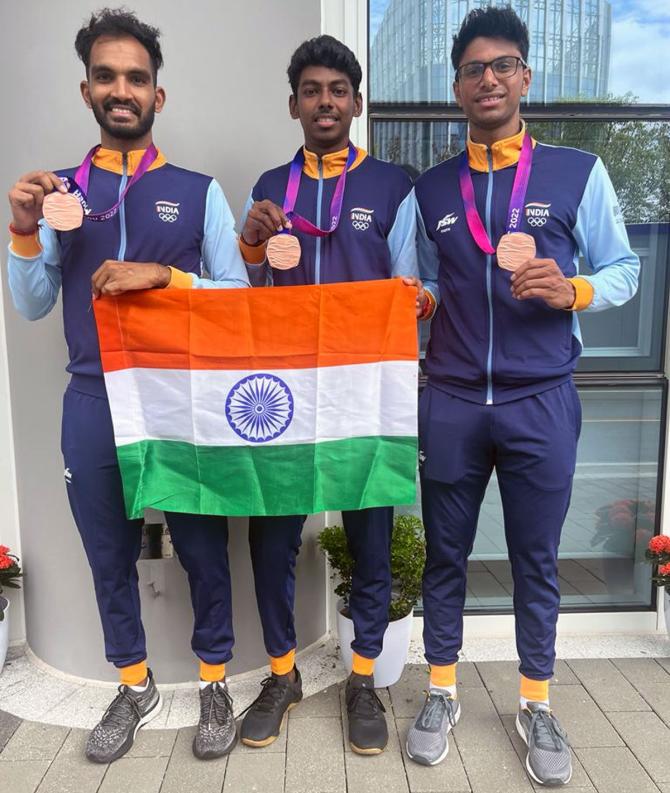 Incidentally, Chinese Taipei (4:05.692) and South Korea (4:05.702) took the top-two spots in the men's event as well.

The Indian trio had clocked 4:15.126 in the heats and bettered it in the final.

"We were really hoping for a medal today, as we knew we were in the mix. Being with the Chinese Taipei and Republic of Korea guys is a really big thing for us, as they're the best in the world, and we are not at that level yet. We're maybe among the top 15 athletes in the world," Kamble said.

The 24-year-old revealed that his wheel slipped in his second lap which slowed them a bit.

"We were still going to try and fight for silver in the relay, but in my second last lap, in one of the corners, my wheel slipped a little bit and a small gap grew between us and the other teams. After that, it was all about recovering."

For most of the Indian skaters it was a maiden Asian Games appearance.

"It was really hard racing. It was my first time racing in the senior category, so it was a great experience to be racing with them. Winning the medal was a dream come true, and all the people in India will be happy," said 20-year-old Velkumar, who is a computer science student.

A delighted 17-year-old Sadhu, who had finished a creditable seventh in the women's 1000m Point-Elimination race, said, "This is my first Asian Games. I'm just 17, and I'm really happy we got a team medal."

The 15-year-old Karthika hoped this medal would encourage others to take up the sport.

"It was really great, it was my first experience at the Asian Games and it is going to be the best experience for me," Karthika said.

"This is a really good opportunity for others to get into the sport. It's an opportunity for everyone. It shows we can get medals in any sport. I would like to see more competitions in roller skating and make everyone really proud of roller skating in our country," she added.