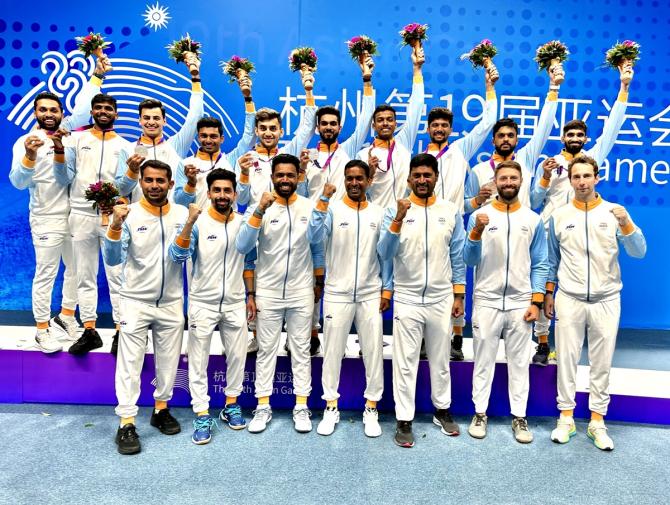 Injured HS Prannoy's absence hurt India as they went down fighting 2-3 against badminton powerhouse China to sign off with their first-ever silver medal in the men's team championships at the Asian Games in Hangzhou on Sunday.
After world No. 7 Prannoy was ruled out due to a back injury, Lakshya Sen produced a gutsy show in the first singles and doubles pair of Satwiksairaj Rankireddy and Chirag Shetty then bossed over their opponents to put India 2-0 ahead.
So, it was once again left to Kidamby Srikanth to carry the team on his shoulders.
The former world No. 1, who had produced a gritty show against South Korea in the semifinals, couldn't go the distance this time despite a healthy lead and multiple game points as China fought back to make it 1-2.
The defending champions then won the remaining two matches to maintain their hegemony in the Asian Games.
With Prannoy missing the summit clash, Sen was handed the responsibility of leading the Indian charge.
Sen recovered from a mid-game slump to erase a five-point deficit in the decider and put India ahead with a 22-20, 14-21, 21-18 win over world No. 6 Shi Yuqi in an 83-minute opening slugfest.
World No. 3 men's doubles pair of Satwik and Chirag then went on a smashing spree to outclass world No. 2. Liang Wei Keng and Wang Chang 21-15 21-18 in 55 minutes to extend the lead to 2-0.
Srikanth, however, squandered an 18-14 lead and multiple game points in the first game to go down 22-24, 9-21 against All England champion Li Shifeng in the third singles to expose India's weakest link -- the second doubles and third singles matches.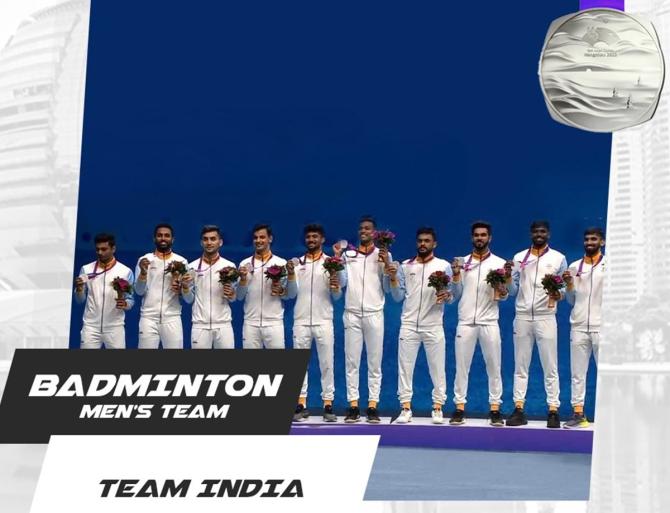 Scratch pair of Dhruv Kapila and Sai Pratheek Krishna Prasad then lost 6-21, 15-21 to world No. 8 Liu Yu Chen and Ou Xuan Yi, while Prannoy's replacement Mithun Manjunath, ranked 53, went down 12-21 4-21 against world No. 20 Weng Hong Yang in the third singles as India finished second best.
Despite the loss, it is a creditable performance from the Indian team as it sealed India's second silver medal in badminton at the continental championships with two-time Olympic medallist PV Sindhu winning the first in women's singles in the 2018 edition.
The last time the Indian men won a badminton medal in the team championships was at the 1986 edition in Seoul where Sen's mentors Prakash Padukone and Vimal Kumar played a crucial role.
India now has 11 badminton medals in the Asian Games, including three individual singles medals, one silver and three bronze in the men's team, two women's team bronze and one medal each in men's doubles and mixed doubles.
Up against Shi Yuqi, Sen dictated the pace of the rallies to lead 11-6 at the interval. The duo played some exciting rallies with Sen keeping the pressure on his Chinese rival with his resolute defence to lead 15-10.
The momentum soon started to shift with Yuqi drawing parity at 16-16. A body smash and another return on Sen's backhand gave Shi Yuqi a game point.
However, Sen drew level and gained a game point for himself. He sealed it when Yuqi went to the net.
After the change of sides, Sen and Yuqi were 8-8 before errors crept into the former's game as he lagged 8-11 and then 11-18. Sen grabbed three quick points but Yuqi crushed the mutiny before bouncing back in style.
Yuqi began the decider with two bullet-like body smashes before Sen returned the favour to be tied 3-3. The Chinese, however, grabbed a 11-7 lead with a forehand drive.
After resumption, Sen scripted a fine recovery to level things at 14-14 before gaining a 17-16 lead. Two booming smashes took the Indian to four match points and he converted in his third attempt.
Satwik and Chirag then continued the party, raining down smashes to lead 11-4 at the interval.
Though the Chinese tried to revive their chances, the Indians stamped their authority to race to 9 game points and Satwik sealed it with a thunderbolt.
In the second game, the Indians continued their smash fest to lead 11-8 at the interval. Satwik and Chirag jumped to a 17-12 lead quickly but Liang's serve bothered the Indians as the Chinese soon reduced the deficit to 15-17.
Satwik produced a net kill to break the run of points before Chirag earned three match points. They squandered one before Liang sent Chirag's return to the net as India led 2-0.
Expectations were high from Srikanth and he did conjure hopes of a memorable win when he led the opening game for most part against Li and gained one game point at 20-19.
But Li won a quick exchange to draw level. Srikanth held a second game point with an angled smash but Li pounced on a weak return to make it 21-21.
In the end, Li smashed deep into Srikanth's forehand to grab another game point and converted it with a precise net shot.
Li continued the momentum in the second game, leading 11-7 in a jiffy. It was a one-way traffic thereafter as Li gained 12 match points and sealed it to bring China back in the tie.