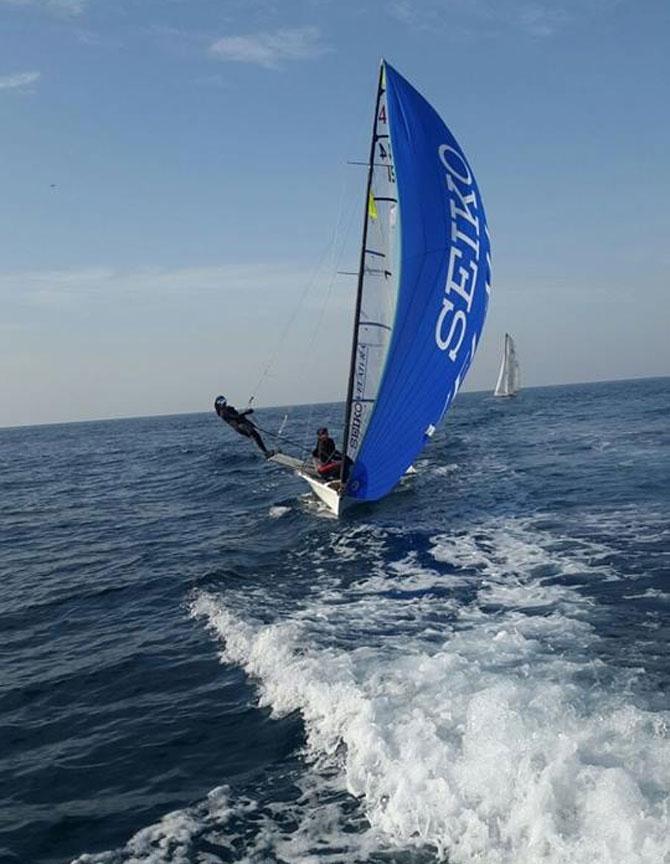 Neha Thakur, Adhvait Menon and Eabad Ali had successful outings in their respective sailing events of the ongoing Asian Games in Hangzhou on Monday.
Thakur, who finished third in girls' dinghy ILCA4 race nine, improved one spot to reach second after race 10 with an overall timing of 24:48.
Menon finished third in boy's dinghy ILCA4 race 10. In race nine of the event, he was placed fifth but made significant gain to finish on a high.
Ali also was placed at third in men's windsurfer RS:X event with a timing of 23:55 after race 12.
Nethra Kumanan was placed fifth in women's single dinghy ILCA6.
Tokyo Olympian Vishnu Sarvanan was fifth, +0:48 behind from the race leader after race nine in men's dinghy ILCA7.
KC Ganapathy and Varun Thakkar finished men's skiff 49er race 12 at the seventh spot with timing of +1:52 seconds from the leading pair.
In women's skiff 49erFX event, the Indian pair of Harshita Tomar and Shital Verma were placed last at the sixth spot after race 12, having finished race 11 on the fifth position, behind +1:28 minutes from the leading duo.
India's Ishwariya Ganesh was last at fourth after race 12 in women's windsurfer RS:X, also slipping down one position after race 11.
In mixed multihull – nacra 17, the Indian pair of Indar Siddeshwar Doiphode and Ramya Saravanan were placed fourth after race 12 with less than a minute's gap from the leaders in a tightly contested field. Doiphode and Ramya were third after race 11.
In mixed dinghy – 470 race nine, the pair of Preethi Kongara and Shekhar Sudhanshu were third but after race 10, they had slipped to the fifth position.
Chitresh Tatha was placed sixth in men's IKA formula kite after race 15 but moved up once place to finish fifth after race 16 -- effectively last as one competitor each from Korea and Japan had to retire.