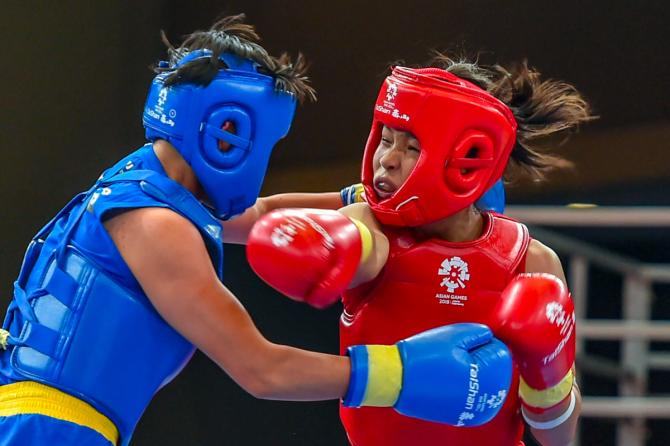 Naorem Roshibina Devi qualified for the semi-finals in the Women's 60 kg Wushu (Sanda) to assure India of another medal in the Asian Games, in Hangzhou on Monday.

She convincingly outplayed Kazakhstan's Aiman Karshyga, her opening opponent in the quarter-final through points difference.

Roshibina Devi had won the bronze medal at the last Asian Games in the same category.
Notably, she was a gold medallist in the same category at the 2019 South Asian Games.
In the men's section, Surya Bhanu Partap Singh reached the quarterfinals after winning his pre-quarters bout against Uzbekistan's Islombek Khaydarov in the 60kg category in Sanda.
The bout lasted three rounds as the Indian prevailed 2-1.
Partap, also a bronze medallist from the previous edition of the Asian Games, has won a couple of medals of the same hue in the World Wushu Championships.
He also won the gold medal in the 2016 South Asian Games.
In the final men's bout of the day in the 65 kg category, Vikrant Baliyan was knocked out in the pre-quarters by Samuel Marbun of Indonesia by a 1-2 margin.
Although the bout was closely contested, the Indian struggled to match his opponent's agility and speed.
Baliyan is a bronze medallist of the 2019 World Wushu Championships, besides winning the gold medal during the 2019 South Asian Games.