Sandhyarani settles for silver in wushu
India's Sandhyarani Devi setteled for a silver in the women's sanshou 60kg wushu event after losing to Khadijeh Azadpour of Iran in the final in the Asian Games in Guangzhou on Wednesday.
Sandhayarani lost 0-2 to the Iranian to fetch India's second medal in wushu.
On Tuesday, Mayanglambam Bimoljit Singh won a bronze in the men's 60kg sanshou event.
Saina reaches quarter-finals
Ace Indian shuttler Saina Nehwal cruised into the second round of the women's singles at the Asian Games after steamrolling Lydia Cheah of Malaysia in the second round in Guangzhou on Wednesday.
The world number three Indian needed just 28 minutes to see off Lydia 21-15 21-17. She will next take on the winner between Yip Pui Yin of Hong Kong and Chinese Taipei's Ma Hsiao Pai in the quarter-finals on Thursday.
The second seed Indian held her serve for most of the time and scored points through her smashes in the first game. She was also better at the net.
Saina opened up a 6-1 lead swiftly but Lydia narrowed the gap to 10-12. But the Indian was not bothered much and pocketed the first game easily.
In the next game, Saina again raced to a comfortable 6-1 lead before moving to 20-11 but the Indian squandered six match points before closing the match. steamrolling Lydia Cheah of Malaysia in the the second round.
India go down to South Korea in women's hockey
Prodigal India missed chances galore, got a goal overturned at the fag end before going down by a solitary first half penalty corner goal against South Korea in the Asian Games women's hockey competition.
India, who went into the match with a victory over Malaysia and a defeat against Japan under their belt, dominated the entire second half after conceding an early goal to the Koreans but failure to apply the finishing touch, which cost them the match and precious points.
To their chagrin, the Indian women also saw their last-gasp goal from captain Surinder Kaur being overturned by umpire Moyano Sanchez of Argentina, who first signalled a goal, but conferred with other umpire Chen Hong of China after the Koreans protested and then overturned her own verdict.
The defeat, eighth against the Koreans since women's hockey made its Asian Games debut in 1982, has virtually ended India's hopes of a gold or a silver medal.
But the Indian women, who lost 3-5 to the Koreans when they met previously in the Asian Champions Challenge in the latter's backyard, remain in the hunt for the bronze if they finish the round-robin league third or fourth as there is a play-off for the medal between the 3rd and 4th league finishers.
Sharath, Amalraj enter Round of 16
Ace paddler Achanta Sharath Kamal and Anthony Amalraj advanced to the pre-quarterfinals of the men's singles table tennis event but Indian challenge ended in the women's doubles category at the Asian Games.
Sharath hardly broke any sweat to tame Sri Lanka's S Rohan Gedara Nanamendra 4-0 in the second round while Amalraj had to fight it out against Muhd Shakirin Ibrahim of Malaysia 4-2.
Sharath took just 17 minutes to get the better of his less-fancied Sri Lankan rival 11-9, 11-7, 11-1, 11-8 and set up a clash against Sang Eun Oh of Korea in the last 16 round.
In contrast, Amalraj had to toil hard for 40 minutes to get past Ibrahim 11-4, 7-11, 11-8, 13-11, 8-11, 11-8. He will next face Chih Yuan Chuang of Taipei.
However, Indian eves endured another disappointing day in table tennis at the Asian Games as the pairs of Mouma Das and Mamta Prabhu and Shamini Kumaresan and Madhurika Patkar crashed out in the first round.
While Mouma and Mamta were no match for Singapore's Jiawei Li and Beibei Sun, who routed them 0-3, the pair Shamini and Madhurika gave a tough fight to I Ching Cheng and Yi Hua Huang of Taipei before going down 2-3.
The combination of Mouma and Mamta proved to be cakewalk for the Singaporean girls who took just 13 minutes to sent the Indian duo packing 5-11, 5-11, 2-11.
But Shamini and Madhurika fought their heart out against Cheng and Huang before losing the opening tie 11-5, 3-11, 12-10, 4-11, 4-11, in 27 minutes.
Indian women finish fourth in water polo
Indian women suffered a 2-20 thrashing at the hands of Uzbekistan in their last round-robin league match to finish fourth in the water polo competition.
India lost 1-5, 0-5, 0-5, 1-5 in the four quarters to finish their campaign without a single win in the four-team competition.
China won gold after defeating Kazakhstan 13-5 (4-1, 3-2, 1-1, 5-1) in their last league match. The silver and bronze went to Kazakhstan and Uzbekistan respectively.
India could convert just two out of 30 attempts at the opposition goal while Uzbekistan scored 20 from the 45 shots.
For India, Shubhangi Bhoite and Varshini Gubbi scored in the first and fourth quarters.
Kashyap crashes out, Bhat in pre-quarters of badminton
Top Indian shuttler Parupalli Kashyap crashed out with a first-round loss while Arvind Bhat received a walkover to enter the pre-quarterfinals in the badminton competition.
Kashyap lost 14-21, 20-22 to world number eight and fifth seeded Nguyen Tien Minh of Vietnam in a 36-minute first round contest.
World number 31, Kashyap was on the backfoot from the very beginning and was trailing 4-10 in the first game. The Indian tried to come back with some fine smash winners but the gap in scoreline increased with the Vietnamese responding with net winners to take an 18-10 lead before clinching the first game in 14 minutes.
The second game seemed to be going like the first as the Vietnamese took a 15-9 lead. But from there, Kashyap made an impressive recovery by levelling the score at 15-15 and then taking an 18-16 lead.
Nguyen, however, snapped Kashyap's scoring run, took a 20-18 lead and then fought off another mini fightback by the Indian to win the second game 22-20 in 22 minutes and clinch the match.
Bhat, on the other hand, did not have to do anything as he got the walk-over in the first round over Niluka Karunaratne of Sri Lanka.
Bhat next plays sixth seed Ponsana Boonsak of Thailand in the pre-quarterfinals.
In the mixed doubles, Aparna Balan and A V Sivarajan lost 22-20, 7-21, 12-21 against the Japanese duo of S Ikeda and R Shiota in the first round.
The other Indian mixed doubles pair of Jwala Gutta and V Diju, seeded fourth in the competition, received a first round bye and they will take on the South Korean duo of Shin Baek Cheol and Lee Hyo Jung in the pre-quarterfinals.
Mixed day for Indians in tennis
India had a mixed day at tennis competition in the Asian Games in Guangzhou, on Wednesday, as Karan Rastogi and Vishnu Vardhan started their campaign with a comfortable victory in men's double while Rushmi Chakravarti and Poojashree Venkatesha crashed out of the women's doubles in the first round.
Rastogi and Vardhan ousted the Hong Kong pair of Cheuk-Wai Jack Hui and Xiaopeng Lai 6-1, 6-3 to advance to the second round of the competition.
The match that lasted only 57 minutes was completely dominated by the Indian duo as they never let their opponents to settle down.
Hui and Lai could manage to retain their serve only once in the first set to lose it 1-6.
In the second set, though they started on a positive note by retaining a couple of their serves, the Hong Kong pair eventually lost 3-6 to hand over India an easy win.
On the other hand, Rushmi and Poojashree had a forgettable day today as they proved no match to their strong Japanese opponents of Misaki Doi and Ryoko Fuda.
Doi and Fuda thrashed the Indians 6-3, 6-1 in the first round match that lasted just 52 minutes.
Rushmi and Poojashree started well but once they were broken by their opponents in the first set, they could never recover from there. In the second set, they lost 1-6 with not much fight.
Cueist Gowda loses crashes out
India saw another unsuccessful day in cue sports as Indira Gowda went down fighting 4-5 against Thuy Vi Duon of Vietnam in the pre-quarterfinals of the women's 8-ball pool singles event.
Indira, who was the lone Indian cueist competing on the day, gave a tough fight to her Vietnamese opponent but failed to sustain in the end.
Till now, India have won three cue sports medals at the ongoing Games, including Pankaj Advani's billiards singles gold medal.
Advani and Aditya Mehta will begin their snooker campaign on Thursday.
India would be expecting to add a few more medals in their kitty in this sporting discipline before it ends on Saturday.
India had won four medals in the previous edition of the Games at Doha.
Sandeep hits four goals to give India big win
Penalty corner specialist Sandeep Singh pumped in four goals as India swamped Bangladesh 9-0 to notch up their second straight victory in Group B men's league at the Aoti field.
Two-time champions India, who opened their campaign to regain the gold they last won in 1998 and qualify for the 2012 Olympics with a facile 7-0 victory over Hong Kong, led 3-0 at half time before upping the pace in the second half and pumping in six more goals to complete the rout.
The Rajpal Singh-led team warmed up nicely for the much-awaited clash with arch-foes Pakistan on November 20.
They took some time to find their bearing in the first half before scoring their 17th victory in 18 meetings against their South Asian rivals and the fifth in as many attempts in the Asiad.
Tushar Khandekar, who combined very well up front with skipper Rajpal, Arjun Halappa and Shivendra Singh, opened the floodgates in the second minute and then found the mark again in the 39th minute.
Sandeep Singh, who was very effective in his penalty corner tries, scored the second goal in the 13th minute, and then fired home thrice more with hits off penalty corners in the 47th, 63rd and 66th minutes for India's seventh and eighth goals before Dharamvir Singh completed the tally a minute from the end.
Disappointing show by Indian cyclists
The Indian cyclists continued their below par show and signed off without a medal in the track events of the Asian Games.
In the men's Points Race which requires the cyclists to cover 120 laps (30 km), India's Atul Kumar and Rajendra Bishnoi finished 15th and 20th respectively.
Vladimir Tuychiev of Uzbekistan won the gold medal while Kam Po Wong of Hong Kong got the silver. The bronze was won by Iranian cyclist Mehdi Sohrabi.
The Indians fared no better in the Men's Keirin final, where Prince Herbert Sara Hylem barely managed a ninth-place finish while Bikram Okram Singh was 13th.
The Malaysians excelled in the Keirin finals as their cyclists grabbed both gold and silver.
Azizulhasni Awang got the gold while compatriot Josiah NG got the silver. Miao Zhang of China won the bronze medal.
Vikas in boxing pre-quarters
Vikas Krishan (60kg) became the second Indian boxer to book a pre-quarterfinal berth at the Asian Games after the teenager beat Thailand's Saylom Ardee in his opening round bout.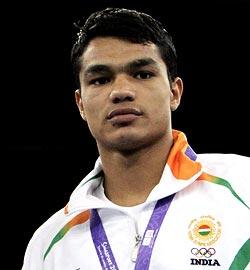 18-year-old Vikas, a reigning world youth champion and a bronze medallist of the inaugural Youth Olympics this year, won 8-1 against Ardee in his first bout at a senior international event.
Vikas joined Suranjoy Singh (52kg), who won on Tuesday, in the pre-quarters.
The lanky Haryana-lad, with a water-tight defence, fought from long range and never really allowed his rival to get so close as to strike a scoring blow.
The Indian led 3-0 in the opening round and built on the lead with his trademark combination punches, the most prominent being jabs which he used to telling effect against Ardee.
Taekwondo: Jasvant loses in pre-quarters
India's Jasvant lost a closely contested fight against Yulius Fernado of Indonesia 5-6 to crash out of the men's 74kg taekwondo event.
The Indian was more dominant for most part of the pre-quarterfinal match but his opponent turned the tables during the closing minutes of the bout, scoring heavily in the final round to advance to the last-eight stage.
Earlier in the day, Jasvant did well to get the better of Sawatvilay Phimmaosne of Laos 9-7 in the first round at the Guangdong Gymnasium.
Latika Bhandari in women's 53kg, Shantibala Devi in 57kg and P Anand in men's 80kg will fight their first round bouts on Thursday.
Dismal show by Indian shooters
The Indian shooters put up a dismal show on another windy day as they drew a blank for the third day in running with only pistol expert and Melbourne Commonwealth Games hero Samaresh Jung coming up with something
notable.
Bespectacled Jung, who earned the nickname 'Goldfinger' after grabbing a record five gold medals four years ago in Melbourne missed the men's 25m standard pistol shoot-off for the bronze by one point in a straight final to finish 7th overall with 569 points from amongst 39 shooters.
But his two other team-mates, Pemba Tamang and Chandrahas Chaudhary, performed very poorly, shooting only 550 and 549 out of 600 to end up 22nd and 23rd respectively and the combined effort cost India a team medal too as they finished fourth with 1668 points, well behind bronze winners North Korea's 1690, from eleven contestants.
World women's prone position champion Tejaswini Sawant too put up a disappointing display and brought up the rear, finishing 23rd out of 45 shooters with a shocking 569 points in the women's 3-position rifle event.
Her team-mate Lajjakumari Gauswami ended up a rung below her with the same score and Chetenpreet Kaur Nilon secured the 31st spot with 559.
The Indian squad ended up a shocking 9th out of 12 competing teams with 1697 points. China won the gold wth 1733, South Korea the silver with 1728 and the bronze was claimed by Iran (1719).
In the 25m pistol event, Jung fired 569 out of 600, an improvement of ten points from his performance in last month's Commonwealth Games in Delhi, with 13 scores of ten but missed the cut off for the third-place play-off by one point with four others logging 570. He finished seventh overall.
Indian men and women lose to China in sepaktakraw
India's woeful show continued in the sepaktakraw event with both the men's and women's team losing their second consecutive group matches, to bow out of medal contention.
After making a disappointing start to their campaign on Tuesday, when the men's team lost to Japan and the women's team was thrashed by South Korea, India once again failed to make a mark, losing to hosts China.
Even as the men's team went down fighting 1-2 against the hosts in Group B, Indian women could not win a single match in their pool and got beaten 0-3 at the hands of the mighty Chinese eves.
The men's team will be up against Malaysia on Thursday and the women's team would face Thailand in their last group match.
Khade fails to qualify for 100m freestyle final
After ending India's 24-year-old medal drought in the pool in Asian Games, teen swimming sensation Virdhawal Khade topped his 100m freestyle heats but the effort was not good enough to fetch a place in the final of the event.
Khade, who clinched a 50m butterfly bronze on Tuesday to become the first Indian swimmer in 24 years to clinch an Asian Games medal, clocked 51.25sec to top the 100m freestyle heats today but the eventual eight qualifiers returned timings of under 51 seconds.
The 19-year-old Indian's effort was not even his personal best in this event which stands at 49.47sec, clocked at the Commonwealth Youth Games in Pune in 2008.
The other Indian in the event, Aaron Agnel Dsouza finished second behind Khade by clocking 52.71sec.
In the men's 200m individual medley, Rehan Poncha failed to qualify for the final after finishing sixth in the heats with a timing of 2:08.55sec.
Rashid tied 5th in golf
Rashid Khan opened with a tumultuous one-under 71 to be the highest-placed Indian at tied fifth on day one of the Asian Games' men's individual golf competition.
The 19-year-old sent down an eagle and four birdies against three bogeys and a double bogey on the opening day of the competition. He is the only Indian to break par on Day One.
Abhinav Lohan was the next best-placed Indian at tied 15th after returning a three-over 75. His card comprised four birdies against five bogeys and a double bogey.
Rahul Bajaj was tied for the 45th position with a nine-over 81 after managing to sandwich just a couple of birdies between six bogeys and a double bogey.
Abhijit Singh Chadha, meanwhile, was disqualified.
Filipino Miguel Luis Tabuena topped the leaderboard with a four-under 68.
In the team competition, the Indian men's team lay ninth after Abhinav, Rahul and Rashid combined for an 11-over 227 following Abhijit's disqualification.
In the women's individual competition, Shreya Ghei was the highest-placed Indian at tied 19th with an eight-over 80, followed by Sanjeev Vani Kapoor and Gurbani Singh, both of whom carded 10-over 82, at tied 23rd.
The trio lay ninth in the 10-strong field of team competition with a total of 18-over 162.
India suffer 2nd consecutive loss in basketball
India suffered its second consecutive loss in the men's basketball competition after succumbing to 66-93 defeat at the hands of Chinese Taipei in the Asian Games.
India trailed their opponents all through the four quarters of their Group F match at the Ying Dong Gymnasium here.
The Indians were trailing 21-25 after the first quarter but the gap widened at 27-47 after the second quarter and to 46-72 after the third to eventually lose the match 66-93. India had lost their opening match against Qatar 48-97 on Tuesday. They play against Iran on Friday.
Monika, Mali flop show in Asian Games weightlifting
India's disappointing show at the weightlifting competition in the Asian Games continued with Monika Devi and Chandrakanta Mali finishing seventh and 10th respectively in their events here today.
Monika, who returned to her pet 69kg weight category after winning a bronze in 75kg in the Commonwealth Games last month, lifted a disappointing 212kg (95+117) to finish seventh in an eight-lifter field.
Liu Chunhong of China won gold with a total lift of 242kg (110+132) while the silver and the bronze went to Indonesia's Sinta Darmariani and Chinese Taipei's Wang Ya Jhen with efforts of 238kg (101+137) and 233kg (100+133) respectively.
Mali, on the other hand, lifted 309kg (138+171) to finish 10th in the men's 85kg category in 13-lifter field. He had lifted 325kg to finish fourth in the Commonwealth Games last month.
Lu Yong of China won the gold with a total lift of 376kg (173+203) while Uzbekistan's Chashemov Mansurbek and South Korea's Kim Kwang Hoon won the silver and the bronze with efforts of 372kg (172+200) and 369kg (160+209) respectively.