'She has not forgotten where she comes from.'
'It is unfortunate that we do not celebrate her boxing career, but she says she has learned to be happy.'
'All the rejections have given her courage.'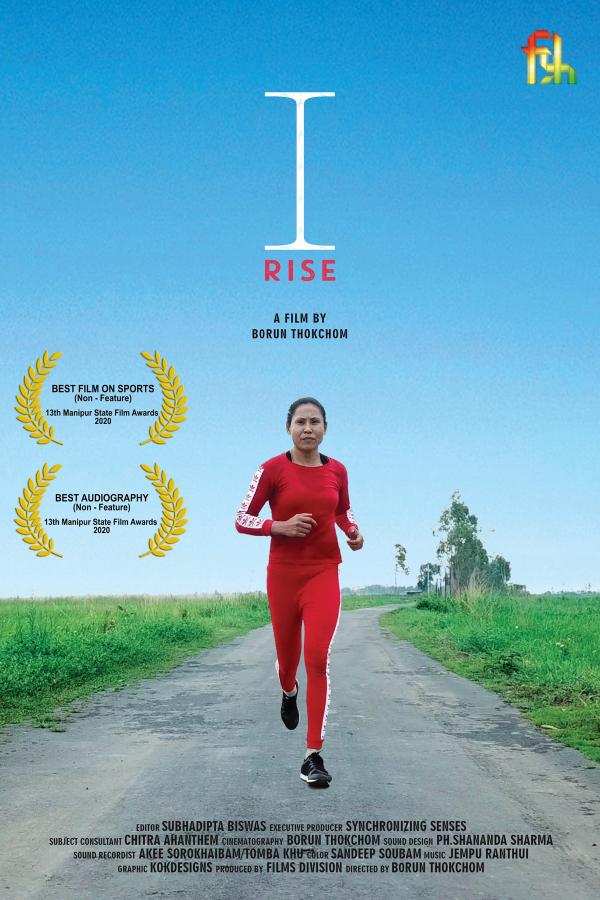 There is much in common between MC Mary Kom and Laishram Sarita Devi, the two superstars of Indian boxing: They are the same age, hail from the same state, Manipur.
When Imphal-based film-maker Borun Thokchom had to choose a subject for a documentary, he was clear that it was Sarita Devi who inspired him most.
"I am lucky that Films Division liked my subject and is producing the film; I Rise will be released soon for public viewing," says Borun.
Sarita, a former World champion, has experienced many ups and downs on her way to sporting glory.
The lowest point of her career was the 2014 Asian Games in Incheon.
The mother of one bagged a bronze medal in the 60 kg category, but refused to accept the medal after protesting against the verdict of the bout. The AIBA suspended her for the 'disrespectful' act. I Rise, a 52-minute documentary, starts off with the incident in Incheon.
The 38-year-old boxer won eight medals at the Asian Championships, including five gold, but her story of struggle appeals to few. Unlike her rival Mary Kom who has had Priyanka Chopra play her in a movie.
Even though she has achieved so much, Borun says Sarita is under-rated and that is why he felt the need to highlight her feats in the ring and outside through I Rise.
Laxmi Negi/Rediff.com spoke to Borun Thokchom whose I Rise was presented the awards for best sports documentary and best audiography at the Manipur film awards 2020.
I Rise is Borun's second documentary. He earlier made The Silent Poet on the iconic Manipuri activist Irom Sharmila.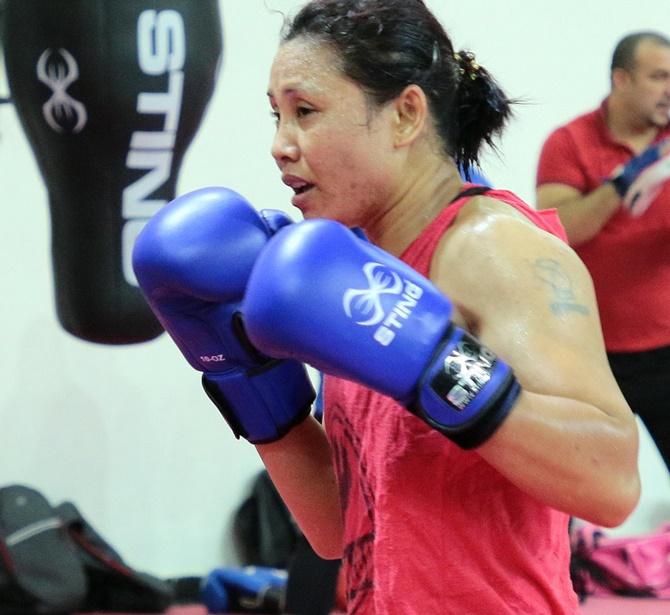 Why Sarita Devi?
I am a journalist and have been following Sarita Devi for a long time. I find her very inspiring.
How she, hailing from a poor family in a remote village (Thoubal Khunou in Manipur's Thoubal district), and despite all odds, is a successful boxer.
Also, her never-say-die attitude stands out. That is why, the film is called I Rise.
Both your films are women-centric
It is a coincidence that both my films turned out to be on strong women. I didn't plan it. It just happened!
Do you like Mary Kom?
(Laughs) I definitely like her. But I like Sarita more!
What did you learn from Sarita?
She is a very successful boxer, yet she is such a humble human being.
She is like a lioness in the ring and then she will be coaching young boxers. When you see her at home she will be serving you tea.
I am yet to meet such a humble sports star!
What is so inspiring about her?
She has not forgotten where she comes from.
She is still fighting for the rights of her people.
It is unfortunate that we do not celebrate her boxing career, but she says she has learned to be happy.
All the rejections and corruption have given her courage.
She says she will always fight. She is not going to retire.
At 38, if given a chance, she will never say no to a fight.
One endearing quality about Sarita?
I have had the opportunity to see her from close quarters. When she is boxing, she is so focussed.
And after the bout, no matter what the result, she will have the same emotion.
When I look at her reaction, I feel she has reached that highest point in her life where no matter what people around you do, it doesn't affect her. She is so focussed.
One annoying habit?
She speaks her mind and is very emotional. At this stage of her career, I feel she needs to be a little diplomatic.
How did making this film change you?
(Laughs again) I had to get up very early. It is something I am not used to, but when you are filming a sportsperson, you tend to follow their lifestyle.
I have been working on this documentary for the five years and I can say that it has changed me a little bit.
She lives such a healthy life that I started jogging after meeting her. I have become conscious of my health and have started eating healthy too.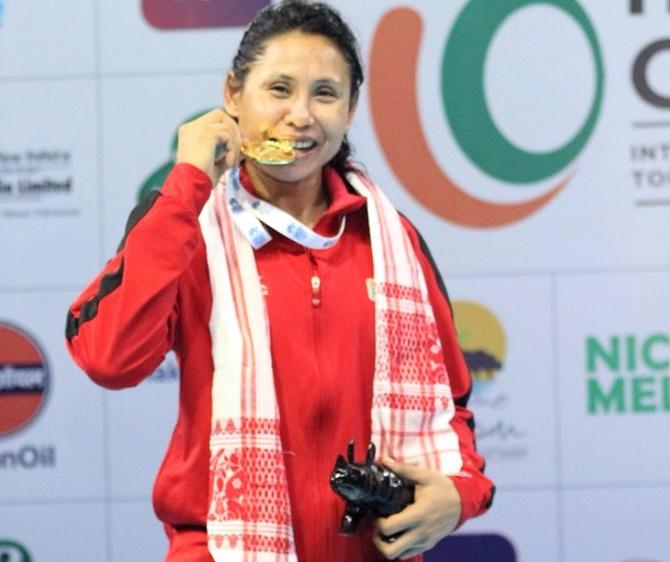 Were you asked why not make a movie on Mary Kom?
In Manipur, Sarita is a huge star. When the jury saw my film, they liked it. They told me that Sarita was the right subject.
How did you convince the producers?
I was lucky that Films Division came on board. I am a documentary film-maker. I am not here to cater to the masses. I know my audience is small.
How much did you learn about boxing?
I find boxing a very tricky sport.
At the 2014 Asian Games when Sarita was robbed of victory, even the commentator was saying that Sarita was throwing more punches, yet the decision was not in her favour.
I again followed her World Championship bout in New Delhi in 2019; I thought Sarita was winning, but, again, the decision went against her.
Maybe, I am focussing more on her; that's why I felt she should have won. I really don't know!
Who is the better boxer: Sarita or Mary Kom?
I have been asked a lot of questions about Mary Kom, but my film is on Sarita Devi.
I can understand everyone's curiosity about the two great boxers from Manipur.
Also, a Sarita Devi film cannot be complete without Mary Kom and a Mary Kom film cannot be complete without Sarita.
In my film there is only one point wherein we touch about Mary, when Sarita talks about their friendship. How they used to stay in one room and help each other. They were so close that they used to help each other on their farms.
But all things changed when both of them decided to fight in the same weight category in 2010.
Sarita says that when she gets a chance, she wants to ask Mary why she suddenly changed.