'Sarita is the most abused and unsupported Indian boxer of all time.'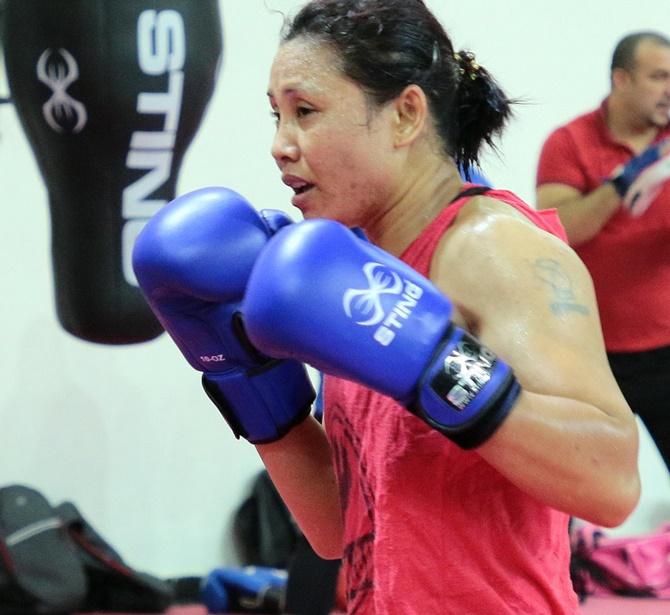 Charles Atkinson will always be remembered in India's boxing history as the coach who trained five-time World champion M C Mary Kom.
The revered English coach was specially hired to hone Mary's preparations for the 2012 London Olympics where she won a bronze medal in the 51kg category.
When not sharpening the skills of boxers, Atkinson turns analyst of the sport.
After training boxers in England, Thailand and India, he now lives in Liverpool, but, at 75, he is still hooked to action in the roped square.
Currently from Merseyside, Atkinson is closely following the Women's World Championships in new Delhi where India's Sarita Devi bowed out after losing to Ireland's Kellie Harrington in a controversial 60kg pre-quarterfinal bout.
The Manipuri boxer was handed a one year ban by the world body AIBA for refusing to accept her bronze medal in protest during the victory ceremony at the 2014 Asian Games.
'I am not happy with the decision (of the judges). The decision has gone ulta (topsy turvey. I thought I had the upper hand in all the three rounds,' Sarita said after losing to Harrington, the 2016 World Championship silver medallist, in a split 3-2 verdict.
"Unfortunately, and very surprisingly, there was no support for Sarita from the Indian federation, not even a whimper of a protest," Atkinson tells Rediff.com's Laxmi Negi.
What is your view on Sarita Devi's loss in the World Championships?
Sarita Devi's alleged loss was a shocking injustice. She had boxed a perfect tactical fight against her Irish opponent despite being given an undeserved standing count by the referee in the later stage.
How those judges made Harrington a winner 3-2 beggars belief. To use a boxing term, it was a complete robbery, nothing less.
Did the standing count against her opponent in the third round proved to be the deciding factor?
That count, given after a seemingly innocuous blow, which at best caused her to slip on the canvas, almost certainly cost her the fight, although it should it should never have done so, as she had cruised through the opening two rounds and repeated the process in the third.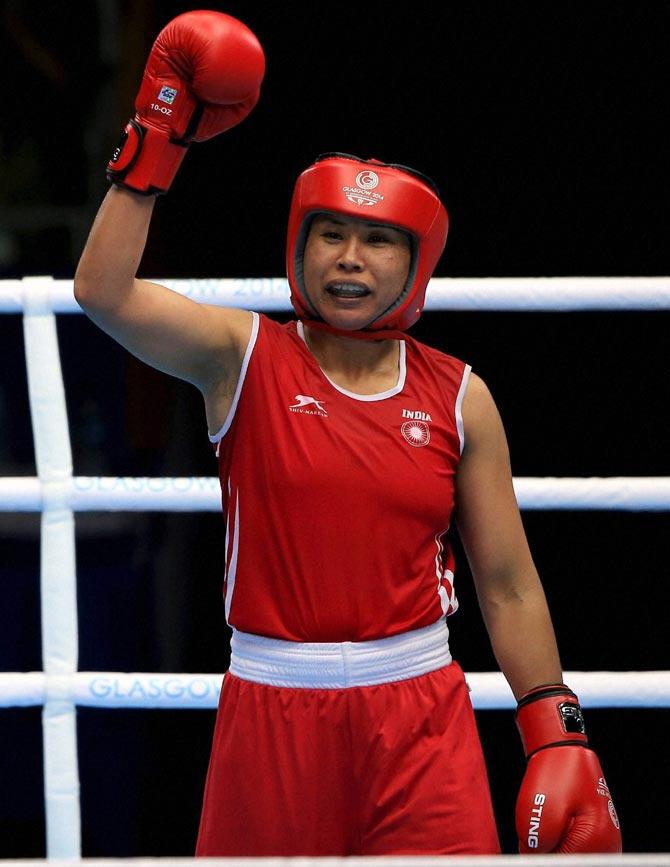 Her coach slammed that count. What is your opinion?
Let's look at standing counts. For goodness sake, these are highly trained athletes. The object of the sport is to hit the opponent.
If then referees are going to impose standing counts every time somebody gets a tap on the head the game is dead.
Sarita's coach was well within his rights to complain. Had it been me, the air would have been blue! It was a slip.
The judging during AIBA competitions has received a lot of flak. How can it be improved?
I have studied boxing for years, and the judging standards in amateur boxing have declined a lot.
At these tournaments the majority of judges appear amateur in the extreme, and not boxing people. They always appear to me to be on a free paid holiday as opposed to doing a very serious job.
I would seriously ask: How do they qualify? They would never be allowed near a professional ring.
Certainly, qualification appears too easy, and once in they appear safe.
They should be closely watched during every tournament. Certainly, the minority judge in a 4-1 vote has to be made to explain.
This judging for a true boxing person is not rocket science; however, one must understand that most of these people are just butchers, bakers and candlestick makers. The AIBA recruits them!
The AIBA comes across as a very authoritative body. Looking at Sarita's reaction after her bout, it feels as if the boxers are always in fear.
These AIBA tournaments are riddled with rank incompetent judging and refereeing.
Time and again we see boxers' careers halted or even ruined by incompetents.
Unfortunately, and very surprisingly, there was no support for Sarita from the Indian federation, not even a whimper of a protest.
This could well be because they are terrified of AIBA, as protests are often followed by bans or suspensions. A European boxer who made a strong protest immediately had his accreditation removed.
Sarita's treatment and lack of support was diabolical. She must have been heartbroken.
What would be your advice to Sarita? She feels helpless and let down.
Sarita, I believe, there was a hangover from the last World championships, where she declined a medal.
If it was me, I would walk away from the sport in disgust, but I know she won't.
I hope that she will somehow turn this injustice to her advantage. She is possibly the most abused and unsupported Indian international boxer of all time.
Some people should hold their heads in shame.