'Mary just stopped talking to me. Maybe she did not like the fact that she was the gold medallist, but it was me (Sarita), not her, who was getting all the attention.'
They came from similar backgrounds, from the same state. But Sarita Devi and M C Mary Kom's relationship has been marked by more than rivalry in the ring. For the first time, Suprita Das reveals the tensions that have marked the boxing stars's association over the years.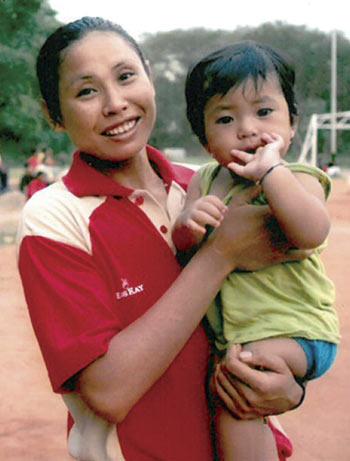 IMAGE: Sarita Devi with MC Mary Kom's son. Photograph: Kind courtesy www.withthisringfilm.com

29 September 2014. Seonhak Gymnasium, Incheon
M C Mary Kom stormed into the semi-final with a 3-1 win over China's Si Haijuan. The bout was largely dominated by Mary, barring the third round, when the Chinese teenager attempted a comeback.
Relieved to have assured herself of a bronze at least, Mary got off the ring and was hugged by Angom Lenin Meitei, their coach from Manipur who had trained the two girls before this tournament.
Sarita Devi stood a few feet away. She was up next, in the quarter-final of the 60kg category. The two had requested the Indian officials to let Lenin accompany them to Incheon. As Lenin hugged the huffing and puffing Mary, Sarita joined them.
It was an emotional reunion. The two leading ladies of Indian boxing, Mary and Sarita, hadn't spoken to each other in four years.
After an acrid fallout just before the 2010 Asian Games in Guangzhou, China, it took another edition of the same tournament -- the 2014 Asian Games -- for the two to return to talking terms.
The three chatted in Manipuri briefly. Five-time world champion Mary, clearly overwhelmed, burst into tears and hugged Sarita. With just minutes to go before she got into the ring, Sarita did her best to control her emotions, as Mary walked out of the arena to interact with the press. Lenin returned to his cheerleading role.
The tale of the two boxers, both young girls from neglected and insurgency-ridden Manipur, both with humble beginnings and no godfather to help them make it big in the world of sports, was nothing short of incredible.
As Mary went on to win five world titles, largely unnoticed, and then suddenly became a household name after her bronze at the London Olympics in 2012, Sarita, switching weight categories on and off, and winning title after title at the Asian level, remained the perpetual runner-up. But the road the two had travelled to get to the world stage was remarkably similar.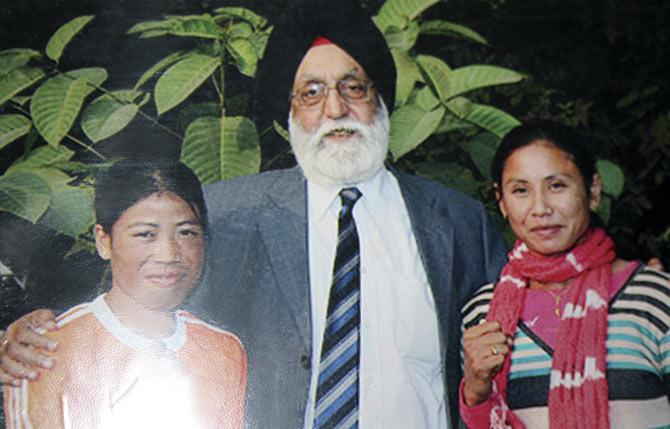 IMAGE: Sarita Devi and Mary Kom with then sports minister M S Gill. Photograph: Kind courtesy Harper Collins India
Coming from neighbouring villages, Mary Kom and Sarita Devi met for the first time at Ibomcha Singh's boxing class in the Khuman Lampak Stadium.
And while Sarita may not have liked the sweaty sight of boxers punching away hard at the first go, Mary found herself intrigued. But it didn't matter, because she was too frail to become a boxer, Ibomcha had declared and sent her back. Boxing wasn't meant for her, she was told.
Stubborn as hell, Mary put her foot down and hung around, an attitude that soon impressed Ibomcha and everyone around.
She was springy, had endless energy, circled her opponent like a pro, ducked punches deftly, and had a left hook that would leave some of Ibomcha's trainees appear like first-timers.
"I had not even taught her anything," Ibomcha remembered. "And she was already intimidating senior opponents. I had to change my mind." Sarita had been training under him for a couple of months, and was now joined by M C Mary Kom.
Brimming with determination and grit, together, the two girls embraced the sport of boxing. "Neither of us started boxing to become a professional," Mary said. "And never did we expect to become world champions. Sarita and I came from poor families and boxing was meant to help us get a government job. Beyond that, we didn't hope or expect much."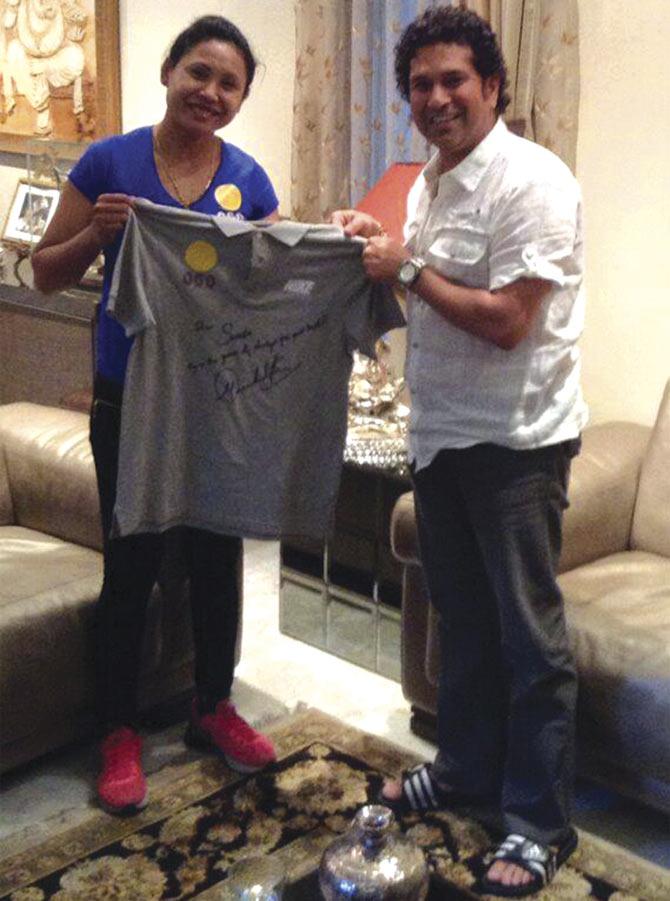 IMAGE: Sarita Devi and Sachin Tendulkar. Photograph: Kind courtesy Harper Collins India
But fate had other plans. The two girls grew closer outside Ibomcha's boxing classes, as did their families. While Sarita helped Mary and her family in the paddy fields, Mary chipped in by collecting firewood with Sarita's brothers. But travelling to Khuman Lampak everyday for Ibomcha's boot-camp-like training was becoming impossible for both girls.
In the years that followed, Mary bagged world title after world title. Sarita, on the other hand, dominated in her weight category in Asia, winning four titles on the trot between 2003 and 2010 (Hisar, Taiwan, Guwahati, Astana).
Thoughts of quitting the sport surfaced in 2005, as boxing didn't pay her enough to sustain a livelihood. But her hard work and love for the sport was finally rewarded with a bronze medal at the World Championships that year.
In came the cash awards, and a job offer from the Manipur police, which she accepted. Now able to keep her funding worries somewhat at bay, Sarita could focus solely on boxing, and that saw her picking up the world title the following year.
The coaches who trained the two said that it was tough to pick who was the better student between Mary and Sarita. "They were both very hard-working, and still are, no doubt, assured Ibomcha, who had had the biggest influence on the duo's careers. "In terms of technique, Sarita is the better boxer than Mary. She is also sounder than Mary."
Things were too hunky-dory between the two for Sarita to even consider Mary her rival or her competitor. After all, they'd been through plenty of hardships together. Besides, they competed in different weight categories.
But it didn't escape anyone's mind, not the least Sarita's, that while Mary's world titles kept piling on, Sarita was consistently failing to clear the finishing line.
There was never a doubt about her work ethic, but she had little to show in terms of achievement, compared to Mary.
There were two parameters the coaches used to break down Mary's and Sarita's success at the highest level. Ibomcha, who gave the vote of the better boxer to Sarita, hands down, said Mary was the psychologically superior.
"From the first time I saw her, I have always seen Mary fight with a free mind," he said. "Once she is in the ring, she is fearless. She forgets everything, and just wants to bash up her opponent. Her home, her mother, her village, children... nothing is on her mind, she is focused only on her opponent in the ring."
That his student from Moirang fought in the lowest weight category gave her an edge too, Ibomcha admitted.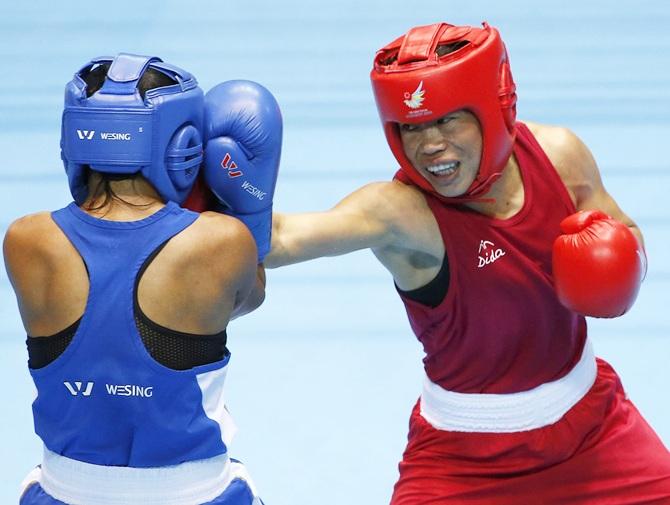 IMAGE: M C Mary Kom in action.
"Mary has had her share of luck, there's no doubt," he said. Her opponents, girls from European countries and the US, were usually of a larger built and almost never competed in lightweight categories.
That meant Mary's competition was essentially from the same countries, year after year -- China, North and South Korea, Thailand and Malaysia. Other countries did send boxers in the lightweight categories, but that was largely to ensure full participation.
Their boxers would rarely reach the medal rounds in the biggest tournaments. This is not to take away any credit at all from the five-time world champion or to undermine her achievements.
Sarita, on the other hand, relied on good old hard work to get to the top, but knew all too well that psychologically she was weaker. For an opponent fighting with an open mind, it was very easy to break Sarita down.
Worries of her family, she confessed, always clouded her thoughts. "I thought of my mother alone at home, I thought of my brothers who had a drinking problem, I thought of how I would get money for my next competition," she said.
"Sarita does get into these deep thoughts," Ibomcha agreed.
"You can't tell what's on her mind, but you can sense that she has got distracted. And at that moment, from the ringside I can tell that the match is over."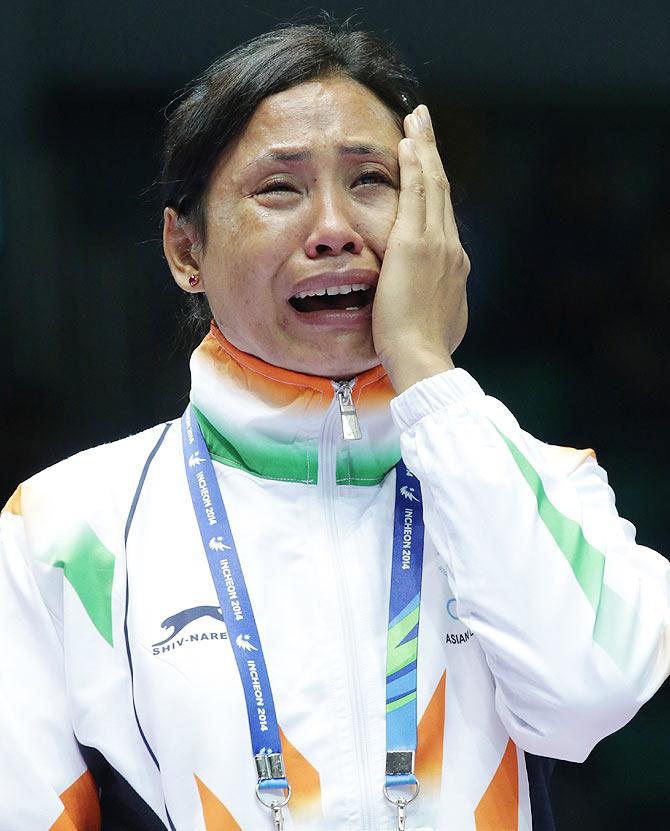 IMAGE: Sarita Devi weeps after she refuses her bronze medal at the Asian Games in Incheon. Photograph: Chung Sung-Jun/Getty Images
On the day of the Asian Games trials at the SAl Centre in Bhopal, the boxers arrived at the boxing hall and started their warm-ups. Sarita's attention went to one of the senior coaches, Emani Chiranjeevi, who was giving a pep talk to the juniors who were there to watch the trials.
The sixty year old was telling them about Sarita's hard work and dedication and how there was a lesson to learn from her work ethics.
'So much praise for me?' a suspicious Sarita asked herself under her breath. 'I hope nothing goes wrong.' She clutched the Bible, which had become her constant companion by this time. Kissing it softly, she got into the ring to fight against her friend Mary Kom, for a spot in the Asian Games squad.
Sarita beat Mary fair and square in all three rounds and won the bout, confident that she was on her way to Guangzhou. But the result of that bout wasn't announced. The contest was inconclusive, the judges told Sarita, much to her bewilderment. Those present at the venue recalled the contrasting reactions of the two boxers after the bout.
"Mary looked disturbed," remembered Chandralal. "She went to the side of the hall and started making phone calls. Sarita was perplexed, nobody was telling her why the bout was inconclusive when she thought it was straightforward."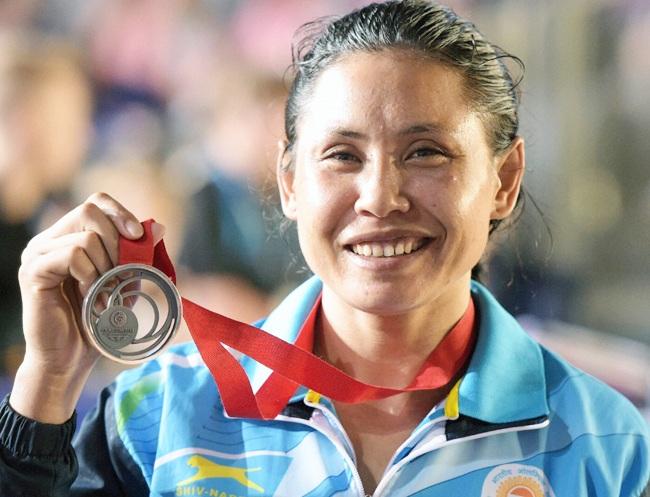 IMAGE: Sarita Devi with her 2014 Commonwealth medal. Photograph: PTI
Documentary filmmaker Ameesha Joshi, who, along with her friend and college batchmate from Canada, Anna Sarkissian, released their film With this Ring on women's boxing in India in 2016, were at the AIBA World Championships in Barbados that year.
The film, which took ten years to make, has Mary Kom, Sarita Devi and Chhoto Loura as its protagonists. "At those World Championships in Barbados, Sarita was exhausted," Joshi told me. "More than anything else, she was frustrated with the politics. But you could never tell anything from her face or voice, for that matter. Everything about Sarita is very soft-spoken."
In a portion of Joshi's documentary shot in Barbados during the World Championships, M C Mary Kom spoke about the contentious bout between the two before they got there. 'I won that bout,' Kom said, looking at the camera, hands on hips, possibly in the middle of a training session. 'I don't know what happened to Sarita. Maybe she is friends with all those people. Maybe she gave them some money.'
"Where will I get money to pay officials, you tell me," Sarita told me. "I was distracted," she admitted. "The secretary general, Mr Raja, was also our team's manager. But instead of giving me a pep talk, he told me that whether I won a medal or not, I had to go back to India and give a retrial."
Easy as it was to disturb the mentally fragile Sarita, it seemed like the job was done. She did disastrously in the ring.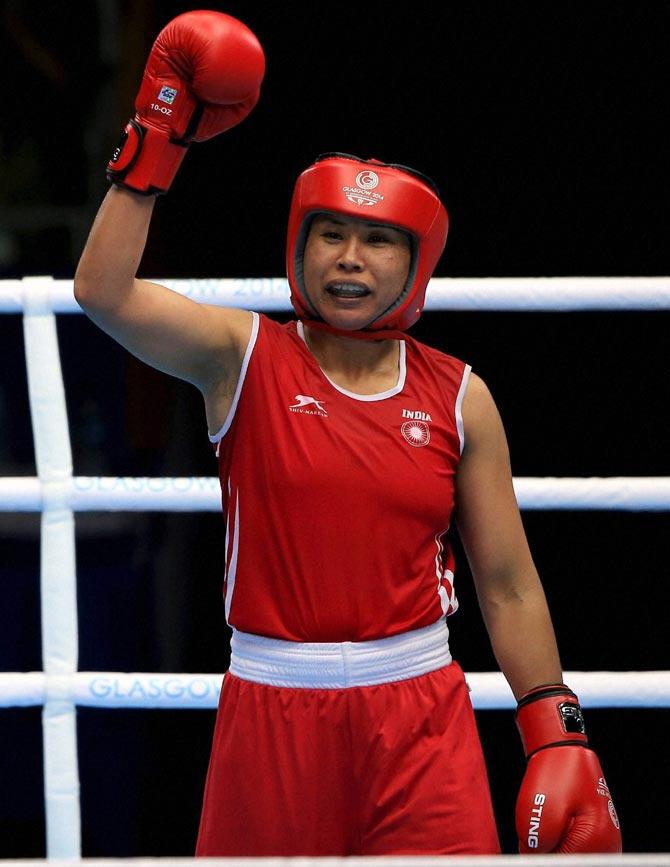 IMAGE: Sarita Devi at the Asian Games in Incheon. Photograph: PTI
At the London Olympics, Mary won bronze in the 51 kg category and became the toast of the nation overnight. Magnificent Mary's story of struggle appealed to everyone. That she made a comeback to the sport after the birth of her twins, and went on to win another world title, that too an Olympic medal, made everyone sit up and take notice of this boxer who had been ignored for years.
For about four years (2010 to 2014), once friends Mary and Sarita stopped talking to each other. They trained at camps together, were invited to functions in Manipur where they were forced to share the stage, and even attended several common gatherings of friends and the sporting fraternity.
But the cracks had widened -- the girls didn't see each other eye to eye. As India and the world continued to bask in the glory of Mary Kom and her success story, Sarita faded into the background.
She wasn't jealous -- Sarita said she was hurt. Despite her more than a decade long career, almost nobody knew her outside her state. She was always No 2. "Looks like an Olympic medal is a very powerful thing!" she smiled and said. "It can really change your world." It was true: The Olympic bronze had indeed changed Mary Kom's fortunes.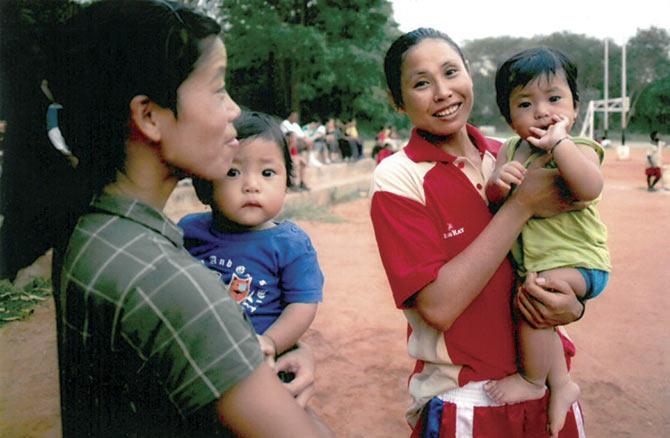 IMAGE: Sarita Devi, right, with Mary Kom and her twins. Photograph: Kind courtesy www.withthisringfilm.com

After four years of no communication whatsoever, the 2014 Asian Games, helped Mary and Sarita bury the hatchet. The two shared a room in the Games Village, in Incheon. Sarita made the first attempt to break the ice, asking Mary about her children back home. Mary responded.
And soon, the relatively new mother and the mother of three, were exchanging stories of their naughty sons in Imphal. "I can't remain angry for too long," Sarita said. "And this had been on for four years. Mary didn't ask for it, but I forgave her."
The day Sarita lost her bout to Park Ji-Na unfairly, Mary spoke out in favour of her state mate. 'If it was a minor difference, you could understand. But this is blatant cheating,' she said, coming out in support of Sarita.
Waking up with a swollen face, Sarita accompanied Mary for her pre-bout medical test, and to the dining hall for breakfast next morning. In a corner of one of the galleries in the Seonhak Gymnasium, Sarita stood with her husband, ready to cheer for Mary.
'There were no emotions in her at that time,' Thoiba said. 'Or maybe there were mixed emotions. I told her, you do what you want to do. Stop thinking so much. There's no pressure.'
But the pressure had been gathering inside Sarita for the past twenty-four hours and the anger was simmering within her. Mary won her bout, and it was now time for the presentation ceremony.
'Till the moment Mary won her bout, Sarita was fine. We both cheered for her loudly,' said Thoiba. 'But the moment she saw the flags being prepared for the medal ceremony, her face changed.' The tricolour went up, the Indian national anthem was played out as Mary was awarded gold in the 51 kg category.
Then, it was the turn of the 60 kg medal ceremony, and Sarita saw where her country's flag was, as they were being raised. The bronze medallists stood to the left of the Chinese flag.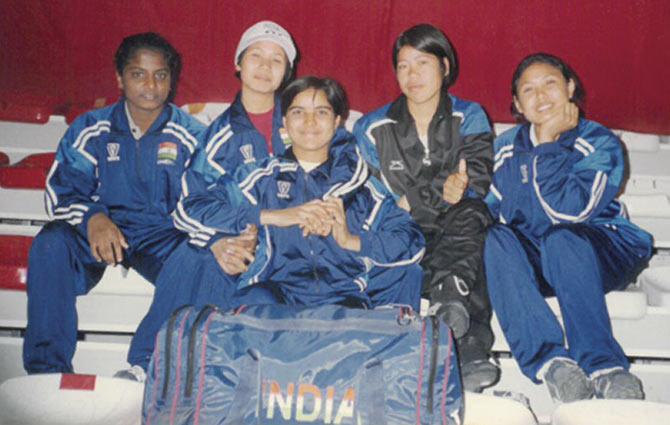 IMAGE: in happier days, Sarita Devi and Mary Kom, top right and second from right. Photographs: Kind courtesy Harper Collins India
Sarita stood on the podium, bronze medal around her neck, bawling. She cried, covering her mouth with her hands, then walked to Ji-Na, put the medal around her neck, with a smile on her face, and walked back to her spot.
The world watched in amazement as drama unfolded on live television. Ji-Na left the medal on the podium as Sarita refused to take it. After the Chinese national anthem was played out, Sarita, with a smile on her face, perhaps realising that a laugh was the best possible way to deal with the moment, waved to the crowds and walked out of the arena, without her medal.
"I knew this would hit me back," she told me, running out of breath almost, while reliving that afternoon. "I knew I would be banned. But that's just what I thought was the right thing to do at that moment."
"I suffered, but why would boxers in the future suffer as well?"
Outside the boxing arena, the expat community had huddled around Mary Kom for autographs and photographs. But soon, all the attention turned toward the one who had not won a gold medal: Sarita Devi.
Just before Mary and Sarita were about to board their flight at Incheon airport, a group of officials from the South Korean Olympic Association and the Organizing Committee came over to Sarita with a cheque and a letter saying they were sorry about her bitter experience in their country.
Sarita was overwhelmed, and soon a crowd started gathering around her. Mary, seated right next to her, watched the proceedings for a few minutes, then got up and walked away. She did not speak to Sarita after that.
"What was it? Ego?" Sarita asked me later. "I don't know, must be so," she said, answering her own question. "But she just stopped talking to me. Maybe she did not like the fact that she was the gold medallist, but it was me, not her, who was getting all the attention."
A few days after she had lent her support to Sarita, Mary did a U-turn. 'I don't think she did the right thing,' she said. 'If I was in her place, I wouldn't have done it. It was not very sportsman-like of Sarita to return her medal.'
"Nothing surprises me any more," Sarita smiled and said. "During one of the nationals in Agra, I was adjudged the best boxer of the tournament. She was so angry that she refused to do any interviews with the journalists there."
And thus, the reunion between India's best women boxers turned out to be short, and not very sweet.
Excerpted from Shadow Fighter: Sarita Devi And Her Extraordinary Journey by Suprita Das, with the permission of the publishers, Harper Collins India.