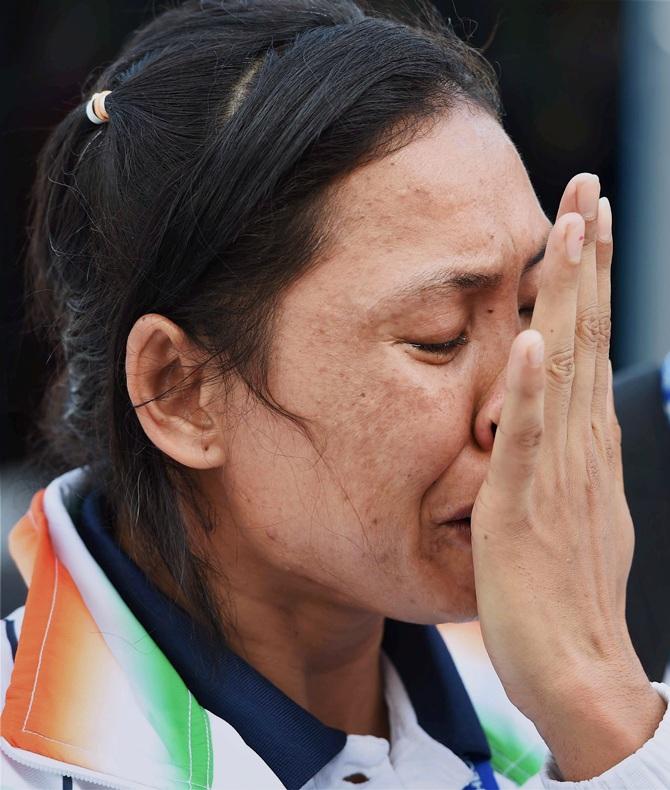 Sarita Devi of India cries after she had to settle for a bronze medal in Incheon on Tuesday. Photograph: PTI
Controversy hit the Asian Games boxing competition after India's L Sarita Devi (60kg) had to settle for a bronze medal despite dominating her semi-final bout against home favourite Jina Park, in Incheon, on Tuesday.
Mary Kom punches her way into final; Sarita settles for bronze
Complete coverage: 2014 Asian Games
The Manipuri boxer was left in tears after the judges gave the Korean a 3-0 verdict.
The Commonwealth Games silver medallist was clearly the better boxer, as she repeatedly landed a flurry of quicksilver blows on her opponent. At times it rained four to the Korean's one.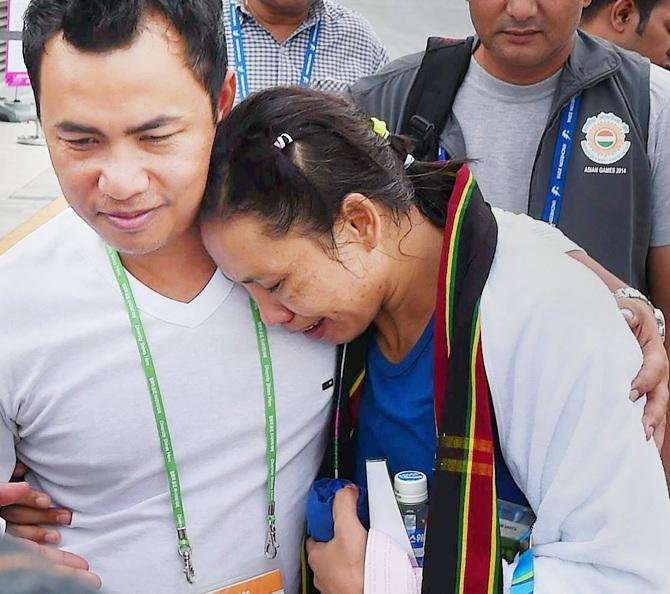 Sarita Devi, right, of India is consoled by her husband. Photograph: PTI
Shockingly, Park was not given a single standing count by the Algerian referee, Hammadi Yakoub Kheira, despite being rocked back by the Indian's blows to her chin.
In the end, all three ringside judges ruled in favour of the Korean by identical 39-37 margins.
The ringside judges were Braham Mohamad of Tunisia, Albino Foti of Italy and Mariusz Josef Gorny of Poland.
Immediately after the bout a tearful Sarita broke down while talking to journalists.
"All my hard work has come to naught. It has happened to me, but kindly see that this kind of injustice is not meted out to anyone else in the competition. I request you," she said, with folded hands.
"If they wanted to award the bout to her, then why allow us to fight in the first place," she added.
Her husband, former footballer Thoiba Singh, was even more furious and shouted obscenities at the ring officials, saying it was a clear case of cheating.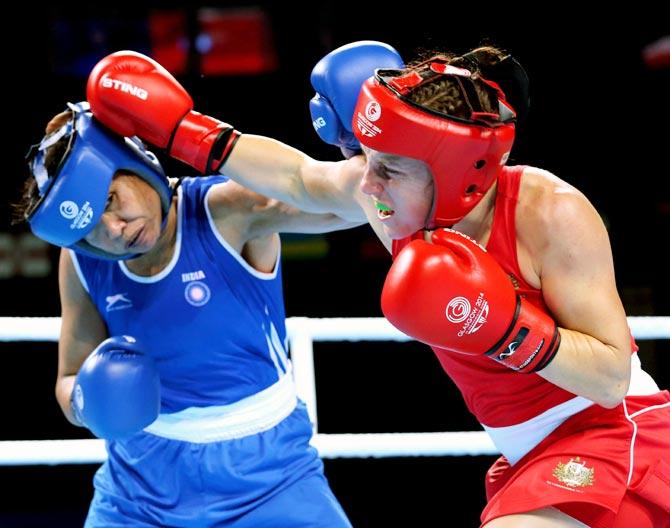 Sarita Devi, left, of India in action. Photograph: Alex Livesey/Getty Images
"You are killing boxing," he shouted repeatedly, and even went to the extent of trying to enter the ring again to speak out against the alleged injustice but was prevented by security officials.
India's long-time Cuban coach, B I Fernandez, also called it a clear case of cheating, but said no purpose would be served by lodging a protest that will cost the Indian contingent $500 and be forfeited if the appeal is lost.
"There's no point. It was pre-decided, the 3-0 verdict is a clear-cut indication. The Korean deserved to have been given many standing counts, going by what happened in the ring, and the bout should have been stopped," he said.
"Sarita was a clear-cut winner but money has talked here and the judges deserve to be thrown out. It happened in Seoul during the 1988 Olympic Games; it's happening now again. Nothing seems to have changed. The new rules have made no difference," he fumed.