Not Mekhail. Not Rahul. Not anyone.
'Wouldn't someone have asked?' Indrani asked.
Vaihayasi Pande Daniel returns to the Sheena Bora murder trial.
Illustration: Dominic Xavier/Rediff.com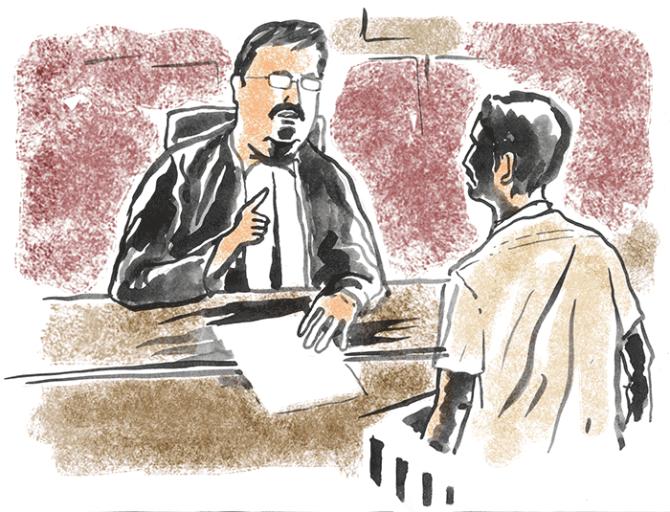 I spent 21 days away from Courtroom 51 of Mumbai's sessions court where the Sheena Bora murder trial is being heard.
Was anything different on Monday, September 11, on my return?
Not much.
Indrani Mukerjea's lawyer Sudeep Pasbola was still cross examining the Mukerjeas' former driver Shyamvar Pinturam Rai four court dates later.
Three weeks later too Rai's memory continued to have astoundingly giant gaps like a black hole.
CBI Prosecutor Bharat Badami was quarreling as usual with Pasbola over semantics, shooting out mischievous glances each time he succeeded in irking the lawyer who would in return tell him to keep silent.
Peter Mukerjea was still wearing his court-appearance white and khaki and looked maybe more woebegone.
Indrani, for a woman quite alone, except for her lawyers, and charged with the gruesome murder of her daughter, who, if found guilty, could spend her life in prison, looked jaunty as ever, her eyes often snapped in amusement at the events happening around her. And to her.
Writing about the accused in a murder is not about glorifying them, as it might seem. It is, you realise, as your days in court accumulate, more about gaining understanding of human nature. Unravelling it -- if possible.
Who is this woman who could allegedly brutally murder her own daughter and afterwards, as Rai claimed, 'sat on her head'? Can a mother ever do that? Can she be considered evil till the facts are in place?
You need to find that out with your own eyes, utilising whatever reporting skills you might have.
Till proven guilty she is not yet The Mother Who Murdered Her Own Daughter.
More seasoned court reporters, covering trial upon trial, and seeing any number of the guilty up close, are no better equipped to recognise guilt in the faces of the accused.
How can they? Do the accused seem any different from yourself? They are people who laugh, smile and look sad or miserable like us, again, till proven guilty.
So what had changed then in the 21 days I was away?
My colleague Savera R Someshwar, who covered the appearances in my absence, called me long distance to ask if Rai, the crucial Accused No 3 turned approver, was always in the habit of "questioning the question" -- tossing the question back at Pasbola during the cross examination.
That is new.
Rai actually seemed to have gotten quite comfortable in his three-feet-by-three-feet witness box, as if it was his private, pocket-sized stage, attempting to dislodge Badami from his showman perch.
He is no longer that timid mouse. Or looking that hunted anymore. He has grown claws in my absence.
While he was already in the habit of making Pasbola repeat a question occasionally, before, on Monday, he was doing it with much more frequency.
Sometimes rudely. Or angrily, his eyes flashing.
Rai's questions about the questions were accompanied by a wide range of gestures, smiles, laughs, and little speeches, almost as if he was poking fun at the ridiculous nature of the question.
While replying he stubbornly answered the way he preferred, refusing to be dislodged from his ghoom-phir-ke (roundabout) answering path, even if Pasbola bellowed.
When pressed to it, and there was no hope of escaping with his often ludicrous "yaad nahin", Rai resorted now to long sessions of himself talking to himself, while everyone looked on stupefied, wondering if the heat was getting to them.
He starts calculating things on his fingers, as if doing a tough sum. Or counts, muttering.
Else he makes little soundless soliloquys, extravagantly eyeing the ceiling, leading Pasbola and Peter's lawyer Shrikant Shivade to sometimes steal a glance, faintly bemused, at each other.
Special CBI Judge Jayendra Chandrasen Jagdale was now patiently playing a much larger role in helping Pasbola coax an answer out of Rai, no matter how vague, perhaps to speed the trial along.
Over and over the judge rejigged a question for Rai's sake as if he was helping someone severely mentally challenged. "Samay puch rahein hai (he is asking the time)", Judge Jagdale would say, pointing to a watch "like for instance it is 4 o';clock now", smiling, his moustache bristling.
His humour is subtle and elegant.
Sometimes while dictating the answer to the poker-faced lady court stenographer, who sits in front of a large screen to his left, the judge had already assumed that Rai "cannot recollect" before Rai could say it himself.
At which point Pasbola would ask very politely, but pointedly confused, cocking a brow, "But sir what did he say?"
Judge Jagdale would look towards Rai. Right on cue Rai would confidently declare "Yaad nahin."
The biggest development till date?
Rai, it appeared Monday, was finally learning a teeny eensie-weensie bit about time!
Because court testimonies and cross questioning depend so much these days on mobile records -- the defence lawyers all have pages and pages of cell phone records in front of them.
As Rai evidently received a lot of calls and made them too, from Indrani, Kajal, Indrani's secretary, Mekhail Bora, Indrani's son, and his ex INX buddies, time is essential. As is geography.
Hence, at least 20 questions each court date from Pasbola are asking Rai about what time of day he was doing so-and-so activity.
"Kya time tha?" "Kitna baje?" that could trip Rai up later.
Till Monday Rai had been skipping along gleefully. The driver's emblematic, trip-proof answers, earlier, were a smooth "Subah ka time tha (it was morning)" or an easy-going, goof off "shyam ka time (it was evening )", always denying that he could state the exact hour.
When pushed by Pasbola for more exactitude, previously, he was invariably defended loyally by the CBI prosecutors, the way a nanny defends her charge.
"But he is saying the time," CBI Prosecutor Kavita Patil would jump in to add, implying that to say morning or evening is a good enough time estimate, perhaps in some alternate world.
Over the last ten days Rai has learned, with concilliatory prodding and training, from Judge Jagdale, to commit cautiously to a time.
Words like "Das baje" or "aadha ghanta" are actually tripping off his tongue, to one's astonishment.
"He said aadha ghanta between 6 and 8 pm," the judge translates for his recently time-literate pupil.
Monday's session was a long and steamy one, in more ways than one.
Though it was 31 degrees, the humidity was killing. Everyone in the courtroom, and in the corridors outside, sat mopping their faces with handkerchiefs and little towels, the sweat often returning so severely that it dribbled in front of your eyes, stingingly blinding.
Vidhie Mukerjea, 19, looking cool, in spite of the heat, in a taupe shirt and trousers, oversized black glasses and laced black boots, was there to visit her mother and father (she was adopted by Peter after Indrani and he married), bringing a stylish whiff of London with her to these grim premises.
She is quite obviously Daddy's girl, sitting glued to Peter, both of them exchanging adoring gazes, as he ate his Subway sandwich, her presence sweeping the sadness off his face momentarily.
Before leaving, as the court proceedings were about to begin, Peter and she hugged touchingly and then she went across to the little corner of the hallway, where Indrani presided like an empress, and daughter and mother also embraced tenderly.
There did not appear to have been any interaction with Sanjeev whose daughter she really is.
Stamina, apart from patience, is a skill you realise lawyers must possess lot of, as you watch Pasbola standing continuously for nearly three hours, on a hot day, clothed from head to toe in elegant black, constructing, de-constructing or re-constructing question after question, most of them seemingly banal but vital (not the dramatic stuff of movies) and addressing them to a tiresome, obdurate witness.
It looked like the lawyer had three objectives on Monday as he mapped out his queries painstakingly, one after another, to Rai:
Discovering the exact timetable of Rai's activites was important in the scheme of things because it is crucial to figure out how it differed from the call data.
Rudely exposing Rai, with no fig leaf to hide behind, when it comes to his time estimations might have a larger purpose, perhaps, when the driver shows himself to be more precise later maybe about key events important to the prosecution.
We shall have to wait and see.
To show that the trips Rai said he made to Lonavla, a town halfway to Pune, once alone (the day before Indrani arrived from London, April 22, 2012, two days before the murder) and once with Indrani, to look for places to dump Mekhail's body, on Indrani's instructions, are perhaps false. That they did not happen.
Pasbola narrowly questioned the former driver about departure times for Lonavla, time to cover that distance, return times and what else he did or he and Indrani did in Lonavla and later in Pen (where they checked three places to dispose of Sheena's body).
Rai's blanket vagueness about all of these details was showed up as noticeably odd.
A sample:
Pasbola: "What time did you reach Lonavla (on April 22)?"
Rai: "I don't know what time I reached, but I returned in the evening."
Pabola: "How long did it take you to reach Lonavla?"
Rai: "(Doubtfully) 1 ½ -2 hours."
Pasbola: "How long were you in Lonavla?"
Rai: "Kitna der tha Lonavla mein yaad nahin. 10-11 subah gaya aur shyam ko wapas aaya (I don't remember how long I was in Lonavla. I left at 10-11 in the morning and returned in the evening)."
Pasbola: "What time did you reach in the evening, woh bhi yaad nahin (that also you don't remember)?"
Rai: (Hesitating. Shrewdly assessing the question as if deciding a complicated chess move but finally giving his usual thin answer) "Shyam ka time tha. Time yaad nahin (it was evening. I don't remember the time)."
Pasbola: "Aap ne kya kiya udhar? (what did you do over there?)"
Rai: "(Holds his hands as if driving, sassily) "Garee chala ke gaya (I was driving)."
Pasbola: (Weary) "Yes I know you drove! What did you do there?"
Rai: "Gaya aur wapas aaya. Aur khana khaya (I went and came back and ate)."
Pasbola: "Where did you go in Lonavla? To the bazaar? To Tiger Point? Where?!"
Rai: "I wandered about. I can't remember where I went."
Pasbola questioned Rai on the route he took to Lonavla and did he go via Sion, northeast Mumbai. Rai said he took whatever route suited him and if it suited him he may have gone via Sion.
Judge Jagdale interjected mildly: "But he is trying to jog your memory."
Rai promptly came back with a "yaad nahin."
Similar lack of details surrounded the trip taken with Indrani the next day to Lonavla and then Pen or of the supposed spot in Khandala chosen for Mekhail's body (who Indrani, it is alleged, had planned to kill too, but didn't).
"How do I describe the spot? There was no mountain or anything nearby."
Pasbola struggled to project Rai as a complex man and not simply a dumb driver following "Madam's orders."
Between doing Madam's bidding Rai was receiving dozens of calls from a range of people in frequencies that were out of kilter, Pasbola suggested through his careful line of questioning.
For instance, Mekhail called twice on the day of the April 22 recce.
There were frequent calls from Indrani's secretary "Kajal Madam".
As well as calls to his buddies, an ex INX peon Rajendra Desai and a driver named Raja.
Rai brushed all this off as part of his chauffeur duties, with so whats, "kiya hoga."
Pasbola also wandered into fairly dramatic lawyerly territory -- like it is in the movies -- when he twice ringingly accused Rai of lying and manufacturing information at the CBI's behest.
Rai was asked why Mekhail and he kept speaking including on April 22 when Mekhail called up and spoke to him for 254 seconds at 12.08 (translations of numbers in court is a slow process as Judge Jagdale mixes up his Hindi numbers and Pasbola confuses minutes with seconds).
Rai insisted it was nothing out of the ordinary because he had been instructed by "Indrani Madam" to keep talking to Mekhail.
"Madam bole baat chit karte rehna."
Badami helpfully but needlessly interposed, "Meethe meethe bolte rahna (to talk sweet stuff to him)."
If that was so, Pasbola queried, why didn't Rai feel the need to tell the police and the magistrate about that.
Rai prevaricated: "You asked, so I am saying it today. They didn't ask."
Pasbola: "Khud se batana masoos nahin hua? (you didn't think you should have said it on your own?)"
Rai: "Yaad nahin (this said, with a defiant angry gesture)."
Pasbola more angrily, loudly: "Masoos nahin hua (you didn't feel it) because the CBI and the prosecution have taught you to say this. That's why it is a lie! Rest assured!"
And he thumped down his bundle of cross examination papers on the table emphatically, to underline his point.
Badami tried: "He can't know what he is supposed to say..."
Judge Jagdale (with a smile): "CBI and prosecution are visualising..."
Patil: "That is what they are visualising."
Rai: (Trying to be amenable for a change) "Whatever I remember I am slowly telling you. Sir whatever I remember I will tell you."
The second time Pasbola accused Rai of lying was when he insisted that on April 24 he took Indrani to a beauty parlour and then to a store, both located in Worli, south Mumbai, close to the Mukherjeas' home, and not to her apartment, as perhaps call records proved.
Pasbola: "Indrani Madam was not with you when you got an sms from Mekhail! She was not in the car. Yeh sab baat jhoot bol rahein ho! (Whatever you are saying is lies!)"
Surprisingly, Rai took the accusations, both times, with a deadpan expression on his face. Even as Indrani gave a small smile of triumph.
In the rear of the room in the accused enclosure, Peter, Indrani and Sanjeev diligently took notes.
Peter stood for most of the session looking tired and hot.
Indrani inserted continuous comments in the day's narrative for Sanjeev.
When she tried to extend that commentary to Peter, she was ignored.
At times the men looked listless, wearied or possibly slightly uninterested. Maybe it was the heat.
Can you feel boredom while being tried for murder?
Given the surreal and lengthy flow of events, where one has to pinch one's self to believe things are real, why not?
Equally numbing is only partially understanding the events unwinding, because of the inability to hear, that Peter points out over and over, without luck.
His sister Shangon Das Gupta, who tries to attend as many hearings as possible, though she lives in Bengaluru, sits in front, taking notes too, probably to give to him.
Indrani, who loves attention, told journalists earlier how the set of questions Pasbola put to Rai on September 7 were critical because she said they exposed Rai's "lies".
The lawyer had asked Rai how come no one asked him what happened to Sheena given that he had been driving her around and the Mukerjeas were not living in Mumbai any more.
Not Mekhail. Not Rahul. Not anyone.
"Wouldn't someone have asked?" Indrani asked.
At which point CBI Investigating Officer K K Singh emerged from the courtroom and asked Indrani succinctly: "Media delivery de rahee ho?! (Are you addressing the media?!)"
The exhausting day in court ended with arguments between lawyers, before the judge, on getting the Khar police station CD, where Rai was taken to after his arrest in 2015.
The prosecution argued it was not essential.
Pasbola, Shivade and team argued that now it was particularly important for them to have it.
It was decided to argue this out another day, Tuesday, September 12.
It was also clarified that CD meant case diary and not compact disc.
Sanjeev Khanna departed the court heading down to the jail van, while Peter and Indrani lingered on.
Peter kept saying "Ek second aur (one more second)" at which the police escorts rolled their eyes asking "Ek second?" incredulously.
Indrani, who does not like to be outdone in anything, it would seem, would not leave till Peter did.
When Badami intervened, she went to where Peter was sitting to show Badami, "He is still there!"
To which Badami offered silkily, "It is only for your safety."
The husband and wife left shortly after, even as it was approaching 6 pm,.
Upstairs, the TADA court was still in session deciding the fate of another approver, gangster Riyaz Siddiqui for builder Pradeep Jain's murder in 1995, ordered by Abu Salem.
EARLIER IN THE TRIAL