Lawyer: 'Did YOU not ever feel scared?'
Shyamvar Rai: 'I am a driver, I said okay. Madam said it is your job...'
Vaihayasi Pande Daniel reports from the Sheena Bora murder trial.
Illustration: Dominic Xavier/Rediff.com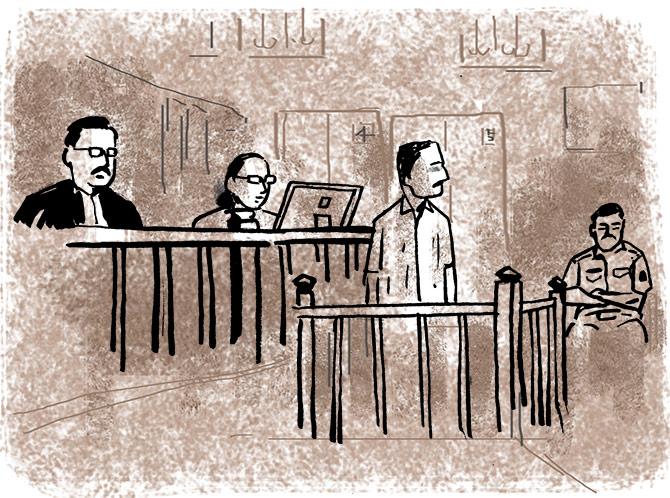 Bombay Standard Time rudely interfered with Monday's hearing of the Sheena Bora murder case.
Proceedings were set to begin at 2.45 pm on August 21. And end early because Indrani Mukerjea's lawyer Sudeep Pasbola, who was leading the cross questioning, had requested permission at the last hearing to leave by 4 pm.
From 2.45 pm the entire battery of defence lawyers and the CBI investigating officers and counsels were waiting, twiddling their thumbs, in Courtroom 51 of the sessions court in south Mumbai, along with CBI Special Judge Jayendra Chandrasen Jagdale and Shyamvar Rai, the Mukerjeas' former driver and Accused No 3 turned approver and a few policemen.
But there was no sign of Indrani, Peter Mukerjea and Sanjeev Khanna.
The hands of the courtroom clock marched ahead impatiently. Everyone got restless.
One by one lawyers and journos got up to leave the courtroom for little walks, breaths of fresh air or sessions of gossip in the corridors, as the warm monsoon rain came down outside unremittingly.
Though the lawyers for each of the accused were present, Judge Jagdale categorically announced that since Rai was the approver in the case, as per the sessions court, high court etc protocol, it was imperative that it "has to happen before the accused" in court so they can instruct their lawyers and that it was a priority in cases where the accused had been in jail for as long as two years' or more.
Rumbling blue prison buses, one after another, pulled up below in the courtyard of the new wing of the sessions court. But from none of them disembarked Accused No 1, Accused No 2 and Accused 4.
Instead, a bus came to pick up a rather elderly, snowy-haired prisoner, who was walking hunched and very feebly, slowly towards the vehicle, wrapped in a fluffy, spotless-white dushala (shawl).
He was escorted by nearly a dozen policemen who were taking him along particularly solicitously. The man, by the look of his frame from the rear, seemed 80 plus, closer to 90.
I wondered what this man was doing in court.
I was informed that he was Chhagan Bhujbal, the National Congress Party politician and former Maharashtra minister, who is 69 not 90 and is being tried for graft.
At court appearances, of late, he has suddenly taken to seeming very frail and delicate, with the lack of hair dye, or lack of inclination to use dye, adding the additional years.
At 3.15 pm, half an hour later, there was still no sign of the trio of accused.
The time was actually 3.05 pm, the clock in Judge Jagdale's courtroom has always been ten minutes fast.
Finally at 3.40 pm, almost one hour late, Indrani, dressed in white, white bindi too, came scrambling up the stairs at speed, trailed by her less fit police escorts. She panted breathlessly, "Took so long! We were waiting."
Sanjeev, in green and dark blue, came up behind her. They rushed into the courtroom and took their places in the accused enclosure. Peter arrived shortly after that.
Pasbola looked at the clock woefully and asked the judge what he would be able to do in less than half an hour.
Judge Jagdale persuaded him to stay on till 4.30 pm and use the time as profitably as possible, stressing the importance of moving the case along swiftly.
There was no time to present Sheena Bora's photograph that had been recovered from Rai's home by the police, which was to have been produced in court on Monday.
Instead, unusually and amusingly, the latter part of the cross questioning focused on Jockey and its showrooms.
The Jockey Exclusive store at Bandra, north west Mumbai, was the spot from where allegedly Rai, Indrani and Sanjeev had picked up Sheena that fateful day in April 2012, and driven her to a quiet lane nearby to strangle her.
Pasbola was attempting to identify from Rai that exact pick up point, that he later showed the Khar police after his arrest.
Without any luck, of course...
"Was the first place (in 2015) the Khar police took you to see the Jockey Exclusive store?"
When faced with the name of this store, Rai looked dumbfounded. "Kaun sa dukaan?! Samjha nahin (which store?! I don't understand)."
CBI Counsel Kavita Patil suggested that Pasbola needed to specifically explain that he was talking about a spot in front of the store and not inside the store.
Judge Jagdale laughed and pointed out that that was hairsplitting.
Rai: "I don't know what shops are nearby. Nahin. Yaad nahin aa raha hai (No, I don't remember). I showed the place where we picked Sheena up!" suggesting the place was more important than the shops that marked the place.
Patil, with triumph: "He is volunteering information!"
Pasbola sarcastically: "Uska mujhe koi problem nahin (I have no problem with him volunteering information)!... Was it that you showed the Khar police the Jockey Exclusive store near Hindustan Cooperative Housing society at Bandra West as the place where you picked up Sheena Bora?"
Rai said he showed the police the spot where he picked up Sheena. But he didn't know if the spot was in front of Jockey Exclusive or about the shops that were nearby, but that it was near National College and the department store Amarsons.
Pasbola long suffering: "Bhai sahib, aap driver hai. Dekha hai Jockey (Brother you are a driver. Have you seen Jockey)?"
Rai thought for a few seconds and said very positively: "Jockey dekha hai (I have seen Jockey, as if referring to Jockey in general)."
Pasbola thundering incredulously, jocularly: "Bandra ki Jockey ka baat kar rahein hai! Bakeee duniya ki Jockey nahin (I am talking about the Bandra Jockey, not about the Jockeys of the rest of the world)!"
Judge Jagdale entreated: "Let him answer."
CBI Counsel Badami added helpfully, tongue in cheek: "He is in the process of answering."
Pasbola: "Process-wocess chodo (forget process)!"
Arjun Kadam, the court policeman, sniggered.
Rai finally, saying nothing at all: "I showed them the place. What was at the place I don't know."
On Monday, two more stages have been added, at moments, to the manner in which Rai was being cross examined, doubling the time each way.
Each time Pasbola posed a query to the driver, Judge Jagdale painstakingly and kindly reformatted the question, translating it, for Rai, from a regular question in Hindi to a much more basic question, also in Hindi, the way you would for a child, gently and patiently, looking into Rai's haunted face, as if he had all the time in the world.
After Rai had answered, more often than not, in some roundabout, incoherent manner saying zilch, CBI Counsels Badami or Patil would repeat what the driver said, as if it was the most logical reply in the wide world, sometimes adding a few vital additional words for clarity and encouragement.
Net result: Often each question had an echo. So did the answers, many a time. Like playing ping pong in an echo chamber.
Pasbola at several points lost patience on Monday, perhaps because of the shortage of time, with Rai.
Every time Rai wandered off, on some tangent, tripping away from the question to some faraway Non-Answer Land, prattling on about Madam and everything else, Pasbola would rudely interrupt with an emphatic, "Bhai sahib mein aap ko ek baat puch raha hu (Brother, I am asking you a question)!?"
Or underlined: "Bhai saahib aap driver hai (Brother you are a driver)!"
Pasbola's stormy Q and A with Rai unearthed a few bizarre facts that gave fresh and more preposterous meaning to the phrase: The truth is stranger than fiction.
You need to also take heed of the latter half of that saying: Fiction is obliged to stick to possibilities. Truth isn't.
A few of the oddities that arose:
1. After his arrest from Carter Road, Rai had only a vague idea of where he was kept for the next "13-14 din (days)."
He was not sure if he was kept at the Khar police station or in a lock up or at the Bandra police station.
Nor was he aware of where he spent the night the day after his arrest.
Pasbola: "You were in Khar police station? In the lock up?"
Rai: "Ha lock up mein rakhte the (yes, I was kept in the lock up)."
Pasbola: "Kaun sa lock up (which lock up)? Khar? Bandra?"
Rai: "I don't know whether it was Bandra or... Dhyan mein nahin aa raha hai (I can't remember now)."
Pasbola: "On the night of 21-22, do you remember where you were?"
Rai in a faraway tone: "Dhyan mein nahin aa raha hai."
Pasbola to Rai, and to the room, almost like it were an existential question: "Kahan tha maloom nahin (Where you were, you didn't know)."
Pasbola: "Were you kept in the lock up? Or the police station?"
Rai flip flopping: "Police station. Shayad (maybe). I don't know whether it was the police station or the lock up."
Pasbola, exaggeratedly: Theek hai, bhai saab (okay, brother)."
2. Rai does not remember how often he was taken out from the police station/lock up or what days he was taken somewhere.
He was sketchy about the order in which he was shown places relating to the crime by the Khar police.
Pasbola: "In these 13, 14 days how many times were you taken out of the police station?"
Rai: "Yaad nahin (I don't remember)."
Pasbola, loudly: "You don't know on which days, what time, kitne baar, yaad nahin (on which days, what time, how many times, don't remember)!"
Rai, meekly: "Yaad nahin (I don't remember)."
Pasbola: "How many times were you taken out of the police station?"
Rai, a faint smile on his face, trying to be accommodating: "That I was taken out I remember, but..."
Judge Jagdale smiled broadly: "He is applying his own logic to answering... Do you remember where the Khar police took you?"
Rai smiling back and always extraordinarily exacting about what he does not know: "Kab kab yaad nahin. Kahan kahan woh yaad hai, Samay nahin maloom nahin (when I don't remember. Where, I do. Time, I don't remember)."
Pasbola: "Barabar, barabar, barabar (correct, correct, correct). Which was the first place? If you don't remember, I will tell you. Aapko madad karta hu (I will help you, mockingly). Which was the first place?"
Judge Jagdale chipped in, repeated the question, slowly, emphasising each word.
Rai: "Dhyan mein nahin aa raha hai"
Pasbola repeated: "Dhyan mein nahin aa raha hai. Koiee vanda nahin (Can't remember? It doesn't matter)."
3. In the last days of his job at INX Media, Rai didn't have any fixed reporting times or a muster to sign or anything specifically to do at the office.
He was relatively unmonitored it appeared. He merely had to show up at that office from his home in Mosambi Tabela, Vakola East, north west Mumbai.
Nor did anyone sign a muster at that office, he said. Towards the end all that was left of the Mukerjeas' INX Media empire was just three of them in that office -- secretary Kajal Sharma, peon Pradeep Waghmare and him.
4. Rai does not recall if he showed the CBI or Khar police the INX office in Thane or the computer at which he sat to talk to Indrani on Skype "5 to 6 baar (times)" where they discussed the upcoming alleged murder (s).
His answer to Pasbola's question on this came unwillingly and haltingly: "Maloom nahin... Yaad nahin..."
5. He did remember the date of the last call with Indrani on Skype: April 19, 2012.
6. When Indrani allegedly asked him on Skype to participate in the murder, Rai doesn't remember feeling particularly scared or finding it unusual.
The way he said it, it was almost as if he did not feel murdering was not part of his driver-ly duties.
Pasbola: "Kabhi darr nahin laga (did you not ever feel scared)?"
Rai, parroted: "Madam bola darna nahin (Madam told me not to be scared)."
Pasbole interrupted and repeated, with a touch of frustration: "AAPKO darr nahin laga (did YOU not ever feel scared)?"
Rai: Mein driver ka naukri karta tha. Mein bola theek hai. Madam bola tumhara kaam hai driver ka... (I am a driver. I said okay, Madam said this is your job as a driver... he paused as the judge looked at him closely) Thoda darr laga (I felt a little fear)."
7. The driver said Indrani never gave him any additional money for helping with this crime. Nor did he ask for it.
Pasbola: "Did you get any money to participate in this murder?"
Rai without hesitation: "No."
Pasbola: "Yeh kaam karne ke liye kuch paisa manga Madam se (to do this job did you ask for any money from Madam)?"
Rai again without pause: "Nahin."
8. When he was taken by the Khar police to see the various crime spots, about which he is also vague, he does not remember if he had a black hood over his head, almost implying that he viewed the spots with his head covered.
Pasbola played being flabbergasted: "Aaakhen khulee thi (were your eyes open)?"
9. Rai still has scant and blurred understanding/memory/concept of either distance or time.
Apart from the standard -- almost thespian -- devices Rai makes use of -- ceiling gazing, looking baffled, popping his eyes as he reflected on a question -- on Monday perhaps because the judge was also helping him along with questions, Rai seemed to don the demeanour of a little boy sitting, unprepared, for his final examination.
He received each question addressed to him a tad fearfully, as if they were all totally out of syllabus, and gradually, by the end of session, had the mournful look of a student who knew he was failing his year.
The last question of the proceedings was about the distance between the National College and the department Amarsons in Bandra.
Since Rai did not know if he had picked up Sheena Bora up from Jockey Exclusive but remembered the pick-up spot was near the National College and Amarsons, Pasbola wanted to ascertain the distance between the two.
Rai again looked bewildered, as if he had just been asked about the speed of light and was certain he was no Einstein.
The judge offered encouragingly, that he should give an approximate answer and not an exact one or "He will take out a measuring tape!" he added with a laugh.
Patil suggested that it did not need to be in "feet."
Pasbola, overcoming an apoplectic moment, said Rai was a driver and should know his distances!
Rai trying to be, or pretending to be reasonable: "Thoda door (not far)."
Pasbola now ballistic: "Thoda door (not far)!!!!!?? Dilli bhi thoda door hai (Delhi is also not far)!"
Finally, Rai was goaded, provoked, incited, prodded, pushed and egged into making a tiny and brave prediction of distance.
He gingerly pointed from himself to the end of the room, close to Peter, but not looking at Peter, indicating the distance between these two Bandra landmarks. Whew!
Peter, who looked much better after his recent illness, and stood taking notes during the hearing, had his sister Shangon in the courtroom.
After a thermos of chai he carried a pack of Subway sandwiches back to prison with him, which his police escort carefully opened up, taking apart the bread, peering methodically inside each sandwich, as if a bullet might jump out of the lettuce.
Sanjeev was still chasing his "CDR" (call data records) and had a long, worried conversation with his lawyer over these records for which he has not been given a copy.
The next hearing given the string of holidays -- Ganesh Chaturthi, the visarjans (immersions), Bakri Eid -- will only be September 4.
EARLIER IN THE TRIAL