The Mukerjeas' former driver could remember every detail of Sheena Bora's alleged murder five years ago, including on what day he took Indrani to the beauty parlour, and the brands of liquor he bought, but was unable to recall anything subsequently or more recently...
Vaihayasi Pande Daniel reports from the Sheena Bora murder trial.
Illustration: Dominic Xavier/Rediff.com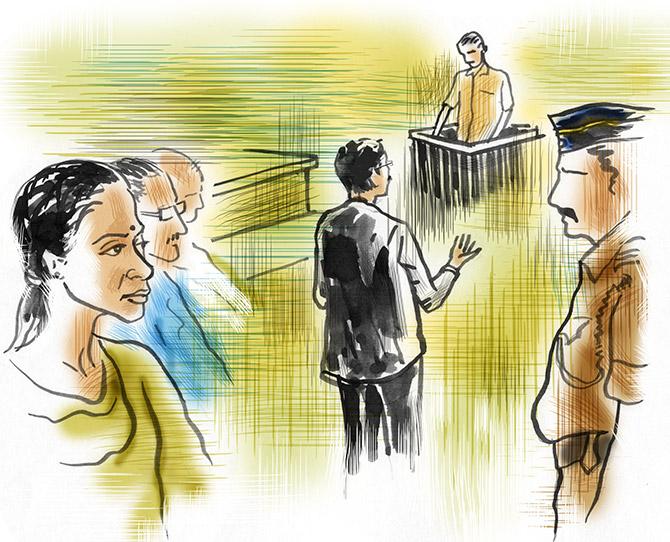 Question. "Yaad nahin."
Question. "Yaad nahin."
Question."Yaad nahin."
Question."Yaad nahin."
Question."Yaad nahin."
Question. "Maloom nahin."
That was how most of the stifling afternoon proceeded on Friday, August 4, a critical day in the Sheena Bora murder trial, when the prosecution's main witness was interrogated by the defence, in its first session, in Courtroom 51, south Mumbai's sessions court.
Shyamvar Rai, the Mukerjeas' former driver and accused-turned-approver, greeted most of the queries put to him by the fierce, stern Sudeep Pasbola, Indrani Mukerjea's lawyer, and key member of the large defence team, with blank-faced declarations of not remembering.
CBI special court Judge Jayendra C Jagdale faithfully put them down on record, over and over, for him: "I cannot recollect... I cannot recollect... I cannot recollect..."
Like a song with only a tired chorus.
The "yaad nahin"s were so many that when former Star CEO and Accused No 3 Peter Mukerjea, through his senior lawyer Shrikant Shivade, once again appealed to the judge for a place in front, so he could hear his own trial, Judge Jagdale asked why.
"You can hear Pasbola," indicating that the lawyer spoke stridently enough for everyone to hear in the room.
Shivade pursued it further, "But he can't hear the witness' answers."
Judge Jagdale shot back, smiling broadly under his walrus moustache, "But 70 per cent of the answers he (Rai) has given are that he cannot recollect!" at which the over-crowded courtroom burst into gales of laughter.
If Rai -- who was the Mukerjeas' driver for eight years, mainly driving Indrani and daughters Vidhie and Sheena around -- looked uncomfortable by the end of his previous day in court, August 1, on Friday he looked even more sad and worried, constantly flexing his shoulders in an unconscious gesture, as if pulling himself together.
Or at times scuffing the railing of the witness stand with his bare toes (sandals were left below when he entered the stand).
Wearing a cream/beige bush shirt with khaki trousers, he would also widen or pop his eyes every time he was asked a question, then think, for up to a minute, as if framing a special answer, but come back with an unadventurous, forlorn "yaad nahin" for the 50th time.
That led someone to comment that the Mukerjeas' former driver could remember every detail of Sheena Bora's alleged murder five years ago, including on what day he took Indrani to the beauty parlour, and the brands of liquor he bought, but was unable to recall anything subsequently or more recently.
But in spite of the real or manufactured anguish that at times crossed his face, Rai, who most of the time appears, strangely, gentle and guileless, still kept it together, in the face of the non-stop onslaught from the defence, over two-and-a-half hours.
Apart from what was being said out loud in the room, between defence, witness and prosecution, there was much that was pointedly unsaid, but was equally loud and audible. It was often a challenge to fathom those messages.
Add to that the odd undercurrents swimming around the courtroom.
Pasbola in his leading questions to the approver, seemed, at the same time to be ramming home the divide between the lowly, nearly illiterate driver and the more educated listening to the case in the room.
Over and over again, through his questioning, Pasbola emphasised the very poor grasp that the 10th pass, and therefore ignorant, Rai, who knew no English, had about the events that led him to become an approver, because he had crucially signed and submitted documents written in English.
He even tested Rai's English requesting him to read exhibit documents or asking him questions in English.
On the other hand, probably coached by the CBI team and the prosecutors, the colossal gaps in Rai's tattered memory were more like that of an elder than a middle-aged, fit man. They were rather too large to seem real.
Unreal too was his bland, bevkoof persona on the stand.
It frustrated Pasbola no end. At one point in the interrogation Pasbola said incredulously, "I am only asking andaaz se! Like as a driver you know andaaz se that you have travelled 50 km!"
At another point Pasbola said, to himself, the prosecutors and the room in general, "Everybody should tell the truth. It is a different matter that nobody tells the truth."
Pasbola is a short man, with a moustache, full of vim and vigour and, at times, the menace of a six footer.
The trial lawyer's skilled interrogation of Rai -- who came to court surrounded if not by more cops, but certainly by burlier ones, after having filed an application to the court last time for the need for "utmost security" -- began a little after 3 pm, when Indrani, husband Peter and former husband Sanjeev Khanna arrived in court together escorted by 18 policemen (the escort numbers are puzzlingly increasing while Rai gets just two or three).
Indrani, attired in light green, had styled her hair slightly differently, making her look more alluring; as do her smiles and girlish grins.
Peter was in standard white and khaki and Khanna had donned a shirt with blue and white stripes.
Since the courtroom was overflowing with people, many standing, the trio stood for most of the proceedings so they could see and take notes.
The puch-taach (cross-questioning) started out with questions about who had visited Rai in jail on behalf of the CBI, who were the senior police officers who had questioned Rai at the Khar police station after he was arrested and was in custody and what kind of documents Rai had signed and was he aware of what he had signed.
Rai again and again exhibited the giant chasms in his memory, especially on anything to do with dates or months or years or numbers, be it the approximate date of his transfer from the Arthur Road Jail to the Thane Jail or when he started thinking about submitting a confession.
He also offered bizarre answers like the fact that he and the CBI officers never converse/conversed when together, even recently in court.
Pasbola's river of questions had a calculated flow and they gradually led upto trying to understand if Rai was aware that he was now the prosecution's witness, having signed documents in English to that effect and what "conditions" (the one English word Rai, also used, while answering, after declaring multiple times that he didn't understand the language) were prerequisite.
The interrogation dwelled for almost an hour on this rather critical issue.
Dogged Pasbola, through his questioning, like a legal archaeologist, whittled away with his hammer and chisel at Rai, carving, slicing, paring, digging, trying to excavate the truth out of the Chhindwara, Madhya Pradesh-born driver: How did it occur to Rai to confess and become a prosecution witness?
Who suggested it? Did he talk about the idea with the CBI officers?
Who appraised him of this possibility?
Did he learn about it in jail? From fellow quadis (prisoners)?
Does he know he is a government ka gawai (prosecution witness) now?
When did he become aware of the advantages of being such a gawai and is he aware now of its benefits like a smaller sentence or his freedom?
Hitting a stone wall, Pasbola murmured to his colleagues, "These are the standard answers of all approvers."
For 45 minutes Rai held firm, insisting that the idea of confessing his crime and becoming the prosecution's witness was planted in his head by himself and himself alone, until finally he agreed, "Dheere, dheere, jail mein maloom para (bit by bit I learned about this in jail)."
At which a woman lawyer standing next to me, taking notes, muttered through her teeth, relieved, "Shabash" It was a chance to rest our pens, fingers cramped from writing down Pasbola's relentless torrent of questions.
Pasbola then called for Rai's application to turn approver and become the prosecution's witness, from the court's section room, where such vital papers are kept.
He asked Rai to look at it carefully and read each page. "Page palat do (turn the page), Boss."
When questioned if he knew its contents or understood its implications, or the document's legal repercussions, Rai prevaricated saying he does not understand English ("I have seen this paper. I cannot read English").
But he identified his own signature and the date added at the suggestion of the jail officers.
Pasbola's tone of interrogation through the proceedings varied between velvet/silk and gravel.
The style too.
It was either, friendly, conciliatory: "Bhaiya (brother)" or the Mumbai-style "Boss" while addressing Rai.
Or parent to child tenor: "Yaad nahin hai? Koi baat nahin (no matter)" to Rai's perennial "yaad nahin"s.
Or blustering, thundering disbelief at the next stock "yaad nahin." He would exclaim loudly "Phir yaad nahin!.. This is not good!"
To Rai's vague definitions of time: "Kuch... Din... Baad (after a few days)?!" Pasbola mimicked, but in a Sholay kitne-aadmi-the voice.
Some of the other crucial circumstances that arose around the questioning was the matter of Rai's interactions with the CBI.
Initially the driver declared he had only interacted with CBI investigating officer K K Singh. That gradually expanded to there being one more and then a few more, at which Pasbola and others collectively raised their sets of eyebrows "Two or three. Or two!?"
Then Pasbola requested Rai to turn around and identify if the other CBI person he met in jail, was the man standing to the side of CBI Counsels Kavita Patil and Bharat Badami.
Rai verified quickly that it was.
Pasbola underlined the name of the pairvi officer (an officer who works with the CBI prosecution) to the driver: "Santosh Kumar Rai."
Then in a loud, play-acting voice said that this Rai needed to go out of the courtroom in case he was intimidating the witness.
That got Patil and Badami riled and on their feet proclaiming that the defence has no right to order one of their people out of the court.
Pasbola smiled mischievously.
Then there was the matter of how Rai turned approver.
He said he wrote a letter in English on September 26, 2015, to the magistrate saying he wanted to confess.
He remembers writing the letter, but not when. Nor does he have a copy of his own letter.
Pasbola announced ominously, a grim, dark look on his face, that the letter was not on file and had disappeared and that the prosecution should produce it.
Patil, in a silk black and white sari, immediately took umbrage saying it was not her job to go about locating documents.
So Pasbola said he would put it on record that the prosecution could not furnish a certain document.
It didn't end there. After his letter was sent in, Rai was called to the kila court.
What day? No idea.
What month? No idea.
What year? No idea?
What courtroom? No idea.
Only that it was the kila court in front of VT (CST station).
That day Rai declared he did not have a conversation with the judge. The only sentences spoken were that he wanted to give "gawai" and the "Judge Sahiba" telling him to give the matter a day's thought and come back the next day.
Rai did not remember if he did go back the next day or which day or exactly when he returned.
He does remember that when he went back he was in court for two to three hours, but does not remember if any specific questions were asked of him, especially about becoming government ka gawai."
Pasbola pounced and caught hold of this answer. "No vishesh (important) questions were asked of you in those three hours?" Rai first said no. Then he said -- you guessed it -- "yaad nahin."
Most of the time Pasbola was not particularly successful in getting Rai to enlarge answers beyond his "yaad nahin"s, although there was a method in the way he was collecting them too, but the few times he did, Rai would look at Pasbola's face very warily and offer a tentative extra few words.
Even when Pasbola was trying to humour him, the driver only gave him a pale ghost of a smile.
The lawyer's questions for Rai were printed and spiral bound in a rather fat volume.
From time to time they were supplemented by fresh questions suggested to him by colleagues Gunjan Mangla, Ayaz Khan and Shivade after they conferred.
Friday, Pasbola must have gotten through at least 50 to 60 of them.
Monday, August 7, when the court meets again -- the hearings are now closer together and the pace is picking up -- perhaps Rai might have a verse or two to add to his "yaad nahin", "maloom nahin" refrain, when faced with a fresh tsunami of questions from Pasbola.
EARLIER IN THE TRIAL